It's been three years since Paper magazine first tried to "break the internet" with a cover featuring a nude Kim Kardashian. Now they've done it again, with a nearly-nude Nicki Minaj. The reigning queen of rap appears not just once, but three times on the cover, and the three Nickis are engaged in a little … Minaj-a-trois. The internet loves it. If Kardashian was a meme-maker's muse, the triple-Nickis are all three muses at once.
Wanna Minaj? @papermagazine 🧐👅 photos by @ellenvonunwerth #BreakTheInternet edition pic.twitter.com/0NmdzEb3Si

— Nicki Minaj (@NICKIMINAJ) November 15, 2017
This cover is obviously fine art, so it's only natural that it's inspiring the internet's fine artists:
https://www.instagram.com/p/BbkM_psH8Rd/
@NICKIMINAJ fan art pic.twitter.com/fNA2gnOqmC

— Tw1tterPicasso (@Tw1tterPicasso) November 16, 2017
"I turned myself into @NICKIMINAJ , Morty! Its Ricki Minaj !!!"

Ricki Minaj by @JKingTheArtist

CC @papermagazine x @RickandMorty
Photography by @EllenVUnwerth

Enjoy!!! pic.twitter.com/HLqBuQ2Zte

— J. K I N G (@JKingTheArtist) November 15, 2017
And whatever this is:
https://twitter.com/deaddilf69/status/930981300558880768
The iconic cover has brought new life to an old meme: "Dan Nicky your bobbie s." This stems from a horny admirer's failed attempt to type "Damn Nicki, your boobies" into the comment section of one of Minaj's Instagram photos, back in 2014. But the new photos have brought the meme back in a big way. "Dan Nicky your bobbie s" is all over Twitter again.
https://twitter.com/_sameenas/status/928143834550124545
https://twitter.com/dumbledoyal/status/931028484624932864
have we reached peak "Dan Nicky your Bobbie s"? https://t.co/yWqLQIpTlx

— uncut jellicles #justiceforcurryhouse (@alcrempie) November 15, 2017
https://twitter.com/Lou__TomIinson/status/930651782660919296
https://twitter.com/Iugosi/status/930638957066547200
… you get the idea.
Although haters inevitably gonna hate (looking at you, Eve), most people seem to love the photoshoot. Certainly, it's getting better reviews than Kim K's did:
That Nicki Minaj cover 👀 pic.twitter.com/8QN2QvPDMX

— Nikola Ibrahimovic (@Genesis_GGP) November 15, 2017
https://twitter.com/shonfaye/status/930800586559295489
The Paper cover might not even be Nicki's most meme-able photo, though. Remember what people did with the cover of her Anaconda single? If you don't, you can just Google it: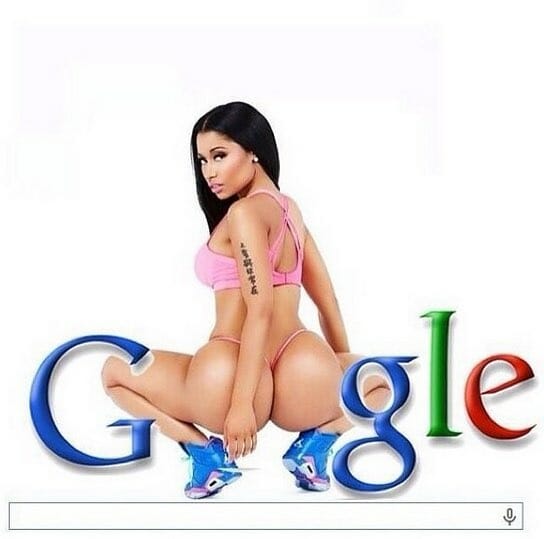 Outside of Drake, no rapper has ever been so memeable.