If you haven't been keeping up with the National Zoo's Giant Panda Cam, now might be a good time to check in on Mei Xiang, Tian Tian, and their 1-month-old cub. Come tomorrow, all their animal cams will go dark, and we'll be a panda-less nation with a giant panda–shaped hole in our hearts.
At midnight tonight, the Federal government will likely shut down for the first time since 1995, in response to Republicans and Democrats staring each other down over a temporary spending bill. The shutdown extends to government websites like the Library of Congress and NASA. It will also include the National Zoo and, yep, the Panda Cam.
The Zoo tweeted out the bad news earlier today, explaining that the cams need staff and funding to run.
The cams (incl. the panda cams) require federal resources, especially staff, to run. They have not been deemed essential during a #shutdown.

— National Zoo (@NationalZoo) September 30, 2013
In a government shutdown, agencies are deemed essential or not essential, and the Panda Cam has been categorized as the latter. As we all deal with this panda-demic, the National Zoo's offering their app stream as well, to combat the high traffic accompanying our collective descent into darkness and terrible pick-up lines.
On the Zoo's Facebook page, some commenters are suggesting they release bears in Congress.
UPDATE: It's happening.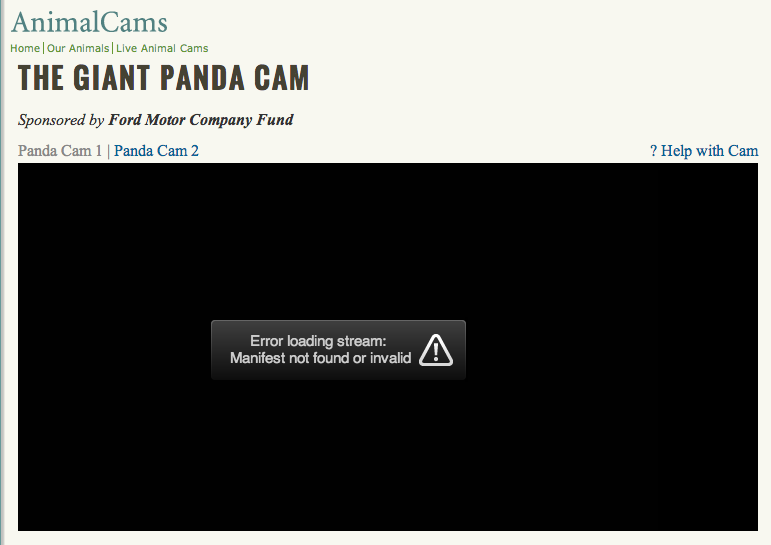 At the @NationalZoo :( pic.twitter.com/ZoUqgmw4I6

— Amanda Terkel (@aterkel) October 1, 2013
Screengrab via National Zoo