Nathan Pyle has an unusual CV, even for an artist. He's a newish New Yorker (four and a half years out of Kettering, Ohio), consistently Internet-famous T-shirt designer, a former seminary student, and a current freelance TV producer—and he recently set the Web on fire with his savvy GIF guide to living in New York. 
There's a reason that subway car is empty, people.
"Oh, goodness," he told the Daily Dot in a Gmail chat yesterday. "To put it delicately: You have five senses, and what has happened or is happening in the empty car will offend at least two or three of them."
Noted.
His creation of nearly 100 GIF tips and etiquette guidelines for New Yorkers has gone beyond-viral. Making its debut on Reddit a mere three days ago, it's got 3,000 points and almost 90,000 views. A search for "Nathan Pyle New York GIF" returns 90,500, and if there's a GIF-covering website that hasn't mentioned him yet, it needs to get off the Etch-a-Sketch and onto the real Internet. 
"Is there any website you aren't getting the front page on?" asked a friend on his Facebook wall.
"I have to hand it to Gizmodo: His name is Brian Barrett and he was one of the first to pluck my stuff out of obscurity before I started posting on Reddit, I believe. So essentially threadless.com and shirt.woot.com are the crowdsourcing sites that made it possible to go semi-professional with my art. That year I got the exposure I needed to start selling. I think so highly of Gladwell's concepts in Tipping Point, because you push and push and yet something has to do the trick and push you over the edge."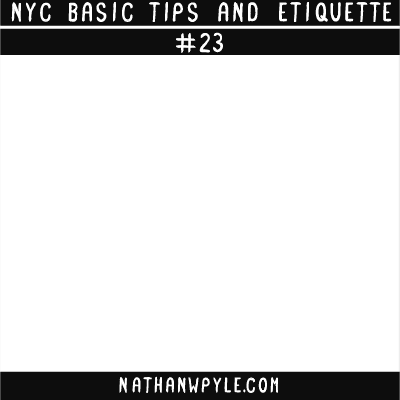 Ever courteous, he complimented us on our coverage of the series in yesterday's Morning GIF, where we referred to the history of New York's constant dealings with newcomers. "It's funny too because one of the many sketches I had was referring to the ancient history of 'who is really a New Yorker.' It ends with a Native American rolling his eyes. I have yet to figure out if it's been done." In real life, almost surely. Online, only Google can tell.
The GIFs are not numbered sequentially, but they certainly are adding up. "I'm hitting 100 soon so I'm rolling through as quickly as I can actually materialize them. One hundred sketches will mean GIFs are a bit more work, but static images may be the go-to if the book materializes, and things are looking positive on that front."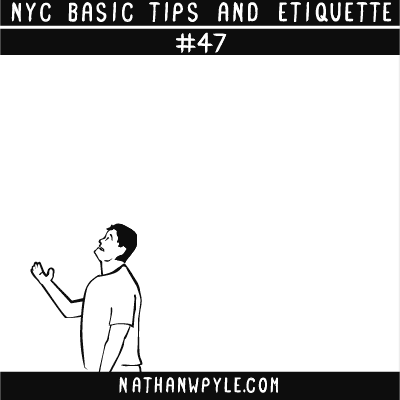 Naturally, we asked for details, but Pyle is nothing if not discreet. "I will keep it all tight lipped for now while details are being sorted but I'm pretty stoked. I guess that is a terrible answer. Sorry."
We asked about his background: Did he, like so many celebrated GIF artists, go to art school? "I did not, I studied theology in undergrad." So a bit of a transition there, but not as much as you'd think. "Storytelling is the common thread. And I still attend a church (near Union Square). I love storytelling through TV and art."
As for influences, there are "too many to name for sure. Everything I know I learned from my cousin. He's like my big brother (I have two real life brothers and a big sister)." He also mentions Duke Riley, artist and tattoo designer. "I love anyone who can work with limited colors, love great line work."
"I'm proudly from Ohio, but have wanted to live here since college. I had a poster of the city on my wall just like a cartoon character."
The one from The New Yorker?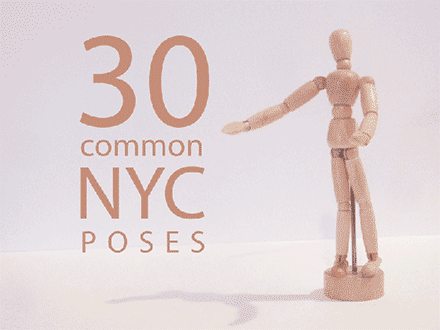 "Oh, perhaps? I only meant generally—I had a Brooklyn Bridge poster on my dorm room wall, like a giant cliche because I thought this city was the most amazing thing. Still do. And it's incredible that I get to live here. I feel very fortunate.
"There are so many things that we can all relate to that aren't drawn yet (as far as I know). Stuff like that made me think I should try my hand at it. I'm more of a writer-artist than an artist, but I think I understand making easily shared/enjoyed content."
90,500 other people with websites apparently think so too. Pyle asked us to let readers know he can be contacted directly at nathanwpyle@gmail.com, and of course he's on Facebook, Twitter, Reddit, and Blogspot, not to mention those 90k other places to find his work.
Images by Nathan Pyle/Blogspot