A would-be phone thief who thought he was going to get some sweet lovin' found himself confronted by his victim wielding a hammer.
Musician Nadav Nirenberg left his phone in the back of the cab while on his way to a New Year's Eve gig. He tried calling in it to get in contact with the cabbie, but the device was immediately turned off. Texts offering a reward were also ignored.
The next day, Nirenberg, who plays with ska band Streetlight Manifesto, discovered that the thief was using his old OKCupid account to hit on girls. It was then that he got the idea to mess with him.
"I created a fake email and a half-believable OKCupid account as 'Jennifer Rodriguez' – a 24-year-old girl who just moved to Brooklyn and is looking for a man to take her out," Nirenberg detailed on his personal blog.  "I sent a message to the thief (my account) and chatted him up as Jennifer…weird. A few hours later he was headed to 'Jennifer's apartment' for a relaxing bottle of wine and a good time. What a lucky night for him!"
But wait! It gets better. The cab driver, who is not white, sent the fictional Jennifer a text that read "Hay the pic u see on my profile it not my pic it my friend pic," referring to the OKCupid photo of Nirenberg, who is white.
Nirenberg's blog continues: "Little did he know that on his way up the stairs I would pop out behind him, calmly give him $20 for my phone (it was in his hand) and tell him the cops were on the way (with a hammer in my hand). RETRIBUTION! The look of immediate shame on his face was priceless, homie was shook and must feel like an idiot. Dude was all dressed up, had a bottle of wine and stank of cologne. As he was walking away I was surprised I said 'You smell great tho'."
Predictably, this story made it to the home page of Reddit's r/justiceporn, a subreddit devoted to watching "bullies [get] their comeuppance," not once but twice. The first telling of the story was posted on Tuesday by user truebluebrewcrew, who happens to be friends with Nirenberg via Facebook. That post has received 2,099 karma points as of this writing.
On Wednesday, Nirenberg himself submitted his tale of retribution. His self post also included a screenshot of fake Jennifer's email inbox, which included a bombardment of OKCupid notifications coming from the hapless cabbie.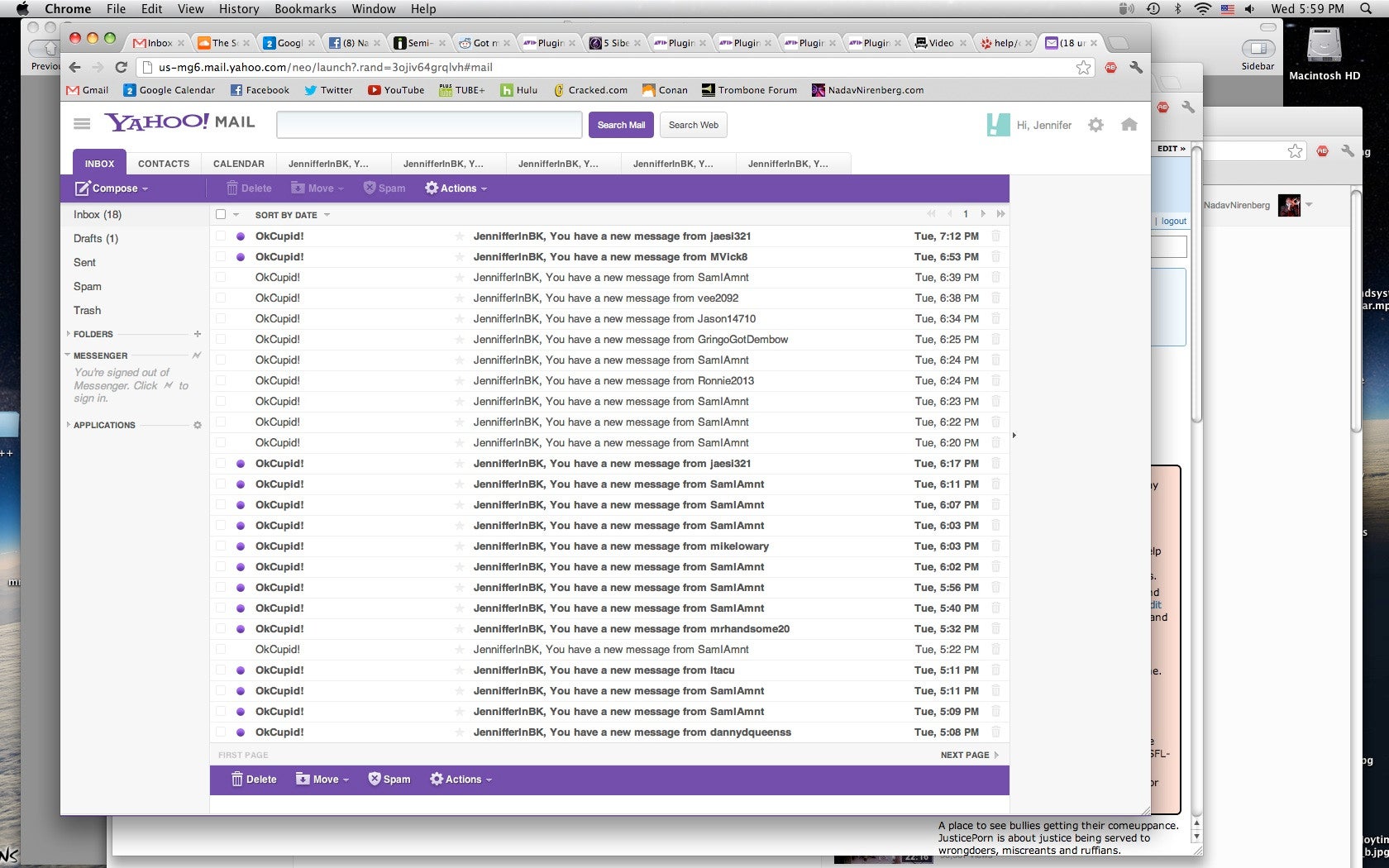 Photo via Nadav Nirenberg
As for the lovely Jennifer, Nirenberg deleted her OKCupid profile because of the large number of messages she was receiving. He also posted an apology on his own profile.
Photo via Nadav Nirenberg/Twitter