Ariana Grande released a modern anthem of women's empowerment early this year when she dropped the song "7 Rings," off of her then-forthcoming album Thank U, Next. But unfortunately, the feminist message was lost on TikTok user Melanie Candler, who we now have to thank for the "My Husband, He Bought It" meme.
Back in April, the stay-at-home mother of two uploaded a video to the platform that was intended to be a parody of Grande's hit song.
"You like my phone? My husband, he bought it," said Candler in the video, pointing to her phone. "You like my car? My husband, he bought it," she continued, before flashing to images of her closet and large engagement ring. "My husband, he bought it. My husband, he bought it. I'm spoiled, and rotten, my husband, he bought it."
Twitter user @houseandhens tweeted the video with the caption "woOW" along with a string of emojis, which went on to be viewed over seven million times.
https://twitter.com/houseandhens/status/1120098640012488706
Unfortunately for her, not everyone found Candler's video to be quite so delightful, and she later posted a follow-up to address the inevitable backlash. Both videos appear to have been since deleted, but again—it was tweeted for posterity, this time by @thatGApeach.
https://twitter.com/thatGApeach/status/1120504835630161920
In the second part, Candler expressed anger at people assuming that she was a "gold digger" and that she only married her husband for money.
"I stay at home with my children all day because I don't feel comfortable with some stranger watching my children," she fired back. "I am very thankful that I can stay home every single day and raise my own kids, because a lot of women can't. So get the fuck over it."
"I know this whole 'feminist' shit has you thinking that you need to be equal? Not all women think like that," she added. "Some women like to sit on their ass and let a man take care of them."
Ah yes, her children definitely seem better off in their mother's immediate care.
At any rate, the video has gone on to inspire countless parodies and memes on TikTok, as you can see in some of the examples, below: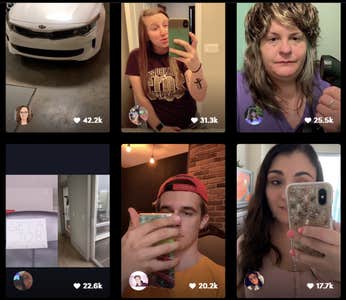 Twitter users also began having fun with the meme, typically as users shared images of, uh, shall we say less than impressive vehicles with the caption "You like my car? my husband, he bought it."
you like my car? my husband, he bought it pic.twitter.com/t0p0NqlskC

— fairy type (@em0gremlin) April 30, 2019
You like my car? My husband, he bought it pic.twitter.com/zAX6QW03Hf

— yeah i'm emo? so what? (@ThyArtIsMemes) April 28, 2019
And then this example riffs off of the viral "name one thing in this photo" tweet:
https://twitter.com/drowzygf/status/1121191882757951488
Others speculated on what's really going on in the "my husband, he bought it" household:
https://twitter.com/dissertate_/status/1121807401064308736
The my husband he bought it girl making Tik toks while her kids starve pic.twitter.com/jCnzfNJSkd

— incel king ⁷ (@pinchethot) May 21, 2019
children in the back: mommy im hungry
Muffled yell from the closet: my husband? he boUGHT IT! https://t.co/jxGh9GDsam

— ∀ (@austinkleha) April 25, 2019
And then, the meme naturally managed to ruin "7 Rings" for at least a few people:
https://twitter.com/habibiassemble/status/1123032198213525505
https://twitter.com/annoying1994/status/1145889681055395840
Ariana would probably be not amused.
READ MORE: