Now that the Snyder Cut has finally been released, you would think we could all finally move on. But no. "Release the ____ cut" has taken hold. And now there are demands for the NC-17 Mrs. Doubtfire cut.
This started with a tweet from the account Film Facts, which alleged that "While filming 'Mrs. Doubtfire' (1993), Robin Williams improvised so much that there were PG, PG-13, R, and NC-17 cuts of the film."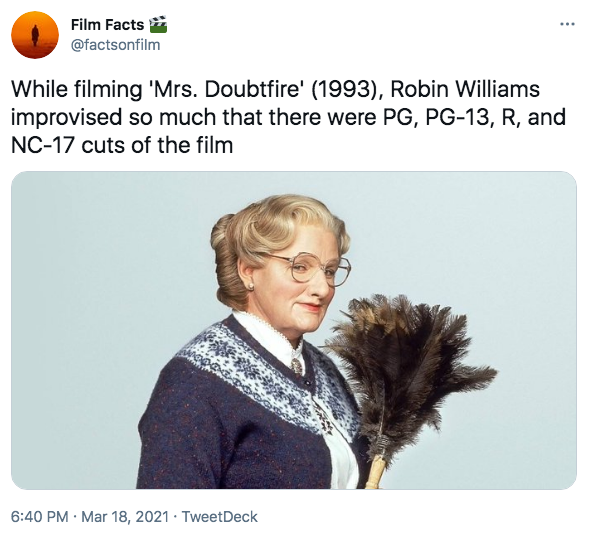 The internet understandably ignored the other ratings and focused solely on NC-17, minds gripped by what Williams could have allegedly done in a family film where he plays both divorced dad Daniel Hillard and British housekeeper Euphegenia Doubtfire. A 2012 horror cut of the film recirculated.
This same tidbit about "cuts" has been tweeted out before, by another "facts" account, but this anecdote appears to have come from a 2015 interview with director Chris Columbus. He said that to document the scope of Williams' improvisation, he set up multiple cameras to capture his co-stars' reactions, leading to four different cuts. In 2016, co-star Mara Wilson said she didn't know about an NC-17 cut, but that there was likely an R-rated version. IMDb notes that a U.K. version of the PG-13 film was re-released as PG "after the removal of 13 seconds of dialogue referring to 'cunning linguistics,' 'horizontal mambo,' and other crude mentions of sexual foreplay during the restaurant scene."
There's some new info: Randi Mayem Singer, the film's screenwriter, said she recalls the "dirty dailies," but "can't confirm if there's an entire cut." She added that she has "some outtakes and bloopers on VHS in storage."
Still, just the idea of an NC-17 Doubtfire cut had some people reconsidering their priorities.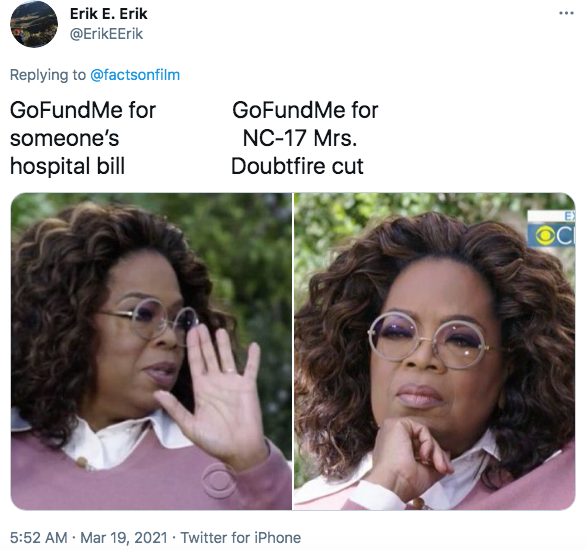 Update March 22, 8:41am CT: Chris Columbus told Entertainment Weekly that there is no NC-17 version of Mrs. Doubtfire, but there is an R-rated cut. He admitted that he "used the phrase NC-17 as a joke. There could be no NC-17 version of the movie."
He added: "I would be open to maybe doing a documentary about the making of the film, and enabling people to see certain scenes re-edited in an R-rated version."