Sergey Kotov must live a charmed life. He was riding his motorcycle down Interstate 25 in Colorado a year ago today when a rear-end collision with a car sent him flying over his handlebars. He lived to tell the tale, and—what's more—he caught it all on his GoPro camera.
The video was uploaded to his YouTube channel XKotovX today, a year after the accident. Kotov said he was traveling at 140 mph at the time of the crash.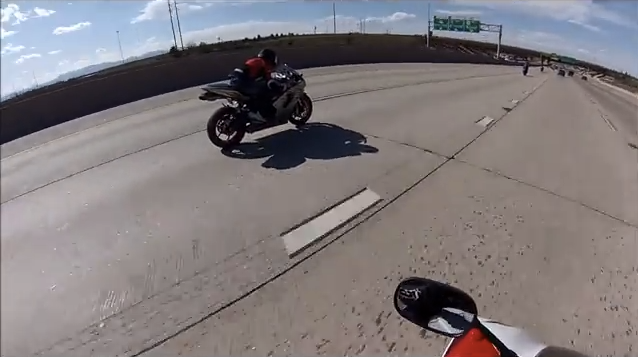 We begin the video with Kotov looking at another motorcyclist, not paying too much attention to the road ahead.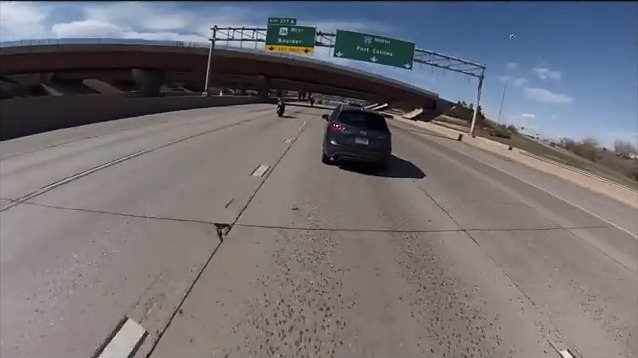 Suddenly, a car appears on the road ahead.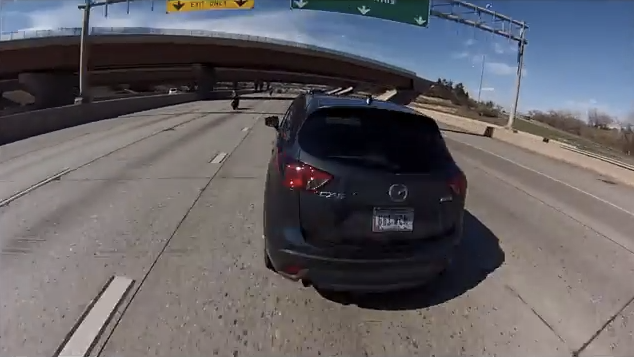 It's too late to do anything.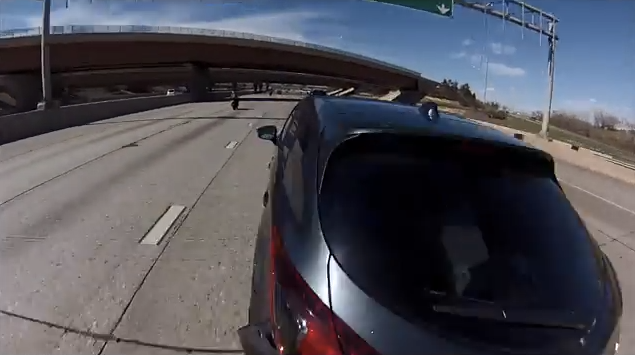 Moments before contact.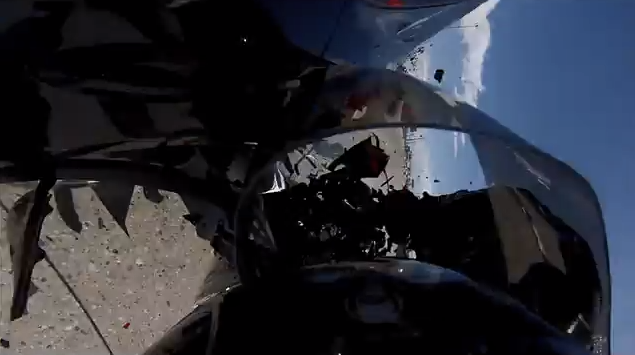 The motorcycle's windshield is the first thing to go.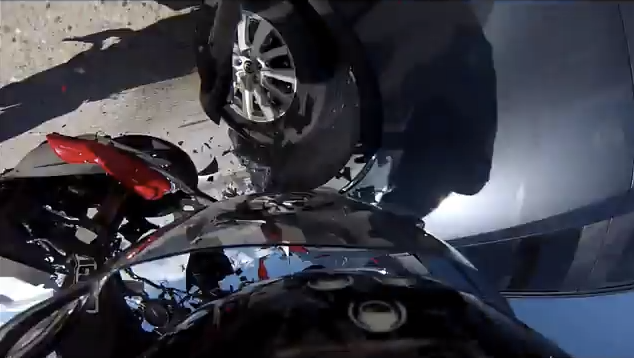 The entire front of the bike is torn to shreds.
Meanwhile, the rider goes flying.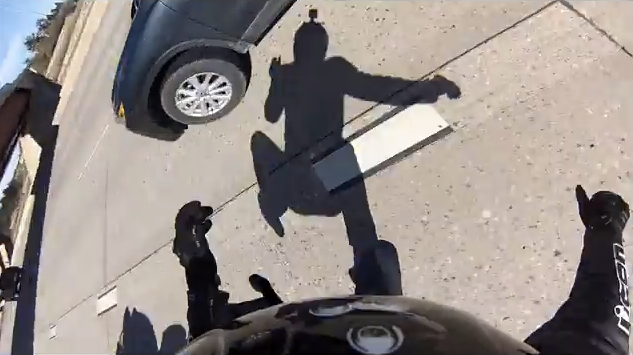 As Kotov is flung through the air, the silhouette of the GoPro mounted on his helmet is clearly visible.
Based on the distance between the road strips, we calculated the car was likely going about 40 mph at the time of impact.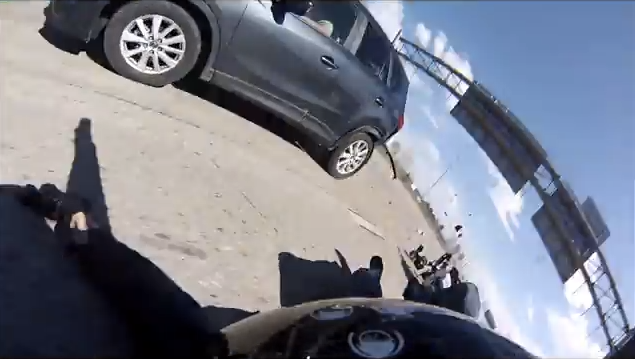 As Kotov hits the pavement, the GoPro becomes dislodged.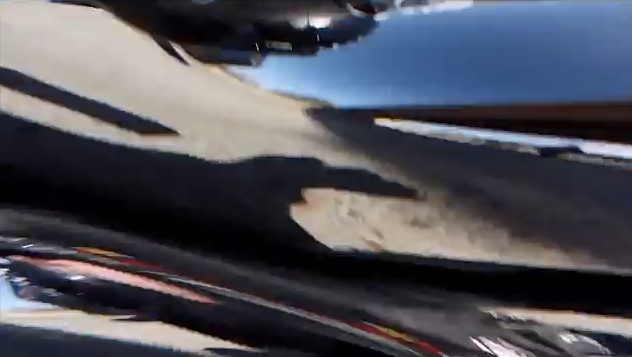 The world spins for several seconds.
We even catch a glimpse of the GoPro waterproof housing as it flies off.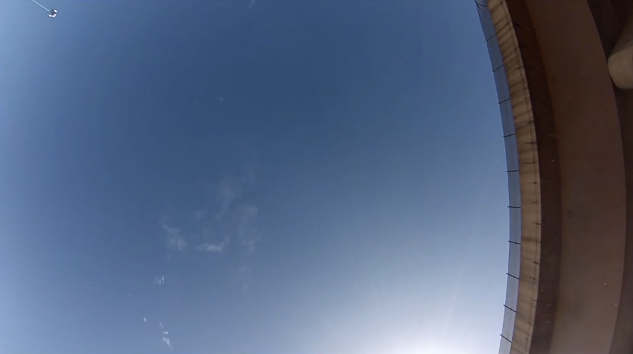 Until the camera finally comes to a standstill.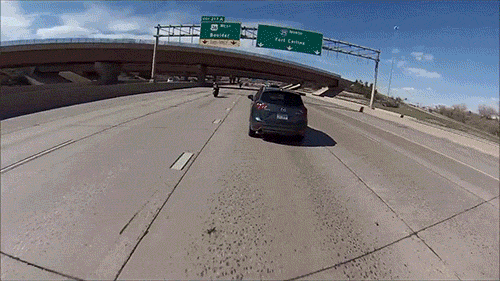 Here it is all again, in GIF form.
In this photo, posted on Instagram a year ago, Kotov poses with his Yamaha R1 motorcycle prior to the crash.
Here's a photo of the bike he posted after the crash. "Was very fun until I hit the car."
Whilst Sergey Kotov appears to have since made a full recovery, in the immediate aftermath of the crash he was in a coma and fighting for his life. The Daily Dot has reached out to Kotov for this story, but he has not yet responded.
His video looks likely to go viral so there could be a consolation prize of sorts. Jared Frank, who got kicked in the head by a train driver while trying to take a selfie earlier this month and uploaded the results to YouTube, learned he could be in for a six-figure payout in advertising revenues from the video.
Jukin Media, the same social media agency that signed Frank after his video has already reached out to Kotov via Instagram.
Now, this could all be an elaborate Jimmy Kimmel prank—it certainly wouldn't be the first time. But Kotov hasn't just appeared out of nowhere: he's been posting about this crash on and off for a full year now. If it is a hoax, then our hats go off to the prankster behind it.
But in the mean time, what's the moral of this story?
Always wear a GoPro. And a helmet too, I guess.
Screengrab via XKotovX/YouTube