Here at the Daily Dot, we swap GIF images every morning. Now we're looping you in. In the Morning GIF, we feature a popular—or just plain cool—GIF we found on Reddit, Canvas, or elsewhere on the Internet.
The legacy of war continues to wound countries long after the peace treaties have been signed. In Western Europe, the discovery of undetonated, and unstable mines and bombs from World War II is a regular occurrence, parodied in the Simon Pegg movie Hot Fuzz. Elsewhere, in lands which have known war more recently, the situation is no joke. In Afghanistan alone, it's estimated that more than 1 million civilians live within 500 meters of an undetonated and undiscovered land mine.
Massoud Hassani, who was raised in Afghanistan, has taken inspiration from wind-powered children's toys to build an ecological, safe, and affordable minesweeper. It is also breathtakingly beautiful, and the prototype is now in the Museum of Modern Art in New York. Hassani, who now lives in the Netherlands, hopes the Mine Kafon will go into commercial production soon, and to raise the funding, he turned to Kickstarter, which amply rewarded him. Although the project is still open for funding, it is already over its goal amount, with 3,650 supporters and £105,089 ($169,394) raised.
The globular shape and Dalek-like legs allow the Mine Kafon to roll around the rocky steppes of Afghanistan by wind power, and while the device is light, the shape also concentrates all the weight on a very limited area, enough to set off a mine. Each detonation removes one or two of the legs, but with so many spares, it can roll on. Hassani estimates that each should be able to take out three or four land mines per trip before repairs are needed.
Previous methods of choice for mine sweeping include sniffer dogs, sniffer rats, cattle, specially trained and equipped forces, and (according to some witnesses) children. This is the best example we've seen lately of what you call progress.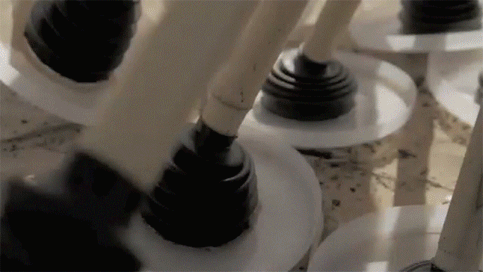 GIF via Architizer/Tumblr