Here at the Daily Dot, we swap GIF images with each other every morning. Now we're looping you in. In the Morning GIF, we feature a popular—or just plain cool—GIF we found on Reddit, Canvas, or elsewhere on the Internet.
The legendary Sesame Street character Elmo is a polarizing figure. For some, his falsetto voice coos of innocence and love. For others, he is an accursed homunculus straight from the deepest pits of Hell whose meaningless gibberings herald the coming of the Antichrist.
His debut in 1972 (as "Baby Monster") wasn't an immediate hit, but by the politically significant year of 1984, he had become something more than a mere bit player: he had become the Elmo. A star. A relentless, giggling, falsetto'd money machine. An entertainment colossus clad in ratty fur and googly eyes.
And there he is, on the top of the world as far as anyone can see, yet apparently tormented by invisible demons, their presence disguised behind a "show must go on" grin and giggle. The 2006 Gawker leak of Tickle Me Harder, the long-rumored sex tape, was the first crack in the Max Factor. Since then, disappointing holiday sales and the recent resignation of his longtime puppeteer after allegations of sexual abuse of minors have combined to send Elmo to his Not Happy Place.
Elmo can't take this, Hollywood! Jump, Elmo, jump!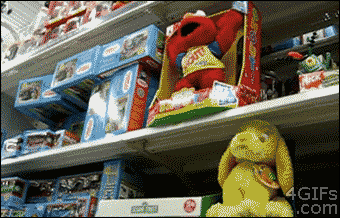 GIF from 4GIFs