Here at the Daily Dot, we swap GIF images with each other every morning. Now we're looping you in. In the Morning GIF, we feature a popular—or just plain cool—GIF we found on Reddit, Canvas, or elsewhere on the Internet.
Here's a spring blossom that will never wilt: a GIF from Hungarian/German graphic designer and artist davidope, David Szakaly in his "civilian" alter ego. His dvdp Tumblr is packed with his trippy, generally bulky, black-and-white works. This abstracted rainbow dandelion, which would be even more amazing if someone would turn it into a 3-D object, represents a new artistic direction for him.
We've previously featured his winning animated logo design for Adidas,  as well as Strange Attractor, an experiment in turning science into aesthetics, and Today's Smile, in which he turned a flash animation of post-Fukushima Japan's fallout by Kazumasa Teshigawara into a GIF.
In contrast to the (literal) bulk of his work, today's GIF is optimistic, colorful, and airy, a new direction for the artist. As the various colors radiate from the center to the ends of each strand, the object seems to pulsate, to grow and shrink depending on which colour is where, an interesting illusion that adds life to the artwork. We wonder about the backstory here; then again, it could be nothing more than a simple case of Spring.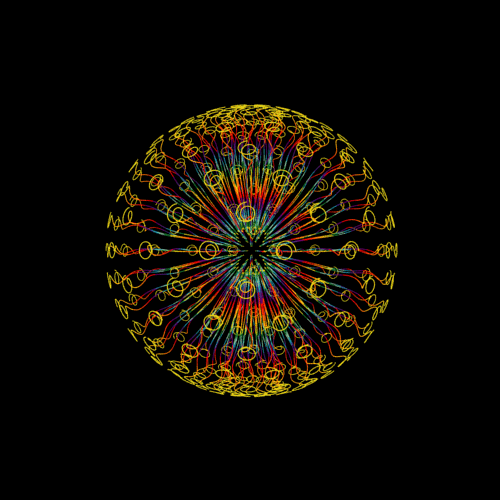 GIF via dvdp/Tumblr