Kingdom Hearts 3 is the long-awaited new addition to a game series that combines Japanese role-playing game tropes and some of the most recognizable Disney characters. "Recognizable" is a stretch for one of the characters revealed this week, though: a green, nightmarish Monsters Inc. version of Goofy.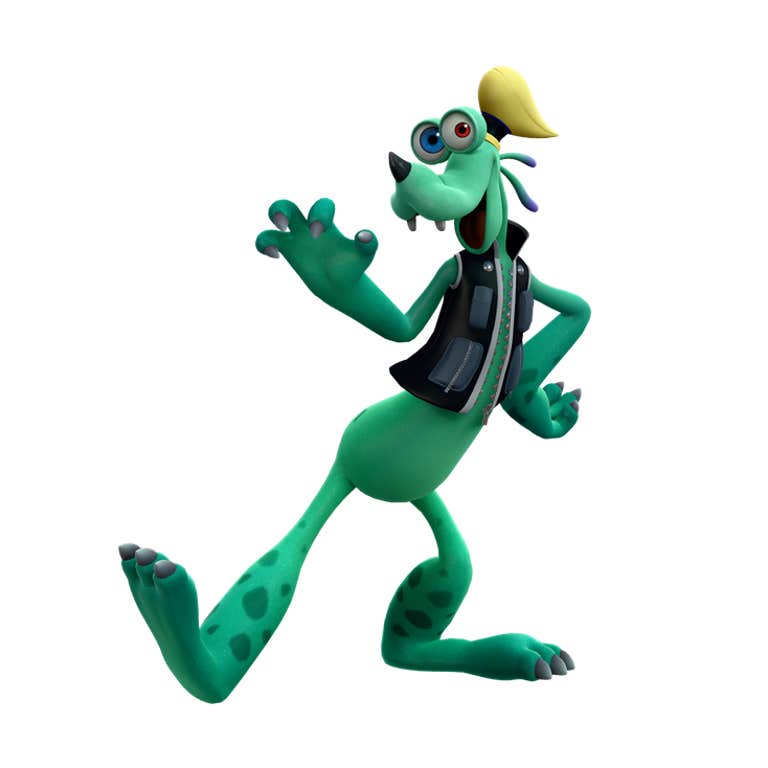 Gawrsh, Goofy. What have they done to you?! Kingdom Hearts was always pretty wild, as far as official Disney intellectual property goes. It's a crossover between various Disney and Pixar movies and the game worlds of Final Fantasy developer Square Enix. But this new Goofy is even wilder. It seems that in the third game, main characters Goofy, Donald Duck, and Sora will be entering the world of Pixar's Monsters Inc, and they'll have monster forms themselves.
Sora and Donald look kind of cute, fitting in with Monsters, Inc. stars Sully and Mike, but Goofy… Goofy is an abomination not fit for this world or any other. His freaky design hasn't escaped the notice of fans on social media:
Hey, what if Goofy had a job at Monsters Inc? pic.twitter.com/CvymoGeWXY

— Grimbuscula (@Grimbuscula) February 11, 2018
it's 4am and monsters inc world goofy is making me lose my goddamn mind pic.twitter.com/n93IIfYKrl

— vivian (@lavendersheeps) February 10, 2018
https://twitter.com/MrClemps/status/962468776544493568
https://twitter.com/Gospel_Clyde/status/963146563118755840
kh3 monsters inc goofy reminds me of scooby when he drank the potion that turned him into a monster pic.twitter.com/nrMxXacE2r

— kool-aid man (@jimhowletts) February 12, 2018
I don't actually care about the new Kingdom Hearts, but his Monsters Inc. Goofy just makes me laugh. Also here's an old dead meme. pic.twitter.com/by8yQtaRXx

— Neel Goodwin (@kloud_kat) February 12, 2018
"These edibles ain't shit."
*20 minutes later* pic.twitter.com/X0vKIeuHpi

— Chidden Nuddet (@Maraculousness) February 10, 2018
Okay but what if Monsters Inc. Goofy looked like this instead pic.twitter.com/sqZYx9e5C5

— Morbi ☁️ (commission status: Full) (@HgMorbi) February 10, 2018
if you could just imagine for a second, if Max was in KH3 pic.twitter.com/OHLNk4FB4q

— jack (@amphajack) February 11, 2018
Some have noted a disturbing resemblance between Monsters, Inc. Goofy and notorious Star Wars Sith lord Jar Jar Binks.
Finally figured out who monsters inc Goofy reminds me of pic.twitter.com/OlAI6elE82

— 🥽🦭Vaccinated!bryn🤠🎃👻 (@bryn_alyn) February 11, 2018
Is it just me or does Monsters Inc Goofy remind you of Jar Jar Binks pic.twitter.com/EysG76AdZ9

— 🍂🕷SpoopyAiron🕸🌻 (@Aironslug) February 11, 2018
Monsters Inc Goofy looks like a green Jar Jar Binks which is terrifying.

— Chris Andrews (@ChrisAndrews322) February 12, 2018
But that's not the most disturbing thing about Monster Goofy. The most disturbing thing is that people want to have sex with him. Ah, the internet: where there's someone (or something) for everyone.
There is someone out there that wants to have sex with Monsters Inc. Goofy.

— joe-joe and kim (plus jeff and danielle) (@joejoehasfun) February 12, 2018
https://twitter.com/PixylByte/status/962500931093803008
really wish yall wouldnt post the monsters inc goofy porn ten times in a row while im in public but what can you expect from twitter

— darth rinkus (@ohworm_) February 11, 2018
daddommed by the kingdom hearts 3 monsters inc goofy

— kasey (@dogcartoon) February 12, 2018
We're not going to show it to you, but you can sleep worse tonight knowing that the Monster Goofy porn exists and that the internet continues to work as expected.