For many, Facebook is a gated community where users opt to share only with a select few family and friends. To that extent, they use it as they would Path, the buzzing mobile social network, or Google+.
Users can share updates and choose to subscribe to a user's public updates. But it's not a public broadcast tool like Twitter. It's difficult to have anything that's posted on a Facebook profile get noticed outside of that individual's social circle.
That's an issue a new service is trying to resolve.
MingleWing lets users share content they might post on Facebook with the rest of the Web on a public page. Once a user has connected their Facebook account, they can share anything they like with the wider world and get comments and feedback from anyone with Internet access.
The site says it is adding "public discussions (wings) to Facebook." These wings are arranged into topics—ranging from Entertainment and Funny to Politics and Current Events—to make relevant posts easier to find. Videos and images are embeddable in posts, or they can simply contain links or text.
In truth, it's a jumble of a lot of Web services rather than a simple extension of Facebook. It's a bit like Tumblr with predefined categories and Facebook comments built in. It's got a smattering of Reddit and Digg, with upvotes and downvotes, with the most popular posts hitting the front page. And it's borrowing from Pinterest in the way in which it displays posts on its homepage.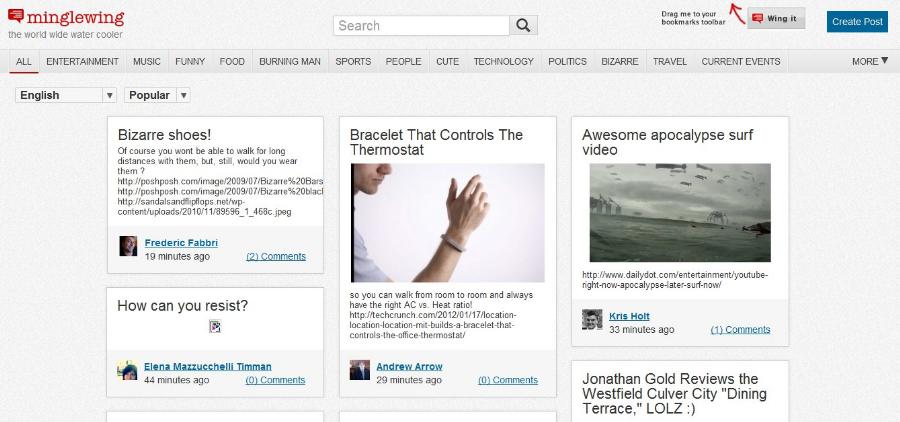 As yet, there's no option to automatically share Facebook posts from the social network to MingleWing, though you can share posts to Facebook from the site.
The Facebook angle is a bit of a stretch since, other than the use of Facebook's comment system, there's no deep integration with Facebook that centralizes the MingleWing conversation on the social network.
That said, it's a compelling idea that has the potential to gain traction as we outgrow our original social circles and increasingly seek validation from strangers.
Photo by bengrey