If there's one thing we can hold to be true, it's that any joy to be found on the internet can and will be endangered by sexist, cis, straight white men, sometimes of the incel variety, who lurk in places like 4chan and dank meme subreddits. Look no further than this "Milky Milky Warm and Tasty" meme, which has become a way for men to infantilize themselves while demeaning women on the internet for the crime of having breasts. This is exactly what happened to one New York Times columnist, who was viciously harassed on Twitter with this copypasta just for breastfeeding her child.
But what exactly is "Milky Milky Warm and Tasty," and how did this meme turn into a tool for online harassment? Here's what you need to know about this copypasta's complicated online history.
What is 'Milky Milky Warm and Tasty'?
"Milky Milky Warm and Tasty" is a repeatable meme, or copypasta. It is a short poem theoretically told from the point of view of a cranky, petulant child who threatens to have a meltdown if he is not breastfed quickly enough. The post seemingly has sexual connotations.
What is the origin of 'Milky Milky Warm and Tasty'?
Though it's unclear exactly where the Milky Milky Warm And Tasty meme first cropped up, Know Your Meme attributes the poem to an August 2017 post in the r/copypasta subreddit.
MILKY MILKY WARM AND TASTY!
MOMMY! MILKY! PLEASE BE HASTY!
REFRESHING DRINK FROM MOMMY'S UDDERS!
I WANT MOMMY'S AND NO OTHER'S!
GIVE IT! GIVE IT! GIVE IT NOW!
GIVE ME MILKY, LAZY SOW!
UNTIL YOU DO I'LL SCREAM I'LL SHOUT!
I'M CRY I'LL WHINE AND STOMP ABOUT!
UNTIL MY BELLY IS FULL AND HAPPY!
I REFUSE TO TAKE A NAPPY!
Our only clue that the poem may have existed prior to the Reddit post is a commenter who wrote, "i'm amazed that nobody ever fixes the goddamn typo: 'i'm cry, [sic]'" referring to the third to last line.
Over the course of the next four years, the Milky Milky Warm and Tasty copypasta meme surfaced semi-regularly on forums such as 4chan. The meme was typically used to comment on threads involving a specific woman's breasts. Often, it was accompanied by some version of Pepe the Frog—the would-be mascot of the alt-right.
For example, the below screenshot was used in March of 2018 to respond to a photo of Mad Men actress Christina Hendricks—who is known for being well-endowed.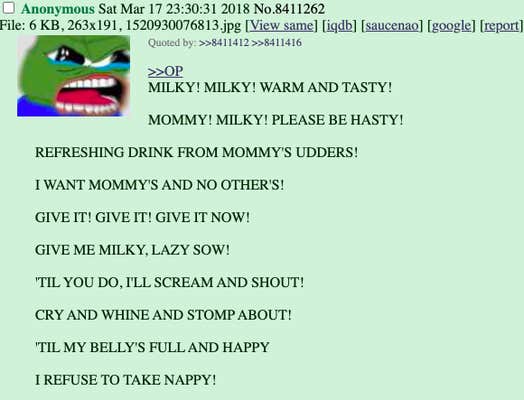 'Milky Milky Warm and Tasty' and sexual babytalk
The rise of Milky Milky Warm and Tasty memes should hardly come as a surprise since they share commonalities with other "sexual babytalk" internet memes employed by 4chan users.
These include "Chicken Tendies" (or Chicky Nuggies) copypasta memes, which joke about adult men living with their mothers who still feed and care for them like children. In these and related memes, so-called "Good Boy Points" are used to describe adult men living with their mothers who earn points in exchange for doing chores. (These points can ostensibly be traded for Chicken Tendies or Nuggies, natch.)
These memes originated around late 2014 to 2015 and spread throughout the internet. One viral iFunny copypasta from 2017 made its way to YouTube in 2020, where it manifested into a 17-second clip featuring then-presidential candidate Pete Buttigieg. "In America, some people want small mommy gf with small milky," a crude deepfake of Buttigieg says in the clip. "But we need to make sure the tent is big enough for the mommy gf with biggy milky, and penis, my god, I need this."
It's unclear what commentary, if any, was intended. However, in exactly one year's time, the video has been viewed over 1.7 million times.
Originally, the "Milky Milky" copypasta poem was a cringey yet relatively innocent meme that trolls could post on forums and in response to people with breasts. It's a product of an era of the internet when sexual innuendos and immature jokes were seen as extremely funny in some circles. But the meme has evolved into something more sinister: a block response that is often used to harass women for simply posting a photo of themselves that shows their body.
Twitter harassment and the Elizabeth Bruenig incident
By late 2020, the Milky Milky Warm and Tasty copypasta meme made its way to Twitter, where sexist users predictably began using them to sexually harass women. Popular TikTok user Neekolul (of "Oki Doki Boomer" fame) was targeted by one such Twitter user, @coffeemaestro_, who used the meme to comment on a photoshoot she posted on October 6, 2020.
"U make me blush," Neekolul had tweeted, along with three photos of herself wearing a cleavage-baring midriff top, prior to the creepy response.
The Milky Milky Warm and Tasty meme went viral once again in February 2021. When New York Times opinion writer Elizabeth Bruenig tweeted a since-deleted photo of herself breastfeeding her child, user @WokeCapital jumped into her mentions with the copypasta text along with an animated GIF of Pepe, as seen below. Bruenig deleted her tweet in response.
Other users quickly jumped to Bruenig's defense, pointing out how inappropriate the meme was, particularly when used in such an extremely literal context.
Maybe it's just time to retire Milky Milky Warm and Tasty already. Like many things found on 4chan, it truly was too disgusting for this world.
More essential culture reads on the Daily Dot:
The Mars landing of the Perseverance rover collided with Ted Cruz for a new level of memes
'It's always what wyd and never' is the newest viral Twitter meme
'Zack Snyder's Justice League' brought an iconic Joker meme to life