Mikey Way, 32, bassist of pop-punk band My Chemical Romance, supposedly just got engaged to a 20-year-old fan named Sarah Cantergiani. True, he's already married to someone else, but in the world of A-list rock stars this barely counts as news.
What makes the story notable is how the story broke: on Tumblr, by fans investigating Way's fiancée's Instagram account. This is the dirty side of citizen journalism.

Way. Via Muzicnerd/Flickr
Along with bands like Fall Out Boy and Panic at the Disco, My Chemical Romance are at the center of an online fan-culture known as "bandom." Bandom is something of a precursor to the enormously popular One Direction fandom, and is home to a vast array of RPF (Real Person Fanfiction) based on the lives of the band members and their spouses, friends, and relations. 
Knowing this, it's hardly surprising that MCR fans were the ones to find out about Mikey Way's affair and document the online evidence on Tumblrs such as NoWayMikeyWay and Archive of Scandal. Here's the damning evidence, snatched from HeySarahEm's public Instagram account and posted on Tumblr: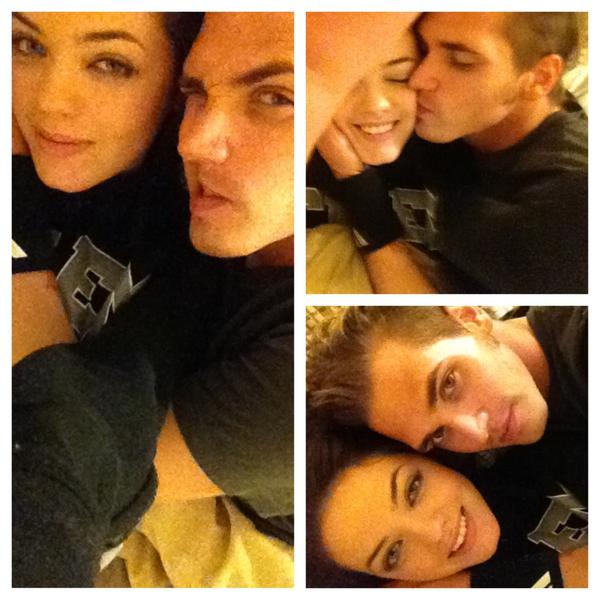 The original blogger at NoWayMikeyWay is already long gone, dropping the bombshell before quickly deleting the Tumblr and letting someone else take over the domain name. Whoever he or she was, the research was meticulous, revealing not only Mikey Way's relationship with 20-year-old Sarah Cantergiani, but also Cantergiani's own links to online bandom. 
The original post now boasts over 4,500 notes and reblogs, and the NoWayMikeyWay Tumblr has gained an anonymous moderator who is still sifting through fan messages for further "clues," such as the similarity between Sarah Cantergiani's and Alicia Way's engagement rings. 
According to screencaps taken by the original NoWayMikeyWay, Cantergiani and her best friend Angie Parise are longtime MCR fans, with Angie Parise posting photos of herself doing impressions of various band members: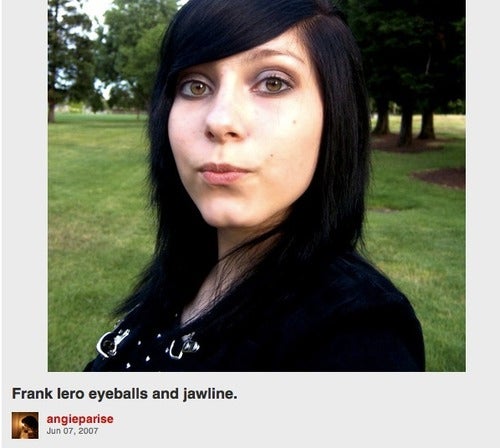 In a rather bizarre turn, Parise also posted excitedly about having met Alicia Simmons, a.k.a. Alicia Way, wife of Mikey: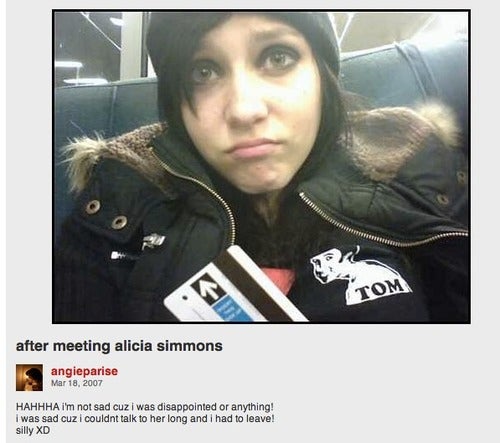 If these screencaps are anything to go by, then in 2006 Angie Parise even tried to post a Wikipedia entry for Alicia Simmons:
Seven years on, Alicia and Mikey Way are (presumably) separated, Sarah Cantergiani and Mikey Way are engaged, and Angie Parise is Tweeting happily about playing scrabble with them:

And Mikey Way is now following Angie Parise and @gigiLEAL (a mutual friend of Cantergiani) on Twitter: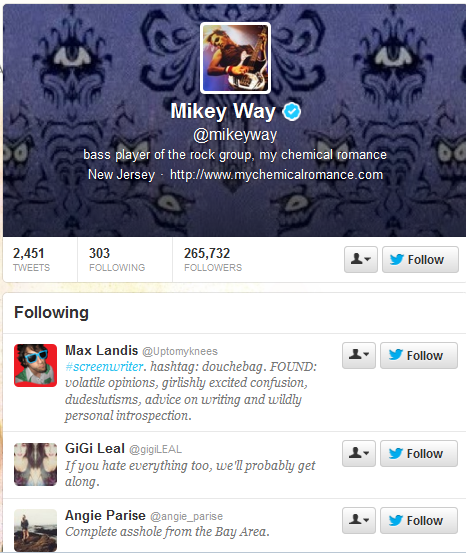 In a further twist, it has emerged that one of Cantergiani's online handles is Sarah Dope, the same name used by Alicia Way (née Simmons)'s best friend. Due to the nature of bandom, it's not unheard-of for fans to latch onto people even two or three degrees of separation away from the central band members, so the moniker is almost certainly a direct reference to the "real" Sarah Dope. Although the twitter account in question, @AYESarahDope, is now locked, the real Sarah Dope recently posted on her own Tumblr:
My bestie and I have been there for each other nearly half our lives, and will continue to do so. Do not ask me questions about it, because you won't find answers.

To protect my own name and brand, I will ask that you please stop mistaking "this girl" for me. We are far from being the same person. She had a screenname with my name in it. They say "imitation is the sincerest form of flattery." Or something along those lines. Either way, just like the Highlander, there can be only one."
As for My Chemical Romance themselves, Mikey Way has been silent ever since the story broke on Tumblr, as has his brother, lead singer Gerard Way. The band's former drummer, Bob Bryar, however, has been far from silent, tweeting: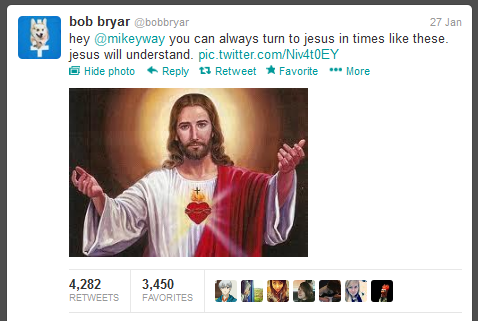 Bryar goes on to tweet jokingly about one of the Instagram photos in the NoWayMikeyWay Tumblr post, a picture of Cantergiani and Mikey Way having breakfast with her family. Probably in reference to the obsessive nature of fan conspiracy theories, he writes: "IT WAS THE ILLUMINATI FOR SURE. there are signs of the illuminati all over the FAMILY BREAKFAST pic."
Fan reactions on Tumblr and Twitter range from disgusted to supportive, but one opinion everyone seems to share is that by posting these pictures and Tweets to their public accounts, Mikey Way and Sarah Cantergiani have no one to blame but themselves. As the original writer of NoWayMikeyWay put it: "This was FAR TOO EASY."
Correction: Bob Bryar is not the rhythm guitarist for My Chemical Romance, as previously reported. He played drums and left the band in 2010. We regret the error.