An alleged McDonald's employee uploaded a TikTok video that claims to expose one of the fast-food chain's secret strategies to cooking its eggs: the microwave.
The video, uploaded by user @sean_ford, shows a purported employee putting three uncooked, cracked eggs on a tray into a microwave oven. After being in the microwave oven for a mere minute, the person takes them out, and they look in appearance like McDonald's iconic Egg McMuffin. They are circular in shape and have a fluffy texture.
"Oh no the secret is out," sean_ford wrote in the caption of the video.
The video has been viewed over 16 million times and was even reposted to the popular @bestviralvidz TikTok account, where it was viewed over 5 million times.
As the video grew in popularity, many TikTok commenters began expressing their doubts.
"That's impossible," one user wrote.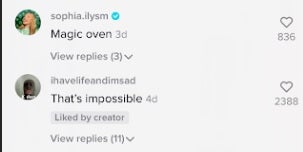 Another even called it a video editing trick.
"We saw the pause after 58 seconds," they wrote.
Other users, who also claim to be former or current McDonald's employees, quickly came out to debunk the video.
"What ghetto McDonald's you working at? Cause any other one it's cooked on the grill," one user said.

Another user stated that they worked at McDonald's "for years" and had "never seen that before."

"I worked at Mc Donalds's we use an oven and egg holders," informed another user.
McDonald's, on its FAQ page, claims its Egg McMuffin sandwich eggs are cracked fresh and cooked on a grill.
McDonald's has not yet addressed the video, adding credence to the idea the video may be a hoax.
READ MORE:
---
NOW HEAR THIS:
How the Teens of TikTok Are Finding Empowerment
Introducing 2 GIRLS 1 PODCAST, a weekly comedy show where Alli Goldberg and Jen Jamula (two actors who perform bizarre internet content on stage) have hilarious and humanizing conversations with Bronies, top Reddit mods, professional ticklers, video game archaeologists, dating app engineers, adult babies, cuddling specialists, vampires, Jedi, living dolls, and more.
Subscribe to 2 GIRLS 1 PODCAST in your favorite podcast app.