A recent Instagram video shows a busker in Edinburgh with a broken guitar after a drunk Karen allegedly smashed it out of anger. However, people are suspicious of the man behind the video, calling him out for being an apparent COVID denier.
"I'm a bit shaken up because this lady just came over, and she smashed my guitar. It's a 300-pound guitar," said Matt Grant, the busker and aspiring musician, on Tuesday via Instagram. "If anyone knows me in Edinburgh, I'm busking every single day. And I've never had anything like this happen to me."
He explains that the Karen had come toward him, shouting and allegedly intoxicated. She was upset he wasn't playing at the time, and he says he told her to "fuck off." He claims she picked up the guitar and smashed it on the ground.
He also says, right in the moment, that he's going to set up a fundraiser page for anyone willing to help him.
The video made the rounds on Reddit, garnering roughly 100,000 upvotes, and reported in the local news. However, the video was taken down across various Reddit pages not long after the posting.
Subsequently, the 26-year-old Yorkshire native started a GoFundMe to recoup the cost of the guitar, with the caption: "The funds will be spent on a replacement guitar. The excess will go towards new pieces of kit that have needed replacing for a while. [The] guitar I will buy is a sigma brand costing 400 GDP. I will also buy a new PA, [pedalboards], batteries and inverters, microphones, and leads with the excess."
---
---
From our friends at Nautilus
---
Now, it seems well and good—a seemingly decent human made whole from a lousy situation, and out of others' kindness and generosity. However, one person, u/IrishinManhattan617, wasn't taking to the story and called out Grant for taking advantage of the situation. He also took the busker to task for being a COVID-19 denier, suggesting he wiped his Reddit posting history to protect himself.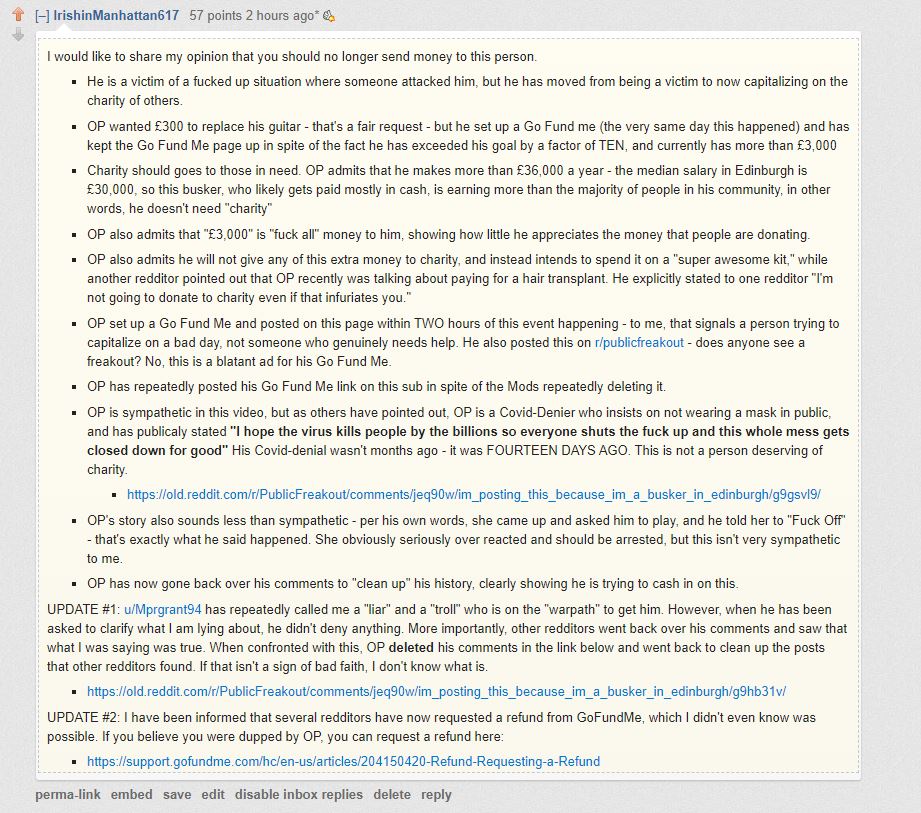 Regardless, the GoFundMe is closed, and Grant collected over 4,100 pounds (just under $5,400). However, Grant (allegedly as u/Mprgrant94, which has also been deleted) will perhaps have to answer to screengrabbed images of him allegedly expressing wild thoughts about COVID.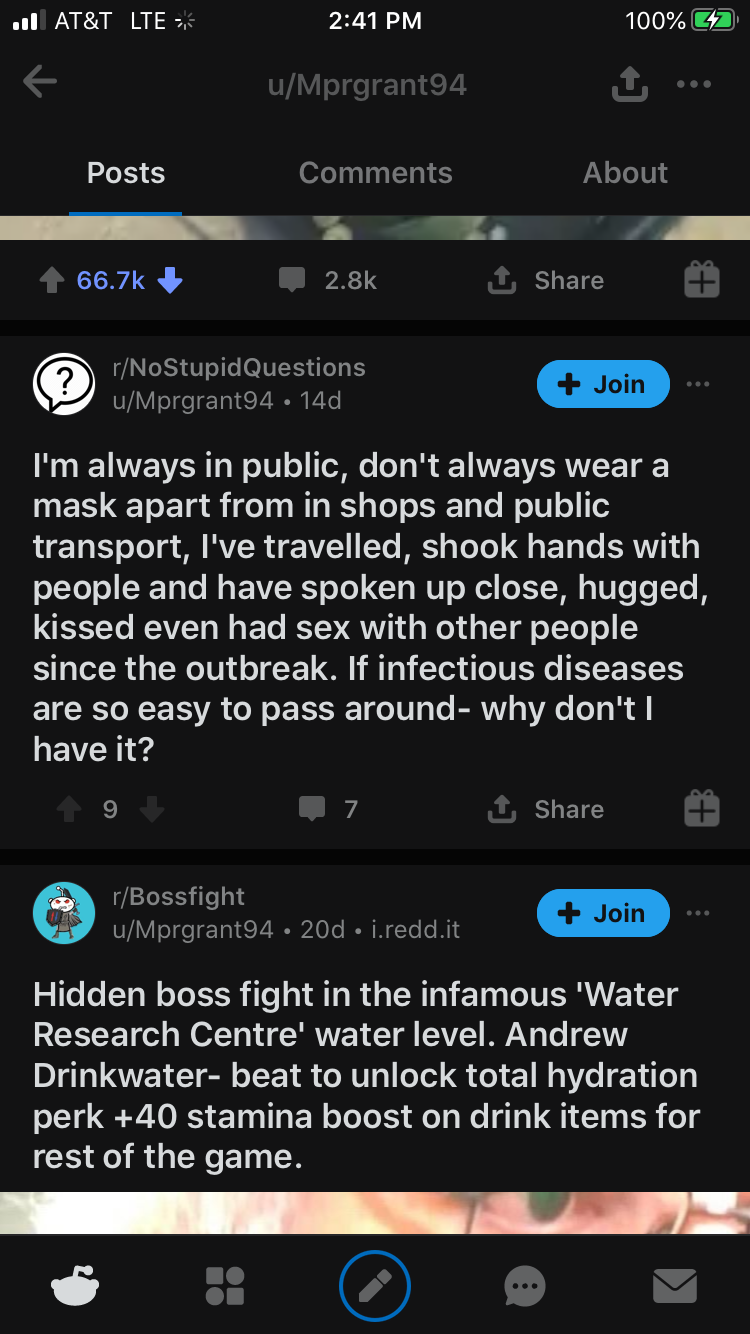 In a porn sub, of all places, his alleged account writes that it hopes "covid 19 kills us by the billions."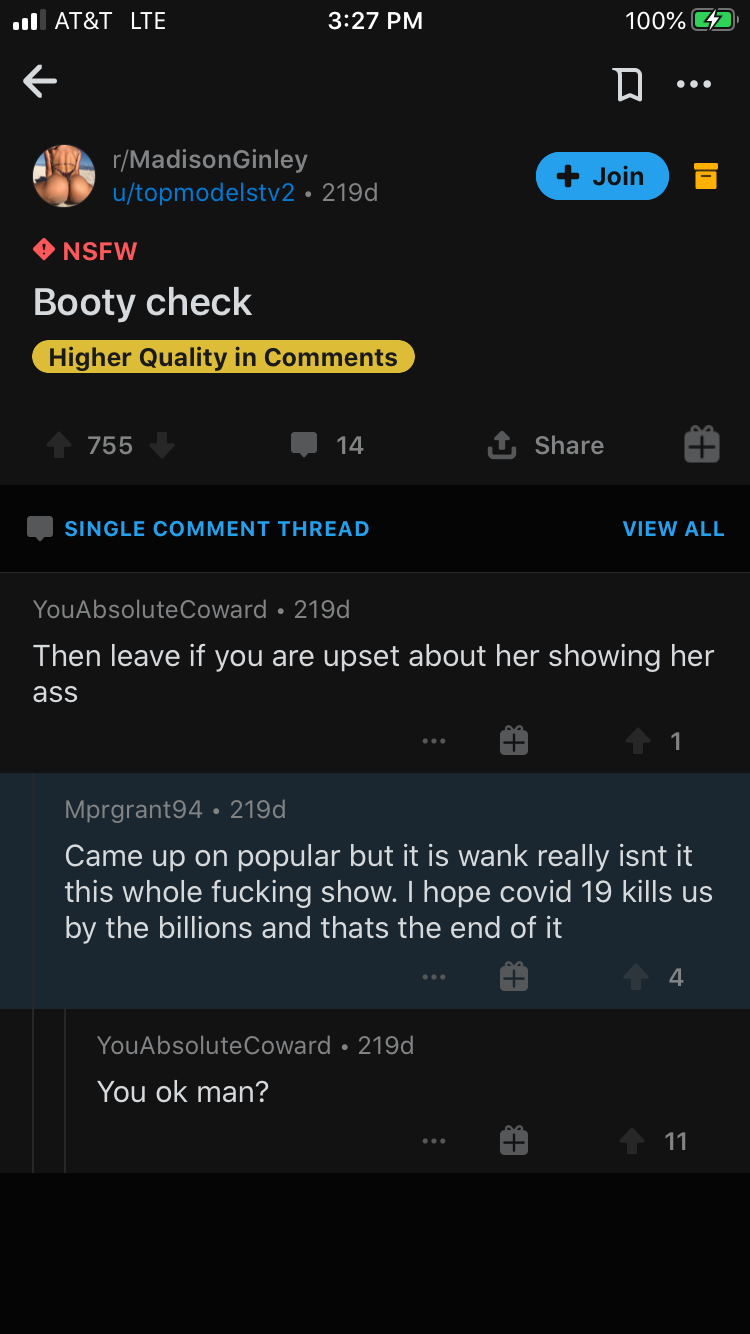 In fact, looking at the video, he isn't wearing a mask. He isn't wearing a mask in any video on his Instagram, which might be by virtue of his job. But when put together with his apparent comments, not wearing a mask seems political: "if infectious diseases are so easy to pass around – why don't I have it?" the deleted and screengrabbed account wrote on Reddit.
As of Wednesday, he's decided a mask is OK, wearing one as he purchases the new guitar.
A redditor asked what about his allegedly reckless COVID comments had to do with the guitar. In reply, u/DothrakandRoll said, "OP is reckless, puts other people in danger, has said he hopes COVID kills us by the billions."
"Is this someone you want to be giving money to?"
---
Today's top stories