Last night, the Tennessee Titans beat the New York Jets 14-10 on Monday Night Football, ending the latter team's chances of making the playoffs. Jets quarterback Mark Sanchez had a terrible game, throwing four interceptions and fumbling the ball once.
Sanchez's performance was so bad that Tim Tebow, who only only had one pass attempt that went for an incompletion, had a higher quarterback rating.
Even worse: A Jets fan took to Twitter to make death threats against Sanchez.
Around 9pm EST Monday, @BraveGrancru launched into a Twitter tirade filled with offensive language, at least one racial slur, and various promises to kill Mark Sanchez.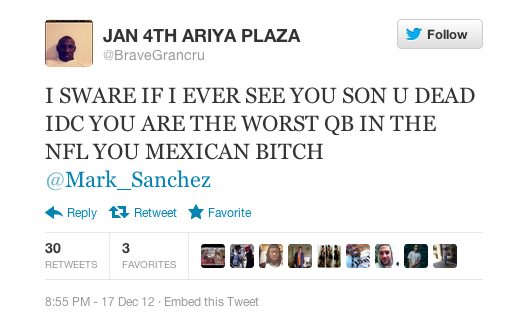 Sanchez, who grew up in Southern California, is a third generation Mexican-American.
At first, @BraveGrancru started by saying that if he were in the Jets locker room, he'd physically beat the down-and-out quarterback.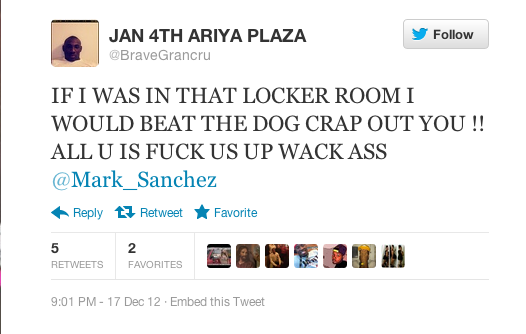 Things quickly escalated when the self-proclaimed Jets fan made an actual threat involving guns.
On his next tweet, @BraveGrancru asked Sanchez to kill himself so that he wouldn't have to.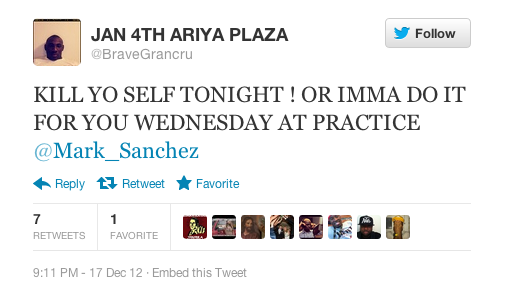 He then briefly took a break from promising to kill Sanchez by stating that he was so devastated by the loss, that his own love life was suffering.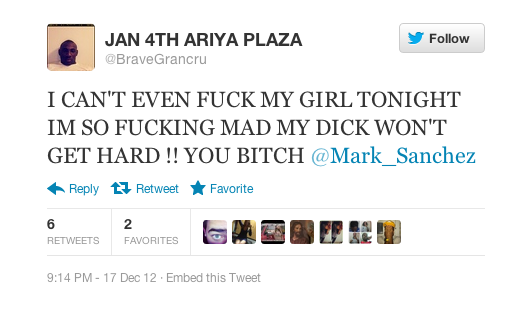 But after quickly commenting on his troubles in bed, @BraveGrancru got back to the task at hand, making sure that Sanchez knew he was, perhaps literally, gunning for him. He even helped out the quarterback by posting an image of himself.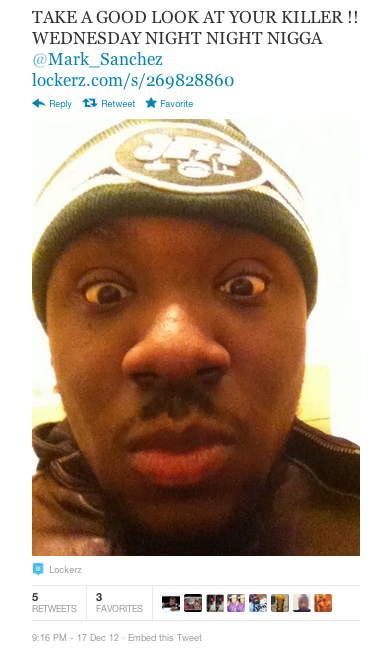 That last tweet was deleted at some point Tuesday afternoon.
Though @BraveGrancru's tweets were most likely empty threats made out of frustration over a bad season, law enforcement tend to take them seriously. In September, an Ohio teen was investigated by the Secret Service after she asked on Twitter that someone assassinate President Obama.
Sanchez is hardly the first NFL player to receive such Twitter harassment. Earlier this season, Washington Redskins wide receiver Joshua Morgan faced similar threats after receiving an unsportsmanlike conduct penalty that some fans thought cost the team a game in early September.
The Daily Dot reached out to @BraveGrancru for a comment. He initially agreed to speak with us but has yet to respond to our emails. Among the questions we asked him was whether he had been contacted by authorities.
Photo via @BraveGrancru/Twitter