As with many of YouTube's greatest hits, it's difficult to pick out the single best thing about this incredible video, but if I had to pick, it would be how those people walking backwards while playing giant brass instruments tripped over one another into a giant pile.
Yes, a high school marching band—that of Lake Travis High in Austin, Texas, according to Gawker—suffered a technical mishap during a halftime show as one mobile musician shifted their weight badly and toppled over, seemingly from the heft of the sousaphone they were playing. The rest of the section, oblivious, marched straight toward a similar fate, denting some metal but thankfully not injuring themselves.
An accident like this puts things in perspective, doesn't it? Like, why do we make people wear top hats and play football fight music while dancing around in pseudo-military formation in the first place? Aren't these nerds getting enough swirlies already?   
Anyway, be on the lookout for the first and last sousaphone players, who avoid the pileup but seem totally unsure how to move on—as well as the one color guard girl who gets sidetracked by the disaster and has to run around a bit to hit her next mark. Pretty impressive, too, that all the fallen sousaphone players dust themselves off and jump back on their feet … almost as if it happened all the time in rehearsal. The show must go on!
Oh, and the relevant GIFs, courtesy of Guyism: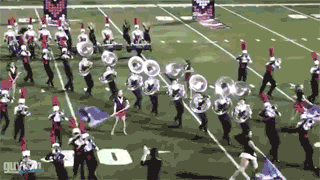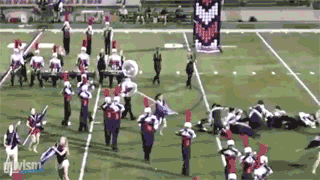 Photo by Pete/Flickr