Amy Demicco may not be the best Magic: The Gathering player, but her passion for the competitive card game cannot be denied.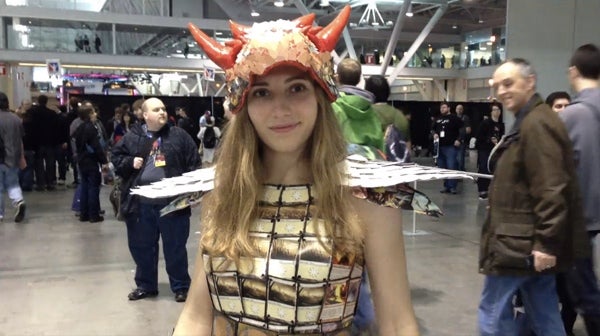 For the last three years, the 22-year-old senior at Tufts University has dedicated over a 100 hours of her life to creating handmade dresses out of Magic cards. She's made five unique outfits thus far, each requiring roughly 800 cards.
"I feel a little bit bad cutting them up because most of them are my cards," Demicco told the Daily Dot, "but I get a lot of them through drafts and buying whole bunches of cards in packs and booster boxes."
Demicco learned to play Magic as a sophomore and has attended four tournaments since then. She's the first to admit she's not particularly good—typically exiting by the second round—but that hasn't dampened her love of the game.
"On the Cardboard Carapace card there's a person wearing Magic cards," Demicco said of her first dress, which she made using cards donated by her friends. "It inspired me to create the dresses, and I went all Lady Gaga on it from there."
It was only after she posted photos of her second wave of dresses that her popularity grew beyond friends on Tumblr.
"One of the posts circulated to 60 people who put it on their own blogs and thought it was very impressive," Demicco said. "And with links to my Tumblr I've gone from 60 followers to 260."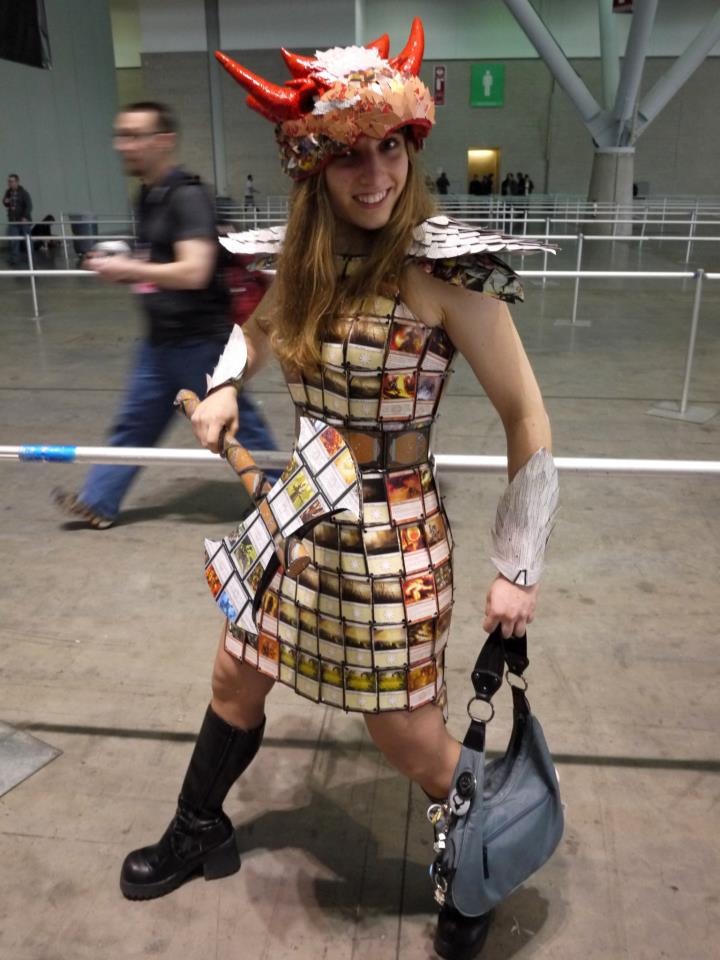 Photo by Gavin Marciniak-Bisesi
On her Tumblr, the self-proclaimed Destroyer of Cards answers questions about how she makes each dress and even receives requests for her to make other things from Magic cards, like swords and shields. She's posted her design plans from her first dress and hopes to share a more detailed tutorials in the future.
Her process starts with a series of sketches and drawings. Each dress may not cost her much money, but it's certainly time consuming. A dress can take anywhere from 20 to 30 hours of slow moving work to complete.
"I use a regular hole punch to make holes in the corner of the cards, and then use bits of string to tie them together like scale mail," she explained.
One dress can use up to 220 cards, not including the additional cards cut up to make accessories like helmets and battleaxes. Demicco also gives each dress a theme. Her dragon dresses, for example, use white cards in the front to represent the dragon's underbelly and colored cards for the rest of the body to act as the scales.
The mechanical engineering major is excited by all the attention her dresses have received and is happy to respond to people's questions, but there is one she's starting to get tired of answering both on Tumblr and at conventions: Does she actually play Magic: The Gathering?
"People ask me if I've played Magic and I'm like, 'I'm at a convention in the Magic area,'" she said. "I'll be walking around the board and card game tables. This is the most ridiculous question."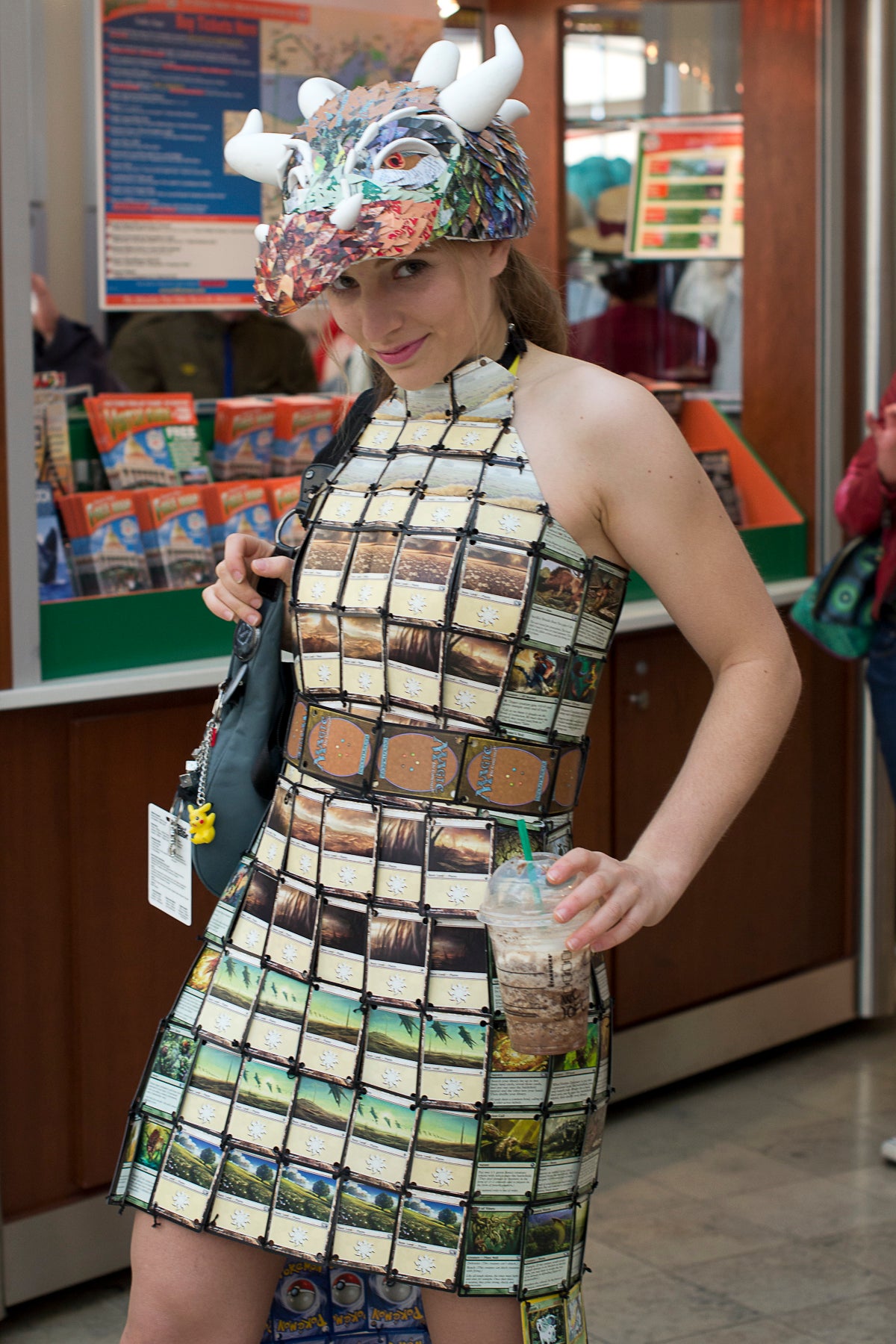 Photo via Amy Demicco
Demicco believes the questioning of her Magic cred is mostly because she's a woman. There have been cases of sexism in the Magic: The Gathering community before, and the Magic demographic is predominantly male. (Demicco's the only female member of the Tufts Magic team.) But Demicco said she always feels welcome at tournaments. It's only when people see her wearing one of her dresses that they start to wonder about her playing abilities.
Despite the doubters, Demicco plans to continue playing Magic: The Gathering, building dresses, and sharing her tips on Tumblr. While graduation—and the job search that accompanies it—will be consuming much of her time over the next few months, she plans to freshen up the dress she wore to PAX East and wear it again to Anime Boston this year.
"After that I won't be making a new dress until next year," Demicco said. "Finding work comes first!"
Photos via Tumblr