Maggie Rita's co-owner Santiago Moreno once said that women don't come to his Houston area restaurant because of the food. They come for the margaritas—and the wait staff's bitchy attitudes.
The Tex-Mex cantina has long possessed a bit of an attitude problem. It was just one year ago that Moreno told Eater Houston "our clients are old Taco Bell clients who grew up with Taco Bell as Mexican food. Their palates don't appreciate what we grew up with as Mexican food."
That revelation alienated a lot of Moreno's clientele, who eventually stopped eating there.
After learning that the restaurant's franchise on downtown's Shepherd Drive was closing this month, Amanda Newman posted to Facebook that she was happy to hear the news.
"Insulting Houston before we tried your food was kinda 'dee-de-dee' of you," she wrote. "We hope they all close soon."
An employee at Maggie Rita's fired back: "I thought fat people were supposed to be jolly!"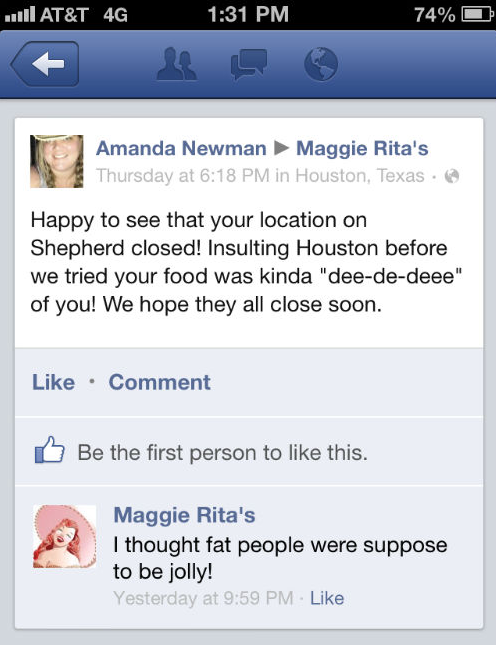 Newman, whose profile picture shows a closeup of her face with braided pigtails and a cowboy hat, responded by telling the restaurant that its employees "hurl insults like a third grader."
"How sad."
Don't let the door hit you on the way out, Maggie Rita's.
A call into the restaurant has been unreturned.
H/T Houston Press, Photo via Maggie Rita's/Facebook