A student at Lone Star College, near Houston, used the video-sharing platform Vine to warn others on campus about a stabbing attack.
As many as 14 people were injured, one critically. Reports indicate at least two victims were vacated by helicopter.
Mark Wallace was among those in a campus building during the lockdown. He caught a PA announcement using Vine to explain to others what was going on.
One suspect was detained, reports the New York Daily News. Officials are seeking a second suspect.
Blaine Tompkins, who was on campus during the stabbing, shared a Vine depicting helicopters, police, and media at the scene.
The incident occurred at a lab class in the health sciences building, according to witnesses.
The college reported on Facebook at 2:07pm ET, almost two hours after the incident, that the campus was still on lockdown and police were evacuating buildings. Lone Star believes the violence to be over, though police were triple-checking the area, according to a college spokesman.
Wallace shared a second Vine as he left campus:
Wallace also retweeted an Instagram photo in which one young man claims to have stopped a perpetrator, claiming, in the Instagram lexicon, "#copsaretooslow." The student, Steven, took a selfie in the back of a cop car afterwards.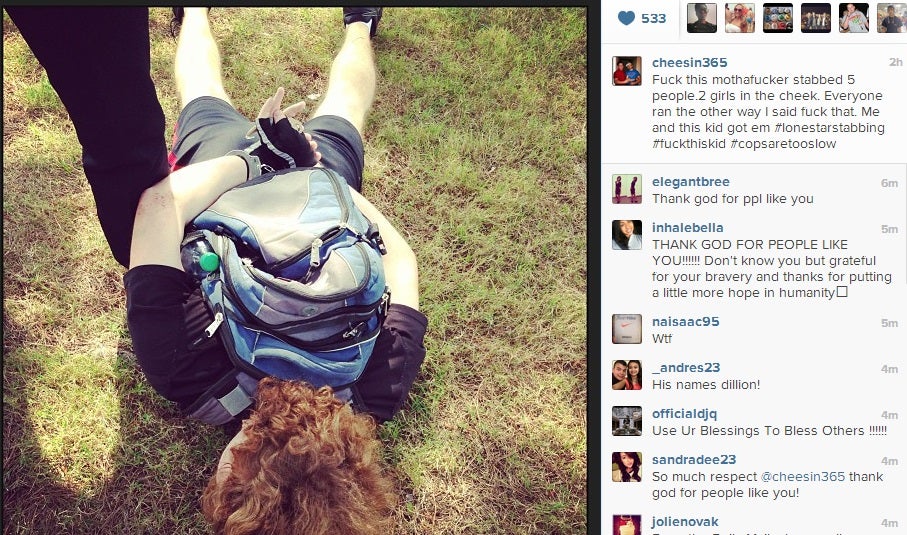 The stabbings follow a January incident at a Lone Star campus, where three people were wounded by gunfire. 
H/T BuzzFeed | Photo via @azzam22/Instagram