With the first game of the World Series slated for Tuesday evening, things are understandably tense among fans of the San Francisco Giants and the Kansas City Royals. With the Royals making it to the championships for the first time in nearly 30 years, it's easy to understand why fans of the team would be eager to indulge in a little friendly smack talk. But the Twitter beef that the Kansas City library started with San Francisco's library isn't just friendly, it's adorably polite.
The first shot was fired early Tuesday morning as the Kansas City public library tweeted out some recommended reading for their friends on the west coast. The tweet carried all the subtle shade and wit you would expect from a librarian's burn. 
Hey @SFPublicLibrary we have a book for you! https://t.co/k0IiHUuvt1 #BlueOctober #TaketheCrown pic.twitter.com/6g7CVDEhOd

— KCMO Public Library (@KCLibrary) October 21, 2014
Not to be outdone, the genius behind social media for the San Francisco public library replied with some suggested reading of their own.
@KCLibrary Thanks, but maybe you should read this: https://t.co/retK4JHVi4 #OrangeOctober #OctoberTogether @SFGiants pic.twitter.com/N8CoydSBFV

— SF Public Library (@SFPublicLibrary) October 21, 2014
From their things spiraled into what can only be described as a librarian's version of yo momma-style disses in which the well-read rivals took turns seeing who could be more courteous.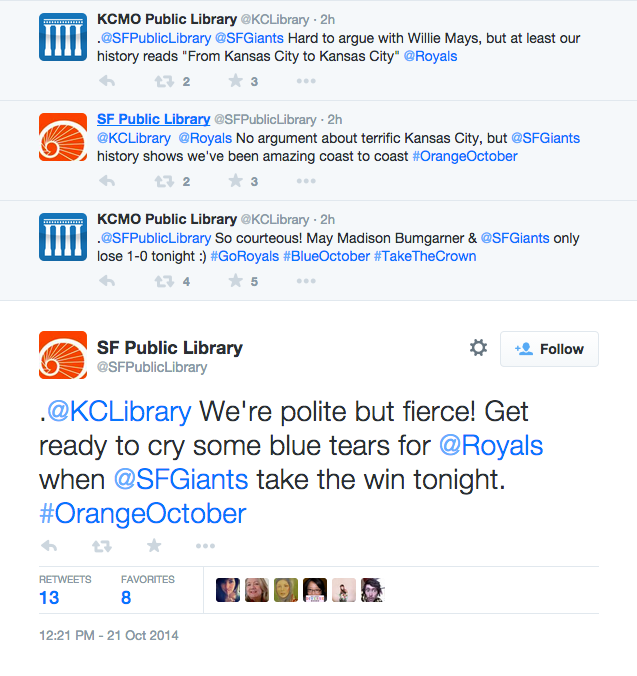 Regardless of who takes home the championship, I think it's safe to say that we've all won just by witnessing this epic Twitter beef. If you learn nothing else from this exchange, just remember that reading is fundamental. 
Photo via RobertClaypool/Flickr (CC BY 2.0)