NBA star LeBron James's stats this season are nothing to sneeze at: 26 points per game, 8.1 rebounds, two viral Instagrams.
Yes, the Miami Heat forward has had a productive week on the photo-sharing platform. On Thursday he posted a revealing selfie that made waves on social media, and two days later he moved on to reporting the weather. A photo @KingJames took on Instagram resulted in a National Weather Service storm report on Saturday evening.
"Miami ain't always sunshine! Mother nature ain't nothing to mess with. Rain rain go away, come back another day," the photo caption read. The Instagram showed four pictures of flooded streets in and around the city.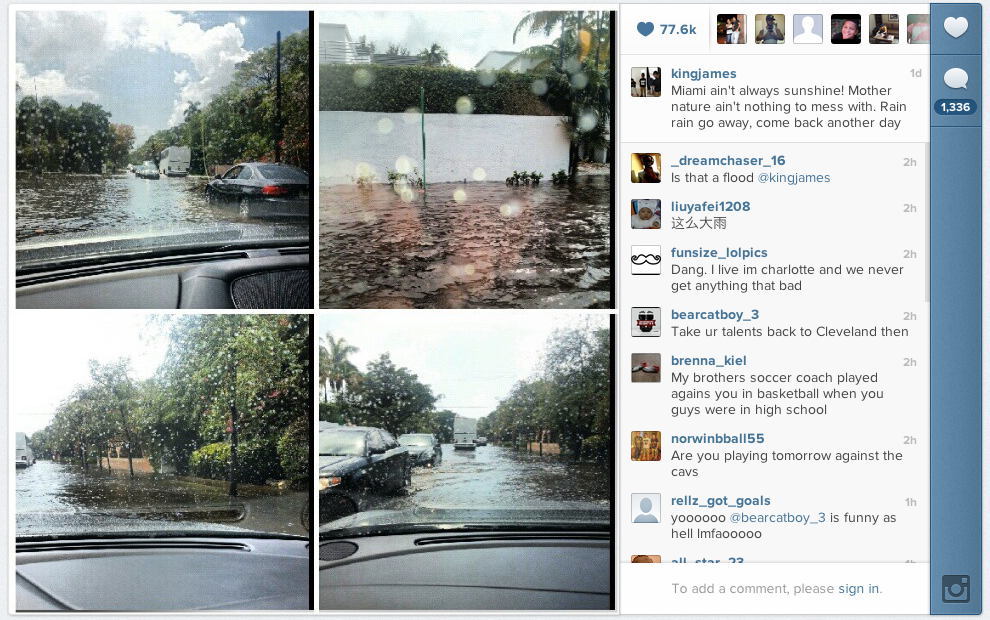 The image gained more than 77,000 likes and 1,300 comments. Just an hour after James posted the photo, the National Weather Service in Miami issued a local flood warning and credited the NBA player with the report. They also sent out a tweet saying "storm reports come from all sources!"
While the NWS was appreciative of the report, some Cleveland fans still sore about the King leaving Ohio were less accepting of the amateur meteorologist.
"Take ur talents back to Cleveland then," wrote bearcatboy_3.
Photo via KingJames/Instagram