I've been on Facebook long enough to have gone through birthday wishing phases.
I do the birthday thing for awhile, sometimes really reaching to comment with something original, rather than just the standard "Happy birthday." And then I fall off the birthday train and think, this is meaningless. It's insincere. I don't even know some of my Facebook friends (as a journalist who writes about Facebook you easily accumulate those faux-ish friends).
It seems phony. Who wants to be that insincere of a person?
So I stop.
But recently, under the influence of multitasking and not really paying attention to what I was doing, I hooked up my Google calendar to my Facebook calendar. Which means that every day, whether or not I'm even on Facebook, I see a list of people who are having birthdays. And that means that when I don't wish them a happy birthday, I feel a twinge of guilt. Even when I don't know them.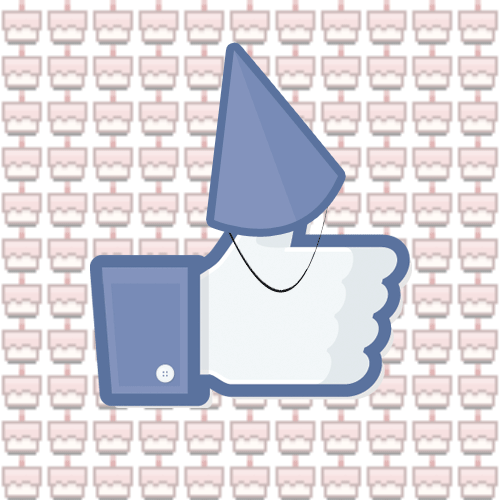 And then, in the midst of this ambivalence about birthday wishes, I had a birthday. Happens every year.
Despite my best intentions to be simultaneously more glib and more sincere about birthdays, I fell under the spell of the Facebook Birthday myself. Because that thing happened. You know—that thing where people start wishing you a happy birthday, and it gives you a nice little lift. You start checking your Facebook pretty much every five minutes, even when you tell yourself this is all silly and probably insincere. Because, let's face it, you want to see who has said happy birthday.
And you don't just want it. You need it. You feel extra love for the people who have done it, and sometimes a weird little bitterness for the people who are silent. The day goes on, and it gets bad. How bad? You count. It hurts to admit this now. But it's true.
Because a Facebook birthday turns us all into needy little kids.  
Because on your birthday, even while you're telling yourself that these people don't actually care, that you don't care that they don't care, you're feeling like the kid who wants other kids to come to her party. Hey, that buddy from first grade who I haven't talked to since, well, first grade? She cares. My former boss? He cares. That person who always writes the really cool posts and is super popular? Damn. He cares too.
Yep, that's me. Too cool for the birthdays flew out the window, and was replaced by my inner child who just wants to have lots of friends show up at the party.
 
So now I'm a Facebook Birthday Believer. The only down side of the Facebook Birthday is that it's cut into a different birthday tradition that I'm finding myself missing: the phone call.
Who among us doesn't love the birthday phone call? Hearing those off versions of happy birthday while grinning awkwardly into the phone? (I always find it especially, though endearingly, disconcerting when it's sung on-key and with harmonial flourishes.) I'll take an off-key rendition of happy birthday over a Facebook post any day. But still, they're a whole lot better than nothing. And the fact is, from most of those friends, nothing is what I'd expect. Don't worry, former boss, I'm definitely not expecting a birthday call from you. Really.
So Facebook friends, I am a renewed birthday wisher. Please forgive me for my lapses, for I have forgotten birthdays, and I regret it. Because as sappy and silly as it perhaps is, taking thirty seconds out of your day to wish someone well couldn't really be a bad thing, could it?
So happy day to you. And when I wish you a happy birthday, please know that I do actually mean it. I do, I wish you a very happy day. Even if only for those few minutes it takes to type it. Even if I don't know you. 
Photograph by luckyfish
Art by Jason Reed