Every morning when I sit down at my computer (or, more honestly, when I click on my iPhone) I start plowing through my email. It's always a long slog. But I do it because I have to. Just like you.
Don't we?
I mean, I don't really want to go through my email first thing because I have work to do, projects to finish. Lots of them. But how can I avoid it? Email is the way we all communicate. And Facebook. And Twitter. And Instagram and maybe YouTube and Flickr and Tumblr.  And oh yeah, LinkedIn. Right? Because messages are important.
About two weeks ago I was complaining to someone about how much email I get and how much time I spend plowing through it. I would attack my inbox (or at least the first few pages of it) and I would feel this sense of accomplishment. But no sooner did I breathe that sigh of relief than new email would swoop in. Right? We are all Sisyphus (or maybe it's more like whac-a-mole), pushing that rock up the hill. Except that we don't do it daily. We do it hourly. Or by the minute.
So I took a hard look at my inbox. Much to my chagrin and embarrassment, I discovered something: a good amount of my email (I won't say the majority, but probably it was close) was in the form of coupons, offers and other enticements intended to lure me into parting with my hard-earned cash.
I would say that I'm not ashamed to admit this, but I kind of am: I look at all these. I mean, who can resist cheap portable iPhone chargers? Or a really good deal on a gallery wrapped canvas, or 50% off at my neighborhood grilled cheese sandwich shop? Seriously, who can resist them?
Not me. I got all of those.
Knock knock, Hall of Shame. Let me in.
I told my editor that was going to write a column on spam. You remember spam? (Those of you who are still on Aol. should be particularly familiar with it.) But then I realized it really wasn't spam; that was disingenuous.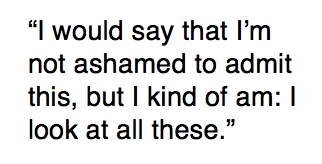 Because by and large, this is opt-in email. In many cases (hello, Groupon, LivingSocial, Lands End, and a bunch of brands I don't want to give more publicity), I actually requested the email. I said sure, yes please—I'd love to see what kind of deals you have.
Now you're waiting for my confession, right? Where tell you I'm a compulsive shopper. That's the thing. I'm not. Don't get me wrong—I have been known to do a little retail therapy. As my friends will tell you, I'm way more fond of stuff than I should be. Especially if that stuff is electronic. But it's within the realm of normal.
What's also normal is that I love a bargain. Who doesn't?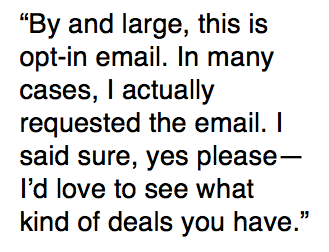 Which means I'm on that road to compulsive, if I'm honest. Of course I want 52% off Mother's Day flowers. Yes! I need to jump on a trampoline! And who doesn't need a free fridge magnet? Seriously. And I absolutely want that thing that can fry food with almost no oil. I need that!
So I decided to try an experiment: for a week or so (this is not scientific so I'm allowed to be vague) I shuffled off all my email offers to their own special file in Gmail. I told myself, Don't look. Just file. I created filters so most of those emails simply landed in the box without me looking at them.
Guess what?
I think I saved at least an hour a day. Maybe two.
Before, I would've said I get about 20 of these a day. But the hard truth is I average 50 to 70 email offers each day. Yes, without my little experiment, I still deleted most of them. But deleting them took time. And enough of them tempted me that I actually looked. They're ads. Are you not American? Do you not get this concept? Ads work.
There was also the nice bonus that I really did save the money all these coupon said I would save.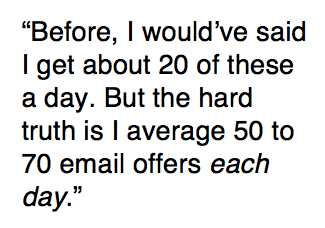 I saved it by actually not spending it—not by buying something I really didn't need, at a super low price, putting it on my credit card with not so super low rates. (I did have one fail, which we won't get into, but suffice it to say it had to do with dog baths. Money well spent.)
Don't worry, this isn't a column railing against ads or materialism (except for my own). But it may be a wake-up call.
I can't say I'm going to completely give up my coupons. Sometimes I really do need stuff—like those dog baths, or an hour of stand-up paddleboarding lessons. Who doesn't need those?
But I think I'm sticking with these filters for all of my coupons; then, maybe at the end of the day, I will check out the coupons, once. Right. Or better yet—I will search in the folder when I actually need something. Imagine that.
The other alternative is simply to unsubscribe to everything and stop buying stuff. But that might make the economy completely come to a screeching halt. And I wouldn't want to be held responsible for that.
So how do you deal with your coupons? Any more confessions? Deals? Send them here or feel free to post them on my Facebook page. More messages for me. The ones I like!
Photo by Dreaming in the Deep South/Flickr