Over 100 million YouTube views later, the slacktivists of the Kony 2012 movement left their laptops behind and descended on Washington on Saturday to prove that they can make a real difference.  
Roughly three thousand young people, mostly college-aged students, pushed into the space in front of the White House. Wearing red shirts, they whooped and cheered. They hoisted signs and chanted slogans. Then they busted out glow sticks for a rave that evening.
"Looks like college is out for Thanksgiving break," one tourist grumbled, struggling to get her desired photo of the White House.
Such gimmicks have plagued the Kony 2012 movement, a largely Internet-powered crusade against Joseph Kony, the leader of Ugandan guerrilla group Lord's Resistance Army, since the release of Invisible Children's first video in March.
Critics of the movement accuse its members of "slacktivism." Instead of donating money, supporters share YouTube videos and tweet trending hashtags. Instead of traveling to Africa, they caravan to D.C. for a dance party.
This particular event is Move:DC, a summit months in the making, and if you ask Alexanna Murphy, an intern for Invisible Children, these volunteers are contributing vital work.
"Sharing the video is a huge part of our goal," said Murphy, who was wearing a blue shirt in contrast and directed the crowd in an orderly fashion.
"Without 100 million viewers, how could this message reach the people? The more people that watch what Invisible Children is doing, the more people are interested in getting involved."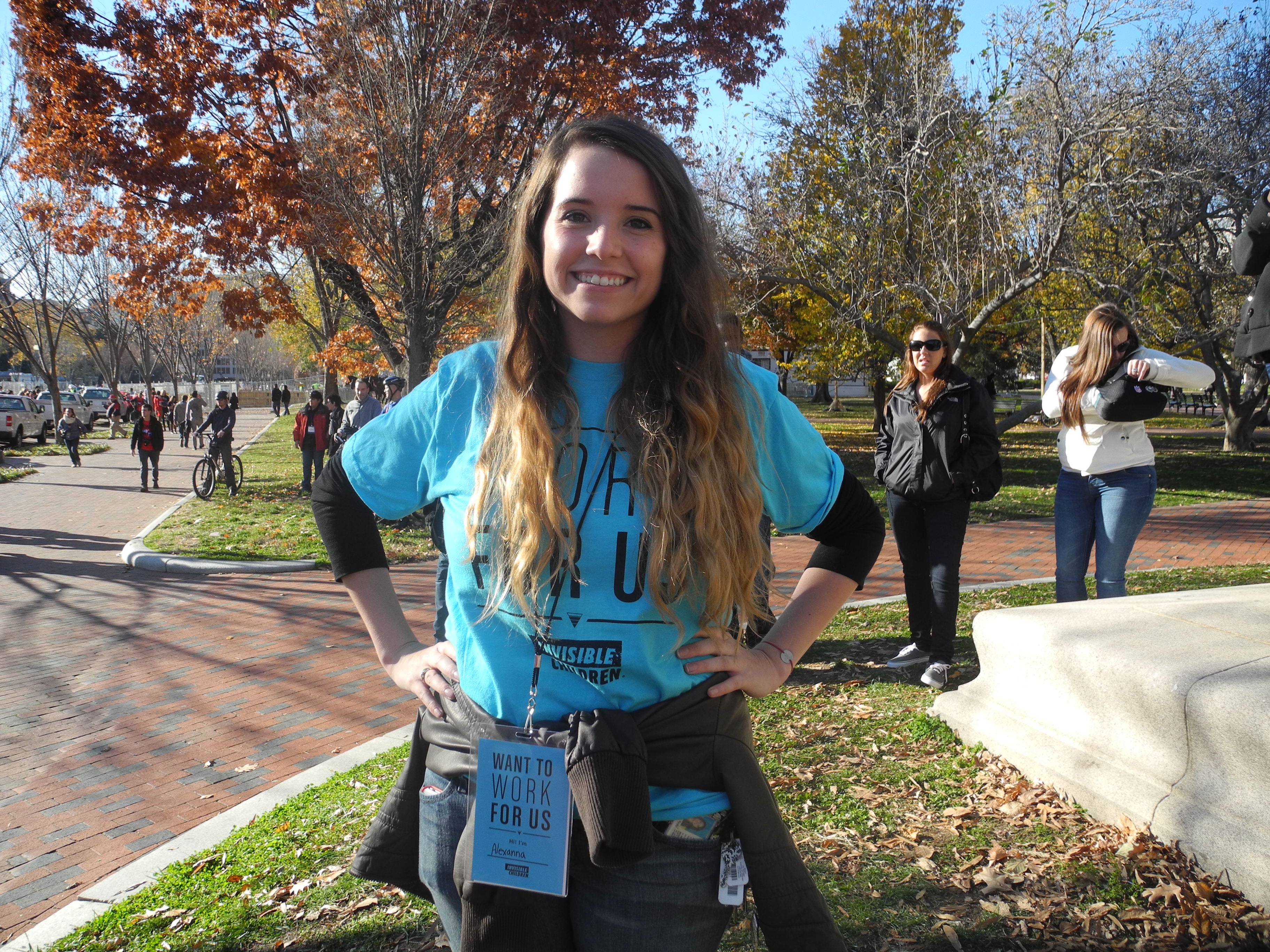 It was a simple Facebook share that caused Murphy to change the course of her life. After the 21-year-old saw the "Kony 2012" video in March, she traded her home in Tennessee for San Diego (the group's headquarters) to work as an intern. She now takes classes at Middle State Tennessee University remotely.
"Our grassroots efforts—showing the video in churches, communities, and schools—are some of the most important efforts we have," she said. "Sharing the video seems easy, but it's actually a big, important thing."
In fact, many of the students attending the march heard about it through school. Annie Loyd (below) recalled the cause from earlier this year, but said she'd forgotten about it until Invisible Children's controversial cofounder Jason Russell spoke to her class at Virginia Tech last Wednesday.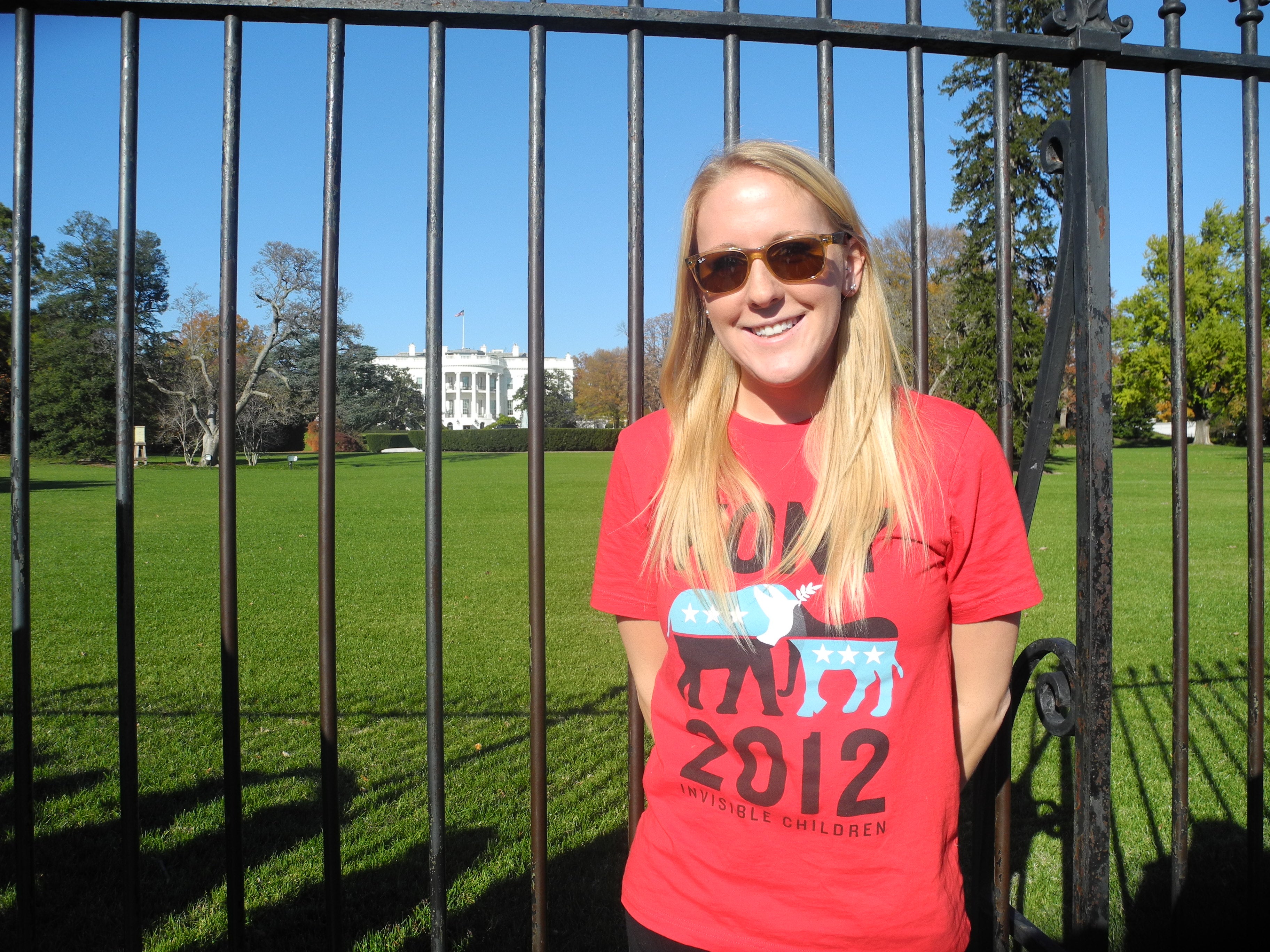 Since Thanksgiving break was just around the corner, the 20-year-old Northern Virginia native decided to come home early so she could participate.
When Russell spoke to Loyd's class, she said much of it focused on refuting false claims people might have heard about his cause. He reminded students it wasn't a scam and to ignore this year's earlier negative press.
"He cracked a joke about his mental breakdown in spring saying, 'Don't worry, I'll keep all my clothes on today,'" she said.
Loyd donated a small amount of money to the cause, but the majority of her action involves sharing the video with friends and family on Facebook. She credits her sharing with recruiting at least a few of her friends to the cause.
Ryan Tatman was another teen who heard about the movement at Virginia Tech. When his teacher promised extra credit to students who attended the march, the Sterling, Va. native signed up. He skipped the morning's leadership summit but caught the tail end.
When asked if he thought it was a slacktivist movement, the 19-year-old shrugged and said, "I'm here, aren't I?"
"I think the cause is a good one; it was even recommended by my teacher," he said.
All the students the Daily Dot spoke to were aware of criticism of the movement and were quick to refute it, sometimes before being asked.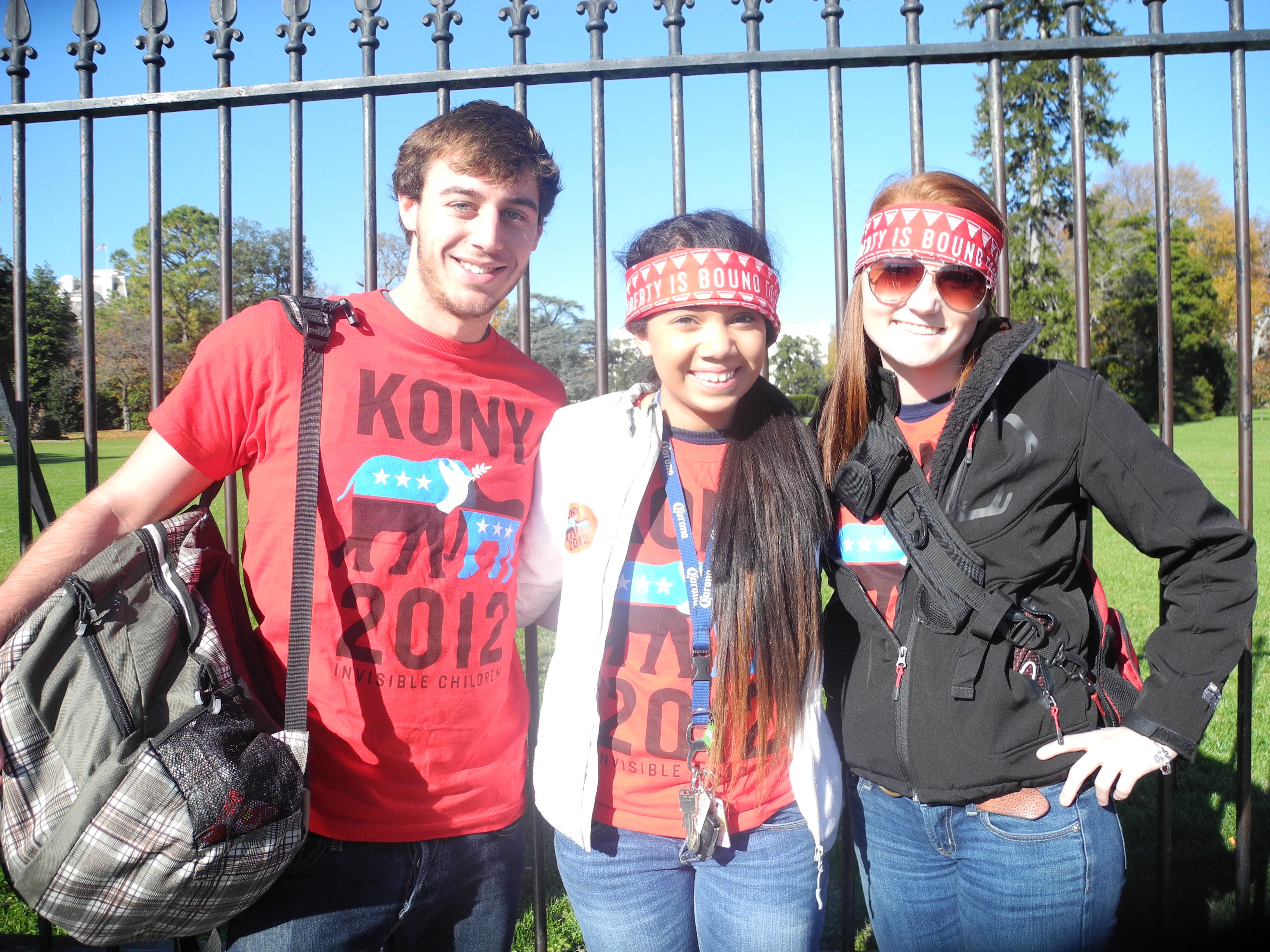 Move:DC (l-r): Adam Harn, 18, Ashleigh Hopson, 18, and Jessica Meadows, 19
Eighteen-year-old Ashleigh Hopson heard about the cause in class at Virginia's Bluefield College, a Christian private school. She said Russell came to give a presentation on the march last Tuesday. Hopson said those who would deride Russell's breakdown earlier this year are just trying to "bring down a good cause."
"He took the cause so personally," she said. "He looked on the invisible children as his family, as close as his own son, and just couldn't handle it. If I had kids, I'd feel the same way."
The crowd circled the White House chanting and cheering, their spirits high. It was only about one-third of the attendance expected, but these students had a lot to look forward to: a dance party, Thanksgiving break after that, and the inner glow that comes from supporting a good cause.
But what happens to Kony 2012 in 2013? The answer, according to Murphy, is getting twice as many people to watch the Kony 2012 video. A new film is expected to be released with each new school semester. 
That could mean an even bigger dance party next year.
Correction: Alexanna Murphy did not comment on the dance party. A statement to that effect was wrongfully attributed to her. We regret the error.
All photos by Lauren Rae Orsini