To the average person, the concept of "incels" can be perplexing. Since getting banned from Reddit in 2017, this misogynistic and racist online subculture now hides in deep, dark corners of the internet. There, these so-called "involuntarily celibate men" ruminate over their resentment of women for withholding sex they feel they so rightly deserve.
Given the disturbing nature of the ideology—and the fact an increasing number are committing real acts of violence—there's a reason why many members of this subculture post under the cover of anonymity.
And then, there's George, over here.
A man going by George Ingram Insailes, to be specific, surfaced on Twitter this week when user @eponawest spied the following promoted tweet in her feed, which seemed to all but spew typical incel jargon.
https://twitter.com/eponawest/status/1003878292825370624
As to whether that's his real name or real photo is debatable, especially when you consider the similarity to the last name "Insailes" to "incels." (A little on the nose?) But as for why he's promoting the tweet—yes, why George, exactly??
Although the account only joined Twitter in April of 2018, the self proclaimed 53-year-old's feed unsurprisingly seems to obsess over young pop stars such as Selena Gomez and Taylor Swift.
But it gets even weirder, because as the original tweet went viral, another woman who had been approached by George spotted it, and tweeted screenshots of her own bizarre conversation with him.
https://twitter.com/cocksailor/status/1004236878298505217
https://twitter.com/cocksailor/status/1004236897575563264
The gist of the first part of the convo is that George is not subtle with his amorous proposition, dismisses her when she tells him she's already in a relationship, is really not subtle about his proposition, and then invites her to the dark web.
But then the second part of the conversation gets even stranger when this happens: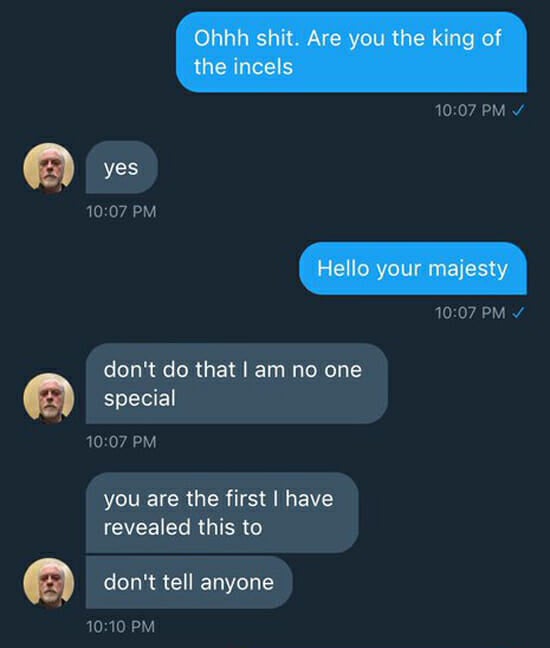 Whoops! Well for better or worse, it would appear that incels have their own king now. Bow down to George, incels of the dark web.
https://twitter.com/eponawest/status/1004238309055328256
You'd call him the grandfather of incels but apparently not a grandfather of anything.

— Ediff (@Breeblenox) June 6, 2018
Well if anything, that's how you know he's the king of the incels. Never change, Twitter.