By JASON KESSLER
In the pantheon of reviled food celebrities, it's hard to decide if Guy Fieri takes the top spot, or if the honor goes to Paula Deen. People don't like Paula Deen. They don't like that she makes money off of being a diabetic, they don't like that she has no regard for healthy eating in her recipes, and they don't like her fat Southern face, y'all. So it's not much of a surprise that when a truly significant reason to despise Paula Deen emerges, her critics jump all over it.
The news this week is that Deen supposedly admitted that she had used the verboten N-word and made all kinds of racially insensitive jokes during a May 17 deposition, even suggesting that she wanted to hire black men to dress as slaves at her brother's wedding. Radar picked up the story. Salon picked up the story. My Facebook feed was crawling with people denouncing the celebrity chef. Today, it's plastered all over the Internet.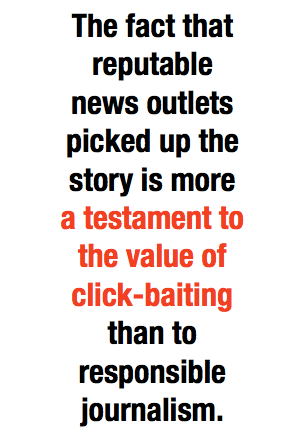 The only problem? The original story came from The National Enquirer. Yes, that's right: that bastion of truth in journalism. On the same cover that insinuates that Hillary Clinton is involved in a major sex-scandal cover-up, there's a bright yellow headline declaring "Paula Deen's Racist Confessions Exposed on Video!" Forgive me if I don't trust this as news. The video in question had only been "seen" by Enquirer staff; other "sources" simply quote each other, and the "video deposition." It's all very "vague." 
Today, the written transcript of the tape emerged and, just as I expected, it painted a very different picture of what Deen said. In reference to those "slaves" she wanted to hire for the wedding, for example, she actually said, "And I remember saying I would love to have servers like that [dressed in white tuxedo jackets and bowties], I said, but I would be afraid somebody would misinterpret." Oh really, Paula? You think somebody would misinterpret something you said? Somebody like… the entire Internet?
It doesn't surprise me to know that Deen revealed some awful things about her character during sworn testimony. She's an outspoken Southern lady who doesn't mince her words and who grew up in a culture of racial intolerance. She specifically acknowledges that in the deposition, though. In reference to using the heinous anti-black epithet, Deen says "that's just not a word that we use as time has gone on. Things have changed since the '60s in the South. And my children and my brother object to that word being used in any cruel or mean behavior. As well as I do."
The fact that reputable news outlets picked up the story is more a testament to the value of click-baiting than to responsible journalism. Now that the transcript has been released and shows that the story was framed by the Enquirer to paint Deen as a malicious racist, isn't it the duty of all of these publications to offer a more realistic portrayal of the situation? For every person that wants to crucify Deen via the Internet for something they read from someplace who claims to have heard something, I ask you this: are you smart enough to decipher gossip from news? 
When a shocking allegation emerges from a business whose sole job it is to sell you shocking allegations, it pays to be a little suspect. If Deen was exposed for saying truly terrible things during a taped deposition, then I would gladly join the chorus of haters wishing her a bumpy ride to Hell. Since that's clearly not the case, I'm just going to remind you to read the news with a healthy dose of skepticism.
Update: Paula Deen issued a public apology. On Friday, the Food Network dropped her.
Jason Kessler is a food and travel writer based in Los Angeles. He writes The Nitpicker column for Bon Appetit and is a frequent contributor to Food Republic, Sunset Magazine, Organic Spa and many other publications. If you're not careful, he'll empty out your refrigerator. Follow him @thehungryclown.
Screengrab via YouTube