Supermodel Kate Upton has responded to a Los Angeles high school kid's request that she accompany him to his senior prom, providing the wishful thinker with an emphatic "I'll check my schedule" and telling the boy that he can call her Katie.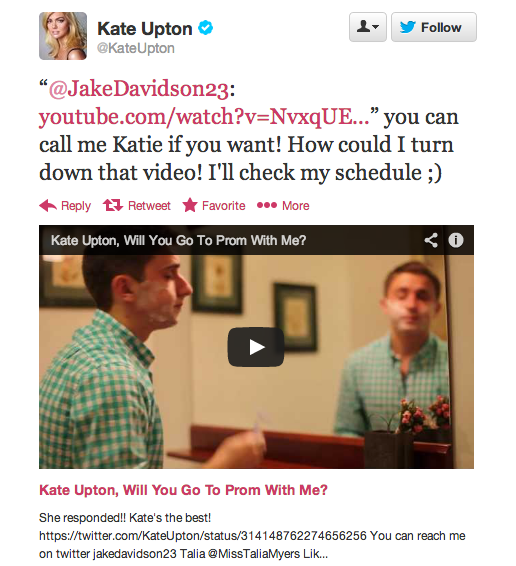 Arriving late Tuesday afternoon, Upton's response sent young Jake Davidson into an absolute tizzy. He responded shortly after, writing that the Sports Illustrated swimsuit issue cover model is "truly incredible."
"Just responding made my year, thanks so much!" he wrote. "P.S. Hope your schedule is free!"
Here's guessing it isn't.
The two actually had somewhat of a surprise meeting this morning on the TODAY Show when Savannah Guthrie and Hoda Kotb brought Davidson onto the show and wired Upton into the interview via telephone.
"I absolutely loved the video," Upton said then and there. "It was so creative and so hilarious. You seem like so much fun, and if everything works out, I know we'd have a blast."
Photo via Kate Upton/Facebook