Sen. Kamala Harris (D-Calif.) was at an event recently doing what people who want to become president do: waving and trying to look sincere. While Harris might indeed be a distinguished lawmaker, her acting ability could use a little work.
People on Twitter noticed and seemed to find her apparently insincere look super relatable.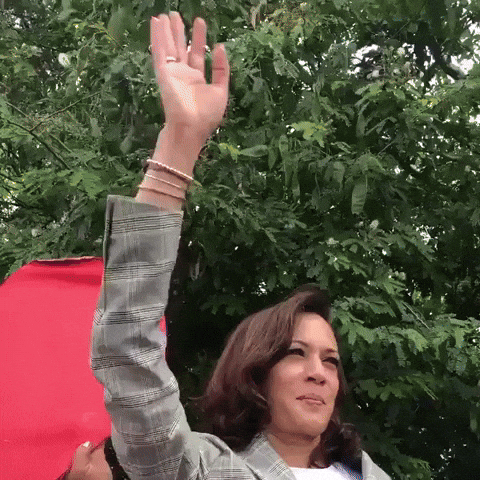 It has now become a reaction meme employed whenever anyone is trying to hide their true emotions.
https://twitter.com/quintabrunson/status/1155932718783324160?s=20
Me waving goodbye to my family from quad knowing I'm finna act a fool as soon as they pull off pic.twitter.com/IttOZ5ze0R

— FLuOREscent BEIGE (@kemi_keemi) July 29, 2019
Me waving goodbye to yall suspended accounts while I still have mine https://t.co/Xfk0IdHUEH

— ᶜʰᵃⁿᵉˡ (@KissMySnap) July 30, 2019
black people in 1914 waving at the titanic that they weren't allowed to be on https://t.co/wv55JIKNA7

— COINTELHEAUX (@MamoudouNDiaye) July 28, 2019
https://twitter.com/kbyrd2/status/1154926517866127360
me waving goodbye to my favorite artist when they leave the stage even tho i'm in a section they can't even see https://t.co/wVQNzKsWRP

— kaley⁷ ⁺ ¹²⁷ ◡̈ nct @ rodeo! ˎˊ˗ (@hopeworldkaley) July 28, 2019
waving over the waitress at brunch when it's time for mimosas pic.twitter.com/KIf0mYldhv

— Logan Hall (@loganclarkhall) July 28, 2019
Me waving goodbye to all the bullshit that I've been listening for the last two years now that Rihanna is about to drop https://t.co/jxYctXPjx3

— . (@SinsOfMyFather_) July 30, 2019
Some people used the GIF to take shots at Harris, especially her recent student loan forgiveness plan.
https://twitter.com/Cracker_Jack93/status/1155516718342709248?s=20
https://twitter.com/joeyhanndsome/status/1156030924586307584?s=20
Kamala Harris waving you goodbye to debtors prison after forgiving 20k of your 80k student loan debt and racking up 80k more in a business loan after your chicken shack business in the hood fails to break even in 3 years pic.twitter.com/KwRACpAJrZ

— Daemon Blackfyre (@lastcharmander) July 28, 2019
It's always possible that Harris was being sincere, and perhaps having a very heartfelt moment. It just didn't come across that way to social media users.
In the future, we recommend the senator do more chair dancing. She's great at it.
READ MORE:
Got five minutes? We'd love to hear from you. Help shape our journalism and be entered to win an Amazon gift card by filling out our 2019 reader survey.