Somewhere in the Centennial State, a rogue cardboard cutout of Justin Bieber is on the move.
He could be anywhere, watching you as he makes his way through the rolling Colorado foothills.
Perhaps he's occupying a place of honor in a 14-year-old's bedroom, or propped up against the side of a house being used for someone's target practice.
Maybe he's taking a train ride up Pikes Peak, grilling the other passengers with his flat cardboard stare.
Wherever he may be, he's not where his owners left him: In a field in the middle of nowhere, reduced to serving as a bleak landmark in the vast and meaningless wasteland otherwise known as "U.S. Route 50 between Montrose and Grand Junction."
It's okay, Biebs. If we'd been abandoned to such a fate, we'd run, too.
"[L]ost: Justin bieber cardboard cutout," reads the Craigslist ad posted Sunday by what we can only imagine is the most distraught cross-country cycling team in the U.S.
In a subtle underscoring of the depth of their despair, they added, "[serious]."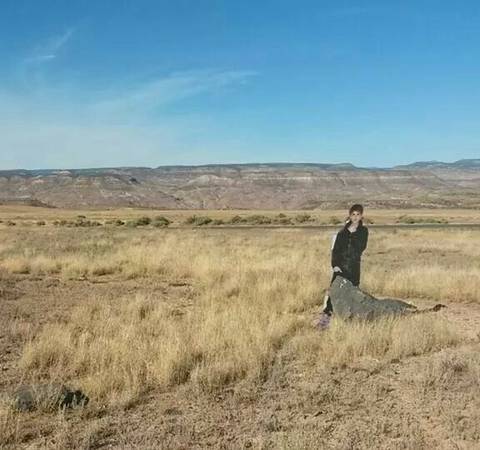 I'm on a cross country cycling trip with a group called bike and build. we had a cardboard cutout of Justin bieber that was donated to us in Hannibal, MO to mark our lunch spots. typically we would hide him somewhere where he would watch us hungrily. last known whereabouts of the biebs was off route 50 near a solar powered device at the top of a hill. he will be leaning on a rock looking at you with a sly grin on his face. if found, send pictures please! also if possible we can arrange a delivery for the biebs.
The irresponsible Craigslist cyclist, whoever he or she may be, sadistically neglected to mention that if found, Bieber will probably be suffering from severe dehydration and hypothermia after having been left on his own in the wild for months with no food or shelter. He may possibly try to come at you with a sharp rock in his hand, his sly grin replaced by a feral, maniacal yowl. After all, he was already hungry when you left him there! You just left him there!
The Craigslist ad also fails to acknowledge the possibility that Biebs has by now managed to make his way to the top of the hill to harness energy from the solar-powered device in a last-ditch attempt at survival, thereby transforming himself into a radioactive supervillain.
If spotted, you should know him by the deadly gamma rays streaming from his eyes and ears (and also his angelic singing voice).
The Craigslist post also adds, "do NOT contact me with unsolicited services or offers," which we feel is pretty ironic since it was the team's acceptance of unsolicited Justin Bieber cutouts that got them in this mess in the first place.
Photo via Heart.co.uk