Bicycling has been a great source of success and inspiration for artist Julia Green over the past year and half.
After moving from the suburbs to downtown Boise, Idaho, the 24-year-old illustrator dusted off her old 1980s Free Spirit to cruise around the city, taking in the sights and allowing for a fresh perspective.
It's shown in her work, a looseness in her hand-drawn works that paper the city around her, from this White Pine mural to concert posters and the covers of local alt-weekly newspapers and Bicycle Times magazine.
Her illustrations have also gone the distance on Tumblr, where they have collected hundreds of notes, likes, and reblogs. One of most popular submissions features an astronaut riding his bike carelessly through space.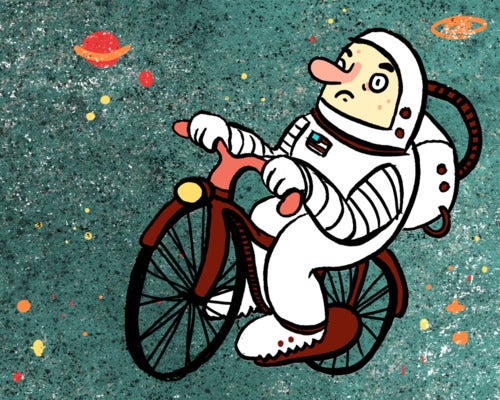 Yet while Green owes much of her success to bicycling, her newfound hobby almost took her life recently.
In July, Green was biking in the bike lane when a woman in a car turned in front of her lane and hit her.
"I remember part of the accident because I flew up onto the hood of the car," Green told the Daily Dot. "Broke the windshield. That's when I blacked out."
When Green woke up, she was on the ground. The front wheel of her Free Spirit was bent, and her shoes had been thrown from her body.
At a local emergency room, Green was treated for scrapes, road rash, and heavy bruising.
"I was beat up everywhere," Green said. "Luckily I had my helmet on. It was smashed. I would have been a goner if I hadn't had it on."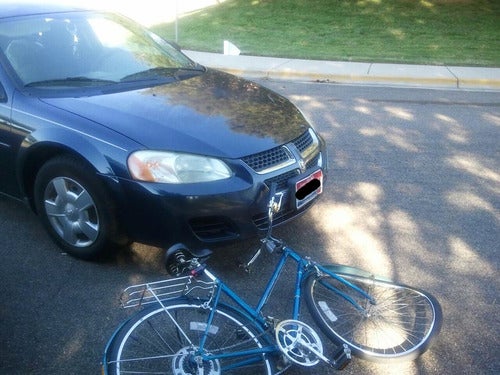 And luckily, Green's drawing hand was not badly injured.
Currently, Green serves as an inhouse graphics designer for Whole Foods, the first one to open in the state, and she was recently selected by Boise Weekly's "Five Artist Under 25" feature.
When she's not designing store signage and advertisements, she still draws bikes and other cool doodles. Her illustrations fall somewhere between Warner Brothers and Dr. Seuss, and almost each illustration is drawn by hand and scanned into her computer, where she brings scenes like a motorcyclist riding through snowy mountains to life with her digital paintbrush.
She's also expanded beyond Tumblr, with a new Etsy shop dedicated to hand-painted bike bells.
"Trying to understand the mechanics of how something working can be difficult," Green said. "I feel like I still don't draw bicycles how I want to. It's kind of like a learning thing for me. Everytime I draw one, I get better at it."
All illustrations and Jan. 17 Daily Dot doodle by Julia Green // Photo via Tumblr