As much of the world slept on Sunday night in anticipation of the weed-induced haze they would enter on Monday (4/20), Twitter hackers plotted some strange things against unwitting celebrities. Their latest victim: Joe Keery, who plays the affable goofball Steve Harrington on Netflix's Stranger Things.
Early Monday morning, Keery—who previously had not tweeted since March 17—began posting tweets that were far from characteristic for his account. The apparent hackers seemed to give themselves up right away, tweeting, "Aqua up on this fucking bitch as usual. #ChucklingSquad." Last August, a member of the Chuckling Squad was arrested for hijacking Twitter CEO Jack Dorsey's account and posting several anti-Semitic and Nazi-related tweets. 
Keery's supposed hackers continued to shout themselves out on his account and encouraged other Twitter users to follow them. They eventually began posting more scandalous content, writing in one tweet, "Fuck The Opps, Ur All Poor," and "I Have Corona Virus, I'm Going to Meet Juice WRLD Now" in another. Keery's account also retweeted several tweets from @aqua_chuckling, who seemed to take credit for the hacking. (Aqua was previously identified as a member of the Chuckling Squad.)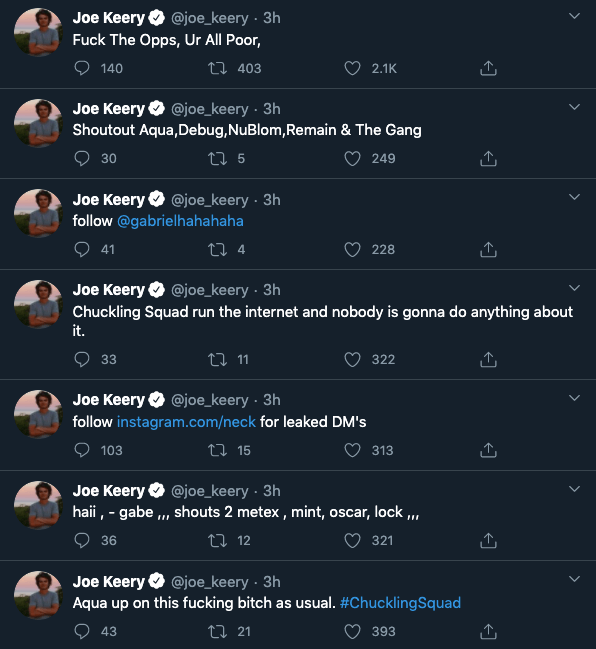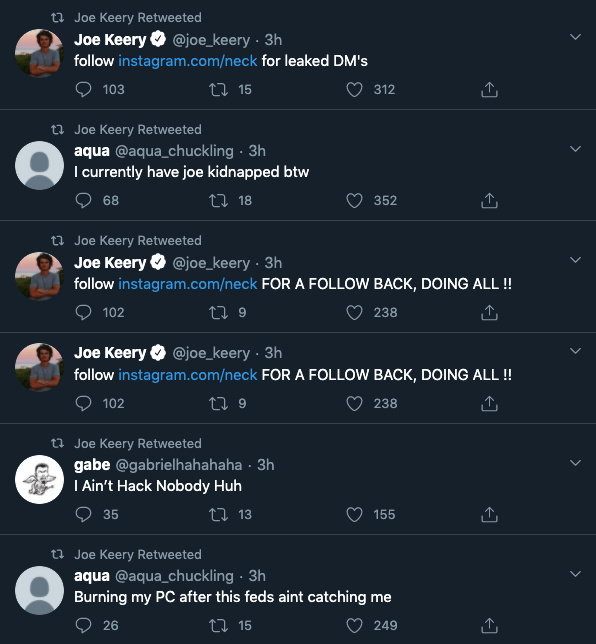 Twitter users posted screenshots of other vile tweets from Keery that are no longer visible on his account, including one in which he used a racial slur against his Stranger Things co-star Caleb McLaughlin. While it would be a stretch to identify any hack as a "good" one, spectators generally agreed that the hijacking of Keery's account was especially horrific and not at all funny.
That's not to say people didn't crack their own jokes about the situation, though. Mostly, they joked about the rude awakening Keery was in for when he woke up on Monday to discover his Twitter account had been hacked.
The Chuckling Squad has previously hijacked the Twitter accounts of content creators such as James Charles and Shane Dawson. Keery's account has not tweeted in the last four hours, so perhaps the group's latest reign of terror has ended.
READ MORE: