Update 7:44pm CT, May. 25: Jimmy Fallon on Tuesday afternoon addressed performing in blackface 20 years ago. "In 2000, while on SNL, I made a terrible decision to do an impersonation of Chris Rock while in blackface. There is no excuse for this. I am very sorry for making this unquestionably offensive decision and thank all of you for holding me accountable," he wrote on Twitter.
It's barely Tuesday, and social media users have already hastened the cancelation of Doja Cat and Lana Del Rey this week. Now you can add a third celebrity to that list: Jimmy Fallon.
The late-night host came under fire this morning when an old Saturday Night Live clip of him performing in blackface resurfaced on Twitter. The footage dates back to 2000 and shows Fallon impersonating comedian Chris Rock. The clip was uploaded with text that read, "NBC fired Megyn Kelly for mentioning blackface. Jimmy Fallon performed on NBC in blackface."
Many Twitter users were disgusted by the clip, using it as evidence that Fallon deserves to be canceled. Others, however, said that people on the internet need to stop clamoring to cancel celebrities, which happens with alarming frequency these days.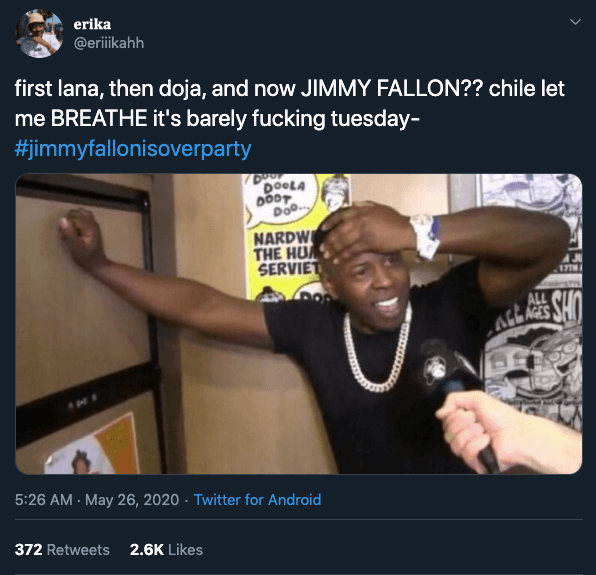 Some people argued their energy would be better spent on canceling celebrities like rapper 6ix9ine, who previously pled guilty to the use of a child in a sexual performance, than on digging up 20-year-old clips of middle-aged celebrities.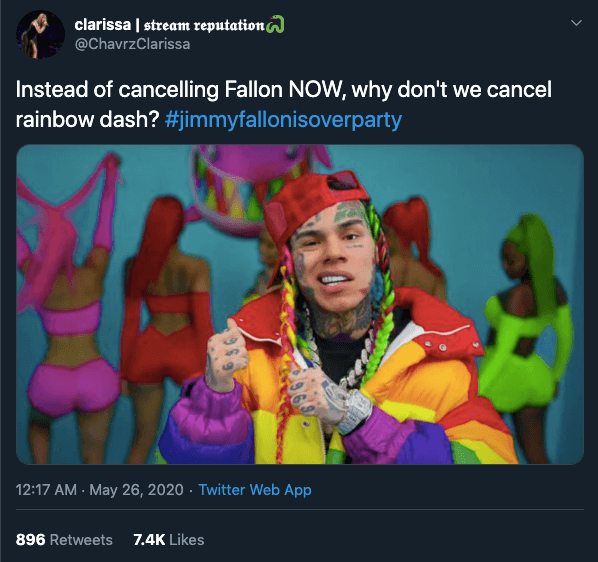 Both sides pleaded their case while using the hashtag #jimmyfallonisoverparty, causing it to explode in popularity. At the time of this writing, it's the third-highest-trending hashtag in the United States.
Other Twitter users noted that Fallon is far from the only white SNL member to perform in blackface, nor is he the most recent. Bill Hader did it in 2013.
It's also not the last time Fallon busted out his Rock impression. He did a similar routine while hosting the 2017 Golden Globes, sans blackface, and earned a lukewarm reception from the audience.
READ MORE: