For centuries, moths have flocked to the flame.
Some studies have shown that this phenomenon has to do with the way moths use light to navigate through the air. The deviantART comics of Jenny Clements, on the other hand, show that the attraction is really about love.
Clements, of Cardiff, Wales, is the author of the popular series Moth and the Flame, a story of forbidden love at first sight.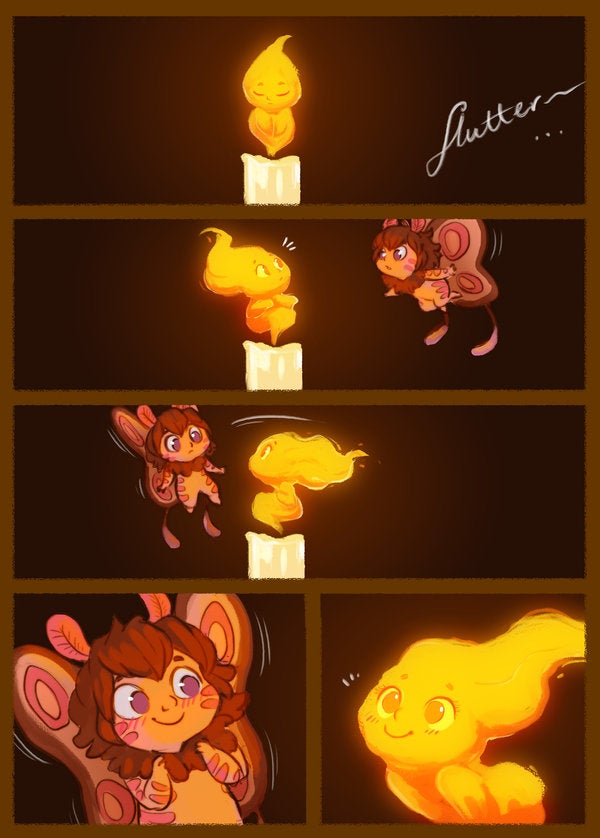 "The Moth and the Flame is a metaphor for incompatible relationships and the hurt we go through just to hold on to people who we can't really be with," Clements, 28, told the Daily Dot. "They try so hard to be with each other, but in the end it just isn't enough. It's about when to let go and how hard it may be to do so, but it's also about how, despite all the loss, there is something salvageable from such a painful experience."
Growing up, Clements' biggest sources of inspiration were her parents. Her mom made homemade greeting cards, and her father was a photographer and graphic artist—and both of them encouraged her to think outside the sketchpad.
"One of the earliest things I remember drawing, and I still have it, is a small comic book about animals at the seaside," Clements said. "I must have made it when I was about 6 or 7 years old. It was about what cats and mice and bats and frogs did when they went to the seaside for a holiday. Bats like water slides apparently."
The story of the Moth and the Flame began in 2005. The genderless character Moff was created by Clements because of her love for all things fluffy and endearing. In the beginning, the character looked more like a pixie than an actual moth, but as time went on, Clements's lifelong passion for Disney animation and comics like Juanjo Guarnido, Pierre Alary, Man Arenas, and Jeff Smith kicked in. 

Moff never truly had a home or a friend, for that matter. For years, the character existed among Clements's other drawings of mermaids, female adventurers, and elegant portraits. That changed in early January when Clements came up with the idea for Flickerlee, a cute flame who would be the object of Moff's affection. The original plan was for a six-page series featuring both characters, but after her first page collected more than 170,000 views, that quickly changed.
To date, Clements has produced 21 pages of Moth and the Flame, which have collected about 2 million views combined. Clements isn't sure how much longer she will produce the series but as long as people keep asking for more, the flame won't go out.
"I love to entertain people and make them happy, and to do that with my art is so rewarding," Clements said. "DeviantART is the perfect outlet for that. It's why I keep coming back."
•••
The following Moth and the Flame comic was provided exclusively to the Daily Dot by Jenny Clements. Check out more of the Daily Dot comics here.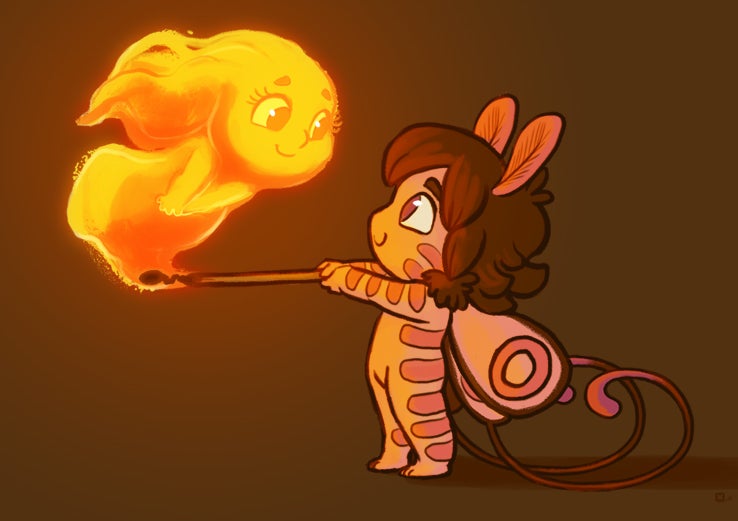 Art by Jenny Clements