History can be rewritten. It can also be redrawn.
Just ask Jason Heuser. The San Franciscan has been retelling the tales behind United States heroes on Etsy since February 2011. As the artist Sharpwriter, the 26-year-old posts revisionist historical prints of America's most iconic presidents and figureheads.
Pay a visit to his shop and you'll find art prominently featuring such historical luminaries as Andrew Jackson, Franklin Delano Roosevelt, and George Washington. Sizes run 11″ by 17″ or 24″ by 36," and they're priced on a sliding scale that ranges from $25 to $80. There are 37 in total. Heuser said he makes them as a show of thanks to his seventh grade teacher, who helped him fall in love with the subject history.
"Since then," he said, "I've really enjoyed it."
But there's something to Heuser's prints that make you think twice about that iconic painting of Washington crossing the Delaware River. His are not quite as true life. They're sort of… left up to the interpretation of Heuser's decently deranged mind while he's rewatching history documentaries late at night. You could almost call them conspiracies—if only they were in the least bit believable.
Take his first print for example: an 11″ x 17″ depiction of President Theodore Roosevelt shooting down Sasquatch with an automatic rifle.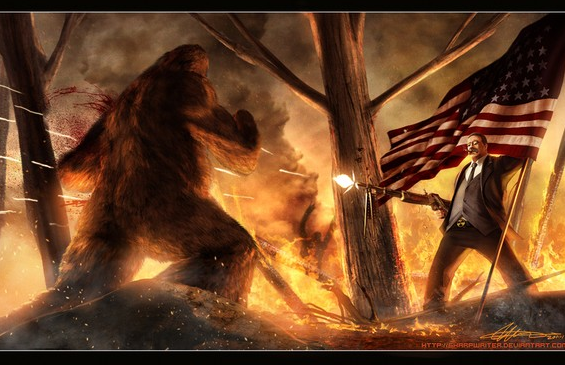 "Show your patriotism with this historically accurate print of one of America's most bad-ass presidents…Teddy Roosevelt," he wrote on the print's description.
"Not only did Teddy Roosevelt give a speech with a bullet in his chest, but what many people don't know is he slaughtered many bigfoot in his time…this is a picture of one of those events."
Each print arrives pretty much in that same fashion. There's Abraham Lincoln on the back of a grizzly bear and Thomas Jefferson facing down two gorillas. There's Paul Revere on a Midnight Rider (likely the most historically accurate) and Ben Franklin in a battle royal versus Zeus.
"I just want to get people more interested in history," Heuser told the Daily Dot.
"I started this when I was out trying to get a job, doing all this stuff to make sure my portfolio was in order and everything. I wasn't getting any callbacks, wasn't getting anything. I was frustrated, so I decided that I was just going to draw what I wanted to draw."
Heuser prides himself on going into great detail on each individual print. He'll spend months on some, tweaking concepts and intricacies to enhance each depiction's conceptually accuracy. He points to the Ronald Reagan print, currently his favorite, as a prime example of just how much work can go into each idea.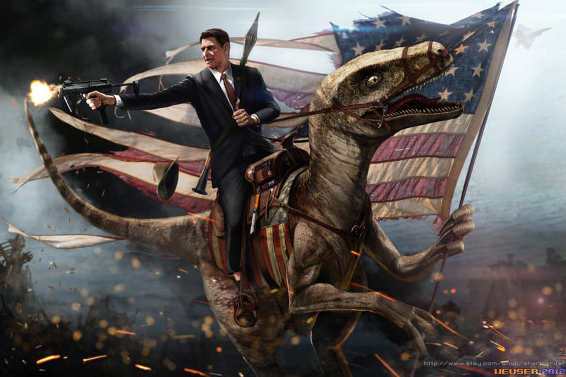 "The Reagan piece had been in the works for four or five months. I did sketch after sketch and wasn't a fan of anything. He was originally going to be in a Big Mac suit punching through the Berlin Wall, but that was too similar to the Berlin Wall, but that was too similar to FDR and his Transforming Wheelchair, so I was like, 'Alright, let's just try something else.' I did a bunch of different sketches and finally just decided to put him on a dinosaur."
He's quick to note that it's not as simple as putting Ronald Reagan's head on a velociraptor, however. Look closely and you'll see tremendous details: jelly beans becomes he loved them, a Bible for his Christian beliefs.
Or scope the John F. Kennedy shot, the one where he's cruising the moon on the back of a unicorn. That's the one he put the most thought into to get the minor points right.
"There's a photo of Marilyn Monroe in his space suit, and I've put three bullets in his saddle," Heuser explained. "He's wearing a Rolex because Kennedy's the president who made Rolexes famous."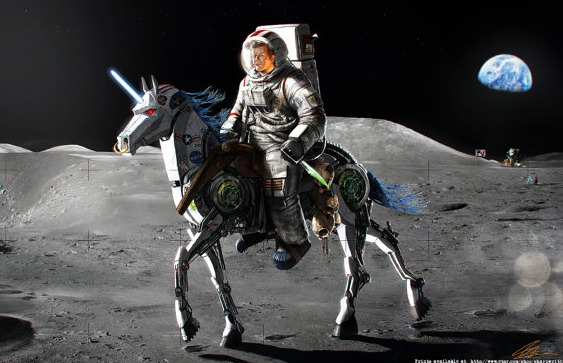 Those two are selling like hotcakes, though Etsy sales are pocket change for Heuser now. These days he's working as a game designer for Bay Area-based company Kixeye —a job he got through Etsy.
"Four months later, a recruiter at the company called and was like, 'We saw your art and love it. Would you be interested in a job?'" Heuser said. "After two years working as a security guard, it finally paid off."
Photo via Jason Heuser