In Jane Dates, our undercover daters report back from the front lines of the online dating world. All names and identifying details have been changed to protect the lecherous.
After several months of therapy giving, denial enabling, and unadulterated awkwardness, I had begun to dread dating. Luckily, a change of online scenery brought about a major breakthrough. I'd met a hot hipster bassist on HowAboutWe who seemed friendly, relaxed, and fun. Of course, I'd been down Hopeful Lane before and experienced disappointment, so I was more apprehensive than excited when we made plans to meet.
On the evening of our date, I was running late. Nervous that he'd be annoyed, I texted to say that I was almost there while running from the subway. I'd been snapped at for tardiness by an annoyed date the previous week (which ended up not being a date since I just left at that point, blocking him on my OkCupid mobile app as I walked away).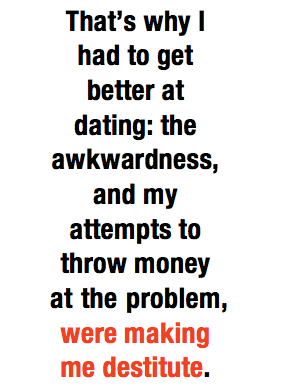 Luckily, Hipster Bassist was a perfect gentleman, telling me not to worry. He had a drink ready when I walked into the bar. I was impressed that he hadn't waited to actually meet me before ordering and glaring at me as he paid. In a few short months, I had encountered a lot of guys who did that, as if the cost of a few drinks or dinner were enough for me to string them along for a few hours. I tended to react by throwing wads of cash at them as I ran away. That's why I had to get better at dating: the awkwardness, and my attempts to throw money at the problem, were making me destitute.
We sat at the end of the bar, alternating between getting-to-know-you chatter about our jobs and projects (New Yorker slang for hobbies) and people-watching. From our vantage point, perched high on stools, lording it over the end of the bar that faced the door, we sized up everyone who walked into the place.
As the night progressed, we swiftly gained liquid courage. By the time we were each two drinks deep, we had turned people-watching into a fully defined game: 
Step 1) Make up a story about the people walking in.
Step 2) Add details to the story with observations about their appearance and behavior.
Step 3) Eavesdrop or bribe bartender to help us figure out whose story was closer to the truth.
Step 4) Trash talk the loser.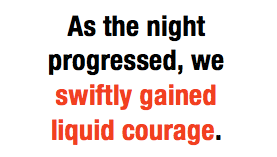 We mapped out a rough board game path with red bar straws and moved our drink glasses forward as we scored points.
When a very short man with a hat and a limp walked in, I almost fell off the barstool in my haste to claim the "successful circus performer who retired to travel the world" angle. Hipster Bassist was a little more measured in his approach, noting how well the man's suit fit. "An international businessman," he guessed. At this point, the bartender was an eager accomplice and went to question (ahem, serve) the man. Within 10 minutes, the bartender was back and almost falling over in excitement. The short man was a businessman who recently retired to travel. Hipster Bassist and I had tied on this round. We did a round of shots to celebrate and created rule #5: In the event of a tie, shots!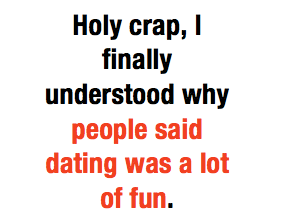 It was a fun game with a few unintended benefits. First, the bartender got so engrossed in the game that he kept pouring us free drinks to keep us there to entertain him. At certain points, we had to remind him to be subtle. "Be cool, man, be cool!" we'd admonish him, keeping a straight face for several seconds before all three of us burst out laughing.
I also learned a lot about my Hipster Bassist from his stories and observations. He focused on the positive attributes of everyone who walked in those doors and always wove tales that made the people sound good. He was also funny, almost surprising a gin-and-tonic swallow out of me during one round.
Fun and games aside, we took the time to get to know each other, too. Hipster Bassist was a great conversationalist, full of interesting things to share and curious enough to ask questions about what I mentioned. Holy crap, I finally understood why people said dating was a lot of fun. I was getting that excited butterfly feeling in my belly: I really liked him!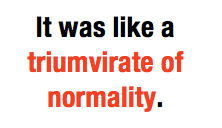 As the night went on, he spontaneously grabbed my hand and suggested that we move to another bar to listen to live music. We said goodbye to the bartender (who waved sadly as we left him behind) and strolled a few blocks to the next place. 
As we walked, I realized that Hipster Bassist was still holding my hand, and my heart felt full. Don't get me wrong, I wasn't in love or planning our wedding (maybe just a little), but it felt damn good to finally enjoy someone's company who liked me, seemed sane, and was really nice. It was like a triumvirate of normality and, based on my experience so far, an incredibly rare find in online dating. 
People seem to get so caught up in the rules and worries of an "official" date that they forget the basic niceties. He was reminding me how simple it could be to enjoy getting to know someone new. I swung his hand back and forth like a little kid and grinned. He grinned back. It was fun being silly together.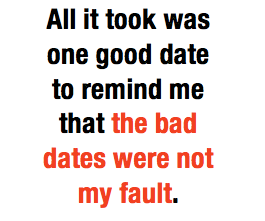 At the next bar, he sat next to me and put his arm around my waist, squeezing me a little during cool moments in the music. The band sounded great, and we could chat over the music without shouting. In the middle of the set, the lights turned down a little lower, and they began to play a ballad. As I watched the lead singer sway side-to-side as he sang with his eyes closed, clasping the mic in front of him like a lover's face, I suddenly became very aware of Hipster Bassist: how close he was sitting, the warmth of his hand on my waist, the light tickle of his breath seeping into my hair.I tried to breath normally but couldn't. Great! I was fifteen again.
I snuck a glance up at Hipster Bassist. He was nodding along with the music with a happy look on his face. He sensed my gaze and looked down at me. We froze awkwardly for a moment, unsure where to look, until we both just started laughing. We kissed, warm and slow, like we had all the time in the world, his other arm wrapping around me as well and pulling me even closer to him. 
Not interested in becoming the makeout couple, we pulled apart reluctantly. He kept one hand on me, the thumb running the small of my back gently. As another ballad came on (I wasn't sure, but the lead singer might have given us a sly wink as it began to play), I leaned my head on Hipster Bassist's shoulder and let him cuddle me closer. Part of me wanted to curl up and fall asleep that way, but the song ended, which signaled the end of the band's set and our night.
Keeping one arm around me, he walked me to my train slowly. We shared another lingering kiss goodnight, sweet and soft, and he watched to make sure I got through the turnstile with no problem. I stumbled a little—I'd been trying to walk "sexy"—but he just smiled when I glanced back. "Can I call you tomorrow to set a second date?" he asked. The response that leapt to mind (yelling "Hell yeeeeah!" and high-fiving strangers on the subway platform) seemed inappropriate, so I settled for a huge smile and a "Sounds great!" My train arrived in a whoosh of loud noise and hot air. We waved goodnight as the doors closed between us, and I floated all the way home. 
All it took was one good date to remind me that the bad dates were not my fault. When it's wrong, it's wrong. This date had been effortlessly fun because Hipster Bassist and I had been right for each other. At least for the night. 
After a long spell of false starts and questioning whether I would ever get the hang of it, it was damned nice to finally see the good side of dating!
Photo by Bigstock.com