Police in Reynoldsburg, Ohio, needed a little help finding a woman who allegedly stole an Xbox and PlayStation gaming console from a local Best Buy. So what better way to find the possible thief than by posting her picture to Facebook? NBC4 out of Columbus even helped out by sharing the photo on their Twitter account.
KNOW HER? Reynoldsburg Police searching for Best Buy theft suspects. https://t.co/fRxfNEtxj7 pic.twitter.com/2y7vlNBxzB

— NBC4 Columbus (@nbc4i) January 30, 2018
But the internet is a fickle mistress. If you ask it a question, there's no telling what kind of answers you'll get. There was something about this picture that captured people's imaginations. Maybe it was the fact that this photo—unlike the blurry security cam shots we're used to—was crystal clear. Maybe it's this woman's quizzical expression (despite her lack of eyebrows) or that she seems to be pushing an imaginary shopping cart. It might have had something to do with the description that accompanied the Facebook post:
THEFT SUSPECT

 

On 1/29/18 at 1:50 PM, the female in this photo committed a felony theft offense at the the Reynoldsburg Best Buy in Taylor Square.

 

This suspect was accompanied by a white male and a white female and stole both Xbox and Play Station game consoles. The suspects left in an older rusty silver Honda Civic.

 

If you can identify the female in the photograph, or have any information about this crime, contact Officer Manny
Whatever the reason, people seemed much more interested in mocking the woman than helping police capture her.
Damn I know this girl. Her name is Methany

— Tyler (@TylerM_OH) January 31, 2018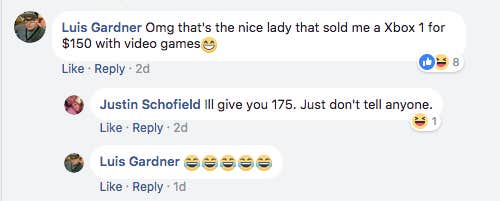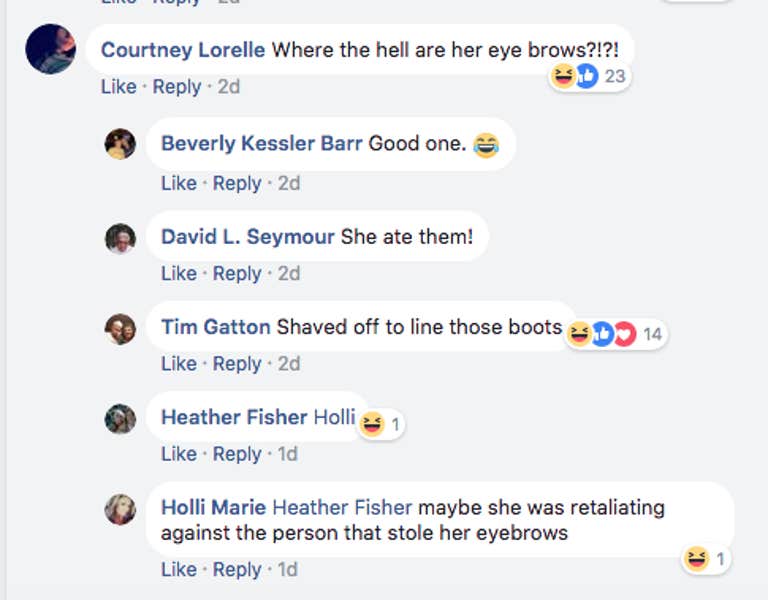 It turns out all the jokes were helpful. The post was shared over 800 times—and the woman and her friends were arrested.
Viral photo helps Reynoldsburg Police make arrest in Best Buy thefts. https://t.co/WLgoJyLYJt pic.twitter.com/3HDvzFEikO

— NBC4 Columbus (@nbc4i) January 31, 2018
No word on whether the consoles (or eyebrows) were recovered.