Welcome to the Friday edition of the Internet Insider, where we dissect the week online. Today:
Ted Cruz traveling to Cancún sparks outrage
How you part you hair is dividing millennials and Gen Z
Why does 'Cruella' look like 'Joker' for girls?
Sign up to receive this newsletter in your inbox.
---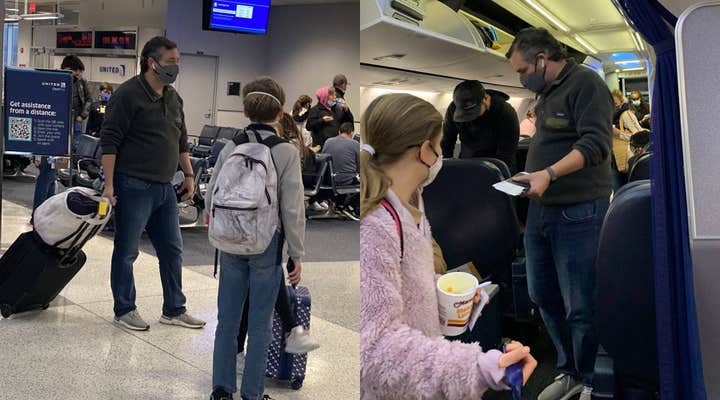 BREAK THE INTERNET
Ted Cruz flies to Cancún amid Texas crisis
As a Texan, it's hard to come up with words to express just how bad it was here this week.
We had people without power and water for days, people running out of food and supplies, and people fleeing their homes due to flooding and freezing conditions. At least two dozen people have died. With limited help from our government, we relied on our neighbors, friends, and community organizing to get through it.
This should be an all-hands-on-deck situation for any person representing Texas. But Sen. Ted Cruz (R-Texas) thought that Wednesday, while many residents still remained without water and power, would be a good time to escort his daughters on a vacation. Photos began circulating on Twitter Wednesday night of someone who looked like Cruz in an airport getting on a flight from Houston to Cancún, Mexico. His team confirmed the photos were indeed of Cruz in a statement on Thursday, telling the media that he wanted to "be a good dad" and fly with his kids—in the middle of a pandemic and a local crisis. (He returned home on Thursday after one night and widespread criticism.) Cruz added that his family lost heat and power in their house and that he "will continue using all our resources to keep Texans informed and safe."
With people boiling snow water over fire pits and passing around tips for making candle-powered room heaters, you have to wonder what exactly those "resources" are.
—Tiffany Kelly, culture editor
---
SPONSORED
What I learned from my reading with an internet psychic
Online psychic readings work very similarly to readings you can get in real life, but depending on your communication method, they may work more or less in your favor.
---
GEN Z
TikTok is debating middle and side parts
If you've heard people arguing about side and middle parts recently, it's likely been framed as a Gen Z versus millennial debate. Of course, much of this discourse is happening on TikTok, where the generational divide is more pronounced and the "a side part is a sign that you're old" take began.
But as Vox pointed out, some millennials took the side-part slander a little too seriously, even invoking the Tide Pod defense.
These debates over generational signifiers—skinny versus baggy jeans is also happening on TikTok—are so cyclical I worry the internet is wiping out more than just our critical thinking skills.
The main takeaway here is of course you should wear your hair however makes you feel good and that seriously debating where you part your hair is funny.
—Audra Schroeder, senior writer
---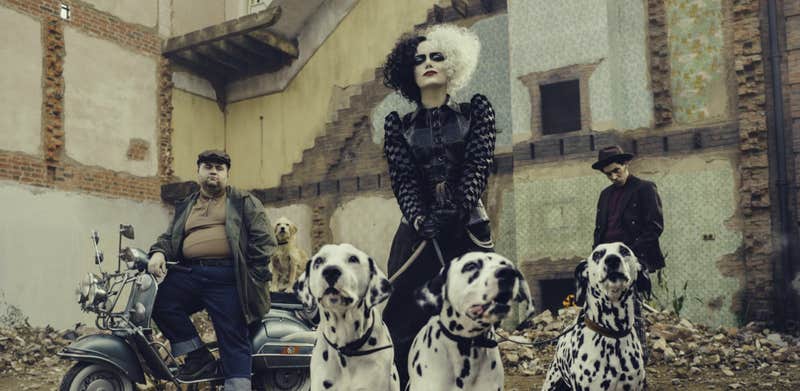 CULTURAL OBSESSIONS
Is 'Cruella' just a 'Joker' movie for girls?
The trailer for Disney's live-action Cruella de Vil movie landed this week, leading people to wonder… is this Joker for girls? Now, as we all know, that position has already been filled by Harley Quinn. Margot Robbie's version was fantastically popular in Suicide Squad and Birds of Prey. But there's a definite Joker vibe to Disney's Cruella: An unnecessary origin story about an edgy villain, taking place in a historical setting, and emphasizing the character's outsider status.
Cruella is, at base level, a pretty weird concept for a kid-friendly Disney spinoff. Disney already did something similar with Maleficent, giving the Sleeping Beauty villain a fantasy backstory with allegorical feminist undertones. But it's hard to see how this could possibly work with Cruella de Vil, a cartoonish sadist who wants to murder adorable puppies. Either the film tries to give her a semi-relatable character arc like Joker (a highly dubious idea), or it goes full campy villain.
—Gavia Baker-Whitelaw, staff writer
---
MEME OF THE WEEK

This meme encourages people to stop using "wyd" in texts.
---
Now Playing: "My Heart Will Go On" by The Math Club
Questions? Feedback? Contact us at i[email protected].