Ronan Winter doesn't appear to have long to live. Photos posted to Imgur show a painfully skinny and sickly-looking 46-year-old man, whose bouncy salt-and-pepper hair is the last remnant of a ruddy youthfulness he displayed just last year.
But those very photos, which depict Winter's progression from a happy-looking father of two girls—ages 15 and 11—to a man suffering from esophageal cancer in 24/7 home hospice care, have proved to be something of a shining light for Winter's family in dark days.
Winter's 21-year-old niece, Courtney Russell, posted the photos on Monday, as a plea to the Imgur community to contribute money to a crowdfunding campaign launched by one of Winter's family friends. Russell said her years of experience using the site prompted her to share the photos.
"Imgur has done amazing things before, I've seen it," Russell told the Daily Dot in an email. "They've really helped people in their time of need."
The Imgur post propelled the campaign from about $2,700 in donations to more than $55,000 in less than one day. While Internet regulars, particularly Redditors, are familiar with Imgur, the site is not exactly mainstream, which is why Michelle Nagelvoort, the fundraiser's organizer, found the response "overwhelming."
"I have never heard of Imgur before yesterday," Nagelvoort told the Daily Dot in a Facebook message. "It has been a HUGE impact on this campaign."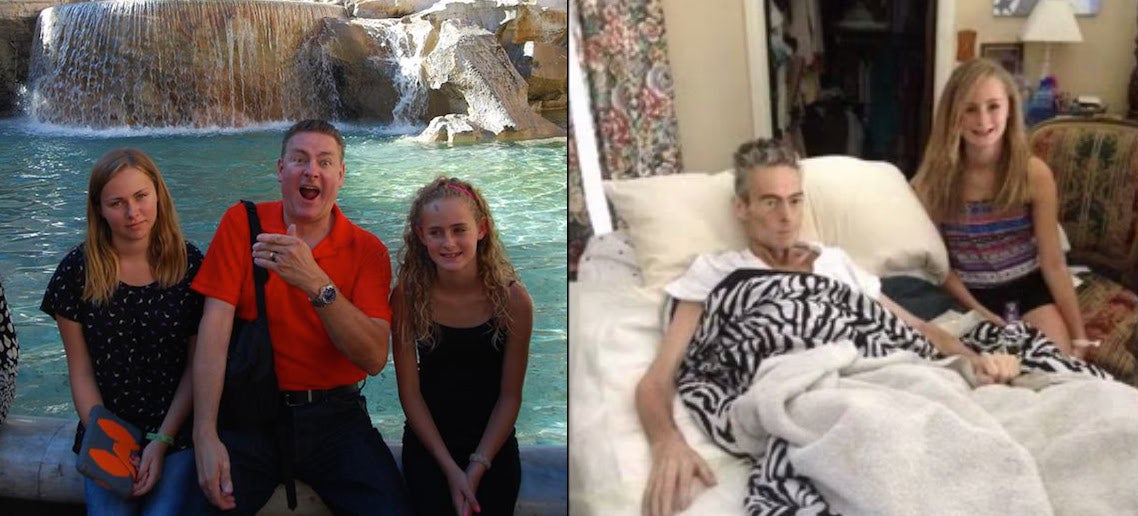 In addition to posting eight photos of the Winter and his family, Russell told the story of how her uncle was diagnosed with cancer in December.
"It came out of nowhere and spread everywhere," she wrote. "Lungs, spine, liver, his arms, pretty much everywhere but his brain."
Winter's social media presence backs up Russell's depiction of him as a man with an "insatiable zest for life," who "wanted to see the world and he wanted to see it with his family by his side." Tweets Winter posted in June 2013 show that he not only flew across the country to take his daughters to see One Direction, but also tweeted at the band in attempt to get them to sing happy birthday to his daughter who was turning 11 the next day.
Flying 2500 miles to see @onedirection @NiallOfficial Columbus. Keara is a huge fan. pic.twitter.com/0eH4FDIKJZ

— Ronan Winter (@RonanWinter) June 13, 2013
@NiallOfficial @onedirection Keara turns 11 in Columbus tomorrow. Make her year perfect and sing Happy Birthday? pic.twitter.com/fBV0SUdjzN

— Ronan Winter (@RonanWinter) June 18, 2013
In addition, Nagelvoort's 15-year-old daughter Alex, a friend of Winter's daughter Keelan, created a YouTube video to support the crowdfunding campaign, in which she describes Winter as "this genius man who's always making everyone laugh."
In our Facebook chat, Michelle Nagelvoort said that Winter's condition changes daily, and that he wasn't even expected to live this long. But as the man, who is clearly well-loved by those around him, approaches his fate, Nagelvoort said she took comfort in the kindness people, most of whom are complete strangers, have showed to the Winter family:
"I am so thrilled to know that there are so many good people in the world."
Photo via aydiafaith/Imgur