Hyundai introduced a new ad to hype up its new car, the iX35, and its 100 percent water emissions.
The clip is a weird one. Stretching just one minute, it starts with a shot of a house before a cut into the building's garage. A Hyundai iX35 sits inside. It's calm. It's quiet. There's a man inside who's duct-taped all potential air vents shut. 
A man of about 50 sits inside the Hyundai and leans his head back into a pensive pose. He turns to see the car's emissions running out of a tarred-up pipe opening, a surefire sign that the man in the car is trying to kill himself. He leans back. He lifts his head up. He waits. Then you see him walk out of the garage.
The purpose of the ad—and it's not abundantly clear, since the scene is at once jarring and legitimate—is that the iX35's new water emissions system is one of the healthiest emissions systems installed into cars across the planet. It's so clean you can't kill yourself with it.
The ad's received a groundswell of attention online for all the wrong reasons. 
On YouTube, where the most popular iteration of the clip has been seen more than 7,000 times, the clip has been the subject of a series of postings in scorn, many of which have chastised the company for its nonexistent taste. 
"This commercial is disgusting and undermines anyone going through legitimate suffering in order to make money," one YouTuber wrote yesterday, in a post that's received more than 20 likes. 
"As someone who works in advertising, I hope I'm never involved in anything as as tasteless as this."
The conversation's also extended onto Twitter, where people have lambasted the company for creating such a boorish video "making light of people contemplating suicide."
"Shows what a caring firm you are," one Norwich native wrote. "Well done."
Nowhere is the criticism sharper than on a blog post belonging to London's Holly Brockwell, however. The open letter, composed by the advertising copywriter on Thursday, targets both the auto manufacturer and its advertising agency, Innocean, explaining that she's the daughter of a man who killed himself by strapping himself into the driver's seat and letting his car run for a while in a confined space, and that the ad, and its underlying message that this is a car you cannot use to commit suicide by carbon monoxide poisoning, did nothing for her but make her miss her father.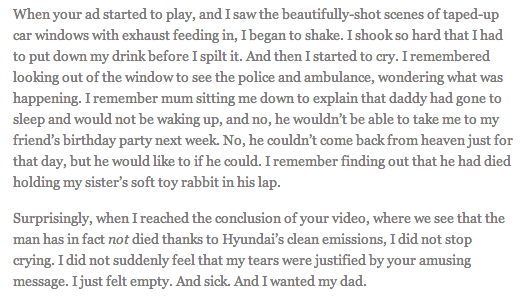 Brockwell's worked on automotive accounts before, so she knows to some degree what makes a car ad work. "Strangely," she wrote, "not once did it seem that the best way—the most intelligent way, the most creative way—to advertise their products to people was to remind them of the horrendous even that is suicide. … I can think of a thousand more interesting, creative ideas that wouldn't have left me feeling like I've just lost my dad all over again."
Hyundai U.K. hasn't publicly responded to the criticism, but what's been posted to its Facebook account doesn't help their case. On Wednesday, the most recent post onsite, a link to an article on iVillage: "Hyundai iX35 takes the busy mum test." 
Oof. No bueno.
Update: Hyundai removed the "Pipe Job" advertisement from YouTube shortly after 4pm Eastern Time. The company wrote on Facebook: "Hyundai understands that the video has caused offence. We apologise unreservedly. The video has been taken down and will not be used in any of our advertising or marketing."
Photo via SuperCommercialAds/YouTube