It's not like horse jokes and Mitt Romney didn't already go hand in hand; but in the third and final presidential debate on foreign policy, President Obama got in on the equestrian game.
"You mention… that we have fewer ships than we did in 1916," the president said in response to a comment by Romney detailing cutbacks in military spending. "Well, governor, we also have fewer horses and bayonets, because the nature of our military has changed."
Almost immediately, the Internet sprang into action. On Tumblr, the tag "horses and bayonets" exploded, and new users horseandbayonet, romneysmilitary, and horsesandbayonets started posting pictures of—what else?— horses and bayonets in action.
On Twitter, #horsesandbayonets trended worldwide immediately, with #bayonets trending in the U.S. as well. Twitter user @horseandbayonet set up camp and began injecting its decidedly non-neutral voice into the debate: "Who do you think helped win the Revolutionary war? Us. "Nuff said." The account was later suspended, possibly temporarily due to excess tweeting.
ABC news soon reported during its livestream of the debate that the phrase "horses and bayonets" had topped all Twitter conversation about the event, reaching its peak with 105,767 tweets per minute.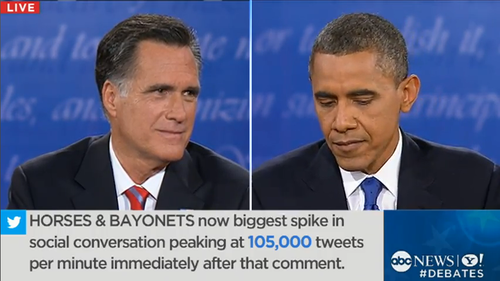 Photo via aceaviatrix/Tumblr
Most of the reactions were humorous, but not everyone was laughing. "What does it say about America when #horsesandbayonets is the most tweeted in a foreign policy #debate?" tweeted Jakarta democrat Arian Ardie, while many marines hastened to point out that their branch of the armed forces still uses bayonets, and that Obama was out of touch with the needs of the military.
Not to be outdone, the Obama campaign got in on the act. Before the debate had ended, they had created cavalrymenforromney.com, where an exhausted-looking horse and soldier redirect you to the Obama-Biden military platform.
The Internet has gotten plenty of horsepower out of equestrian jokes this campaign season, and it shows no sign of stopping now. Immediately the joke worked its way into familiar memes as well as new ones.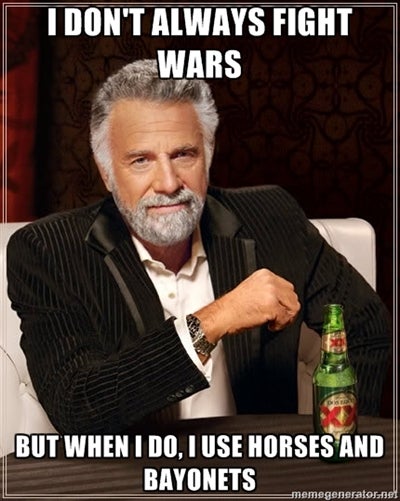 Photo via coffeeandcelluloid/Tumblr
"Looking for a couples costume this Halloween?" tweeted popular vlogger Tyler Oakley. "#horseandbayonet." Crushable went on to declare it the year's hottest new Halloween fad.
There's one thing the trendy costume can't disguise, however, and that's the original foreign policy issue at hand: Think Progress was quick to point out that under the Obama administration, production of ships in the navy actually increased from the Bush years.
Perhaps horses and bayonets may get a boost from both campaigns after all.
Photo via designerwallcoverings / Tumblr