Mmm! Horse meat, anyone?
As European authorities crack down on slaughterhouses for selling horse meat misleadingly not marked as such, enterprising sellers are using eBay to sell their leftovers—for as much as $100.
The horse meat was discovered in several European supermarket chains "ready-made" meals, like microwavable lasagna and spaghetti bolognese. Grocery stores in France, Sweden, and the U.K. are scrambling to pull the products off store shelves.
Felicity Morse, a writer for Huffington Post UK, tweeted Wednesday a screenshot of an eBay listing selling what was snarkily titled as "limited edition" beef lasagna. "This item may get booted off eBay so act fast," they warned.  It did, as we couldn't find the listing anymore.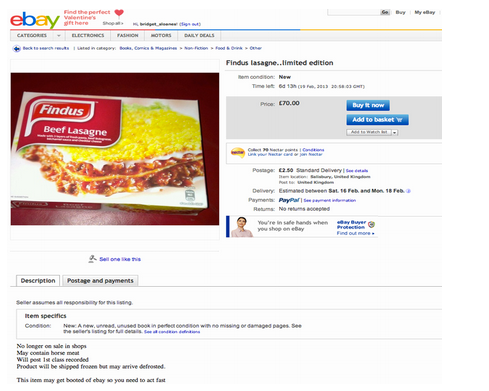 And it didn't stop with beef lasagna either. Morse found a Tesco Value Spaghetti Bolognese (one of the several brands affected) for sale. "Warning: may contain horse meat," the seller cheekily wrote. It snagged three bids before being removed.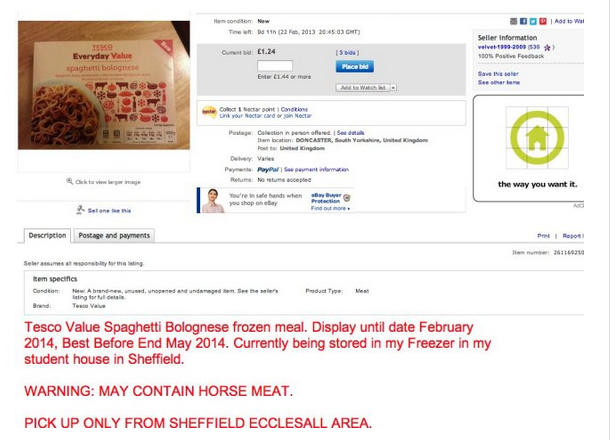 We discovered another seller hawking their Tesco frozen beef burgers for a reasonable $2. "So saddle up and gallop on down to this chance to try these Tesco Everyday Value Horse Burgers!" the seller proclaims.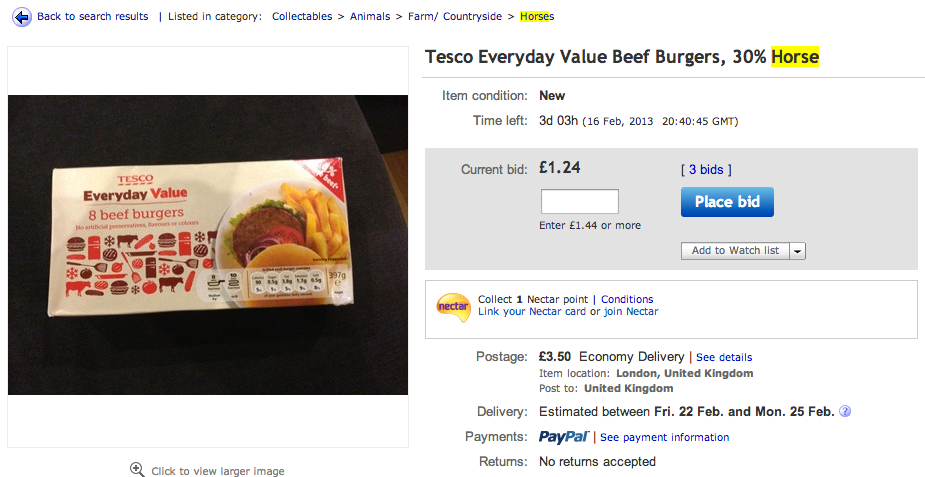 With this stable of options, maybe eBay should change its name to eNeigh.
Sorry, too soon?
Photo via eBay