Homestuck is an unbridled and purely homegrown fandom phenomenon. Andrew Hussie's epic webcomic has spawned over a million fans and raised nearly $2.5 million for an adventure game after the series finally comes to a close. Homestuck's success has intrigued many people who remain on the outside of its ever-evolving layers of epic plotting, storytelling that folds back in on itself, and an endlessly growing cast of characters and in-jokes. But readers and fans of this three-year-old webcomic can tell you that part of what makes Homestuck, and its parent project, MS Paint Adventures, an ongoing fan favorite is the interactive nature of its creation.
MS Paint Adventures (MSPAA) began as a series of "crowdsource-your-own-adventure"-type stories, which Hussie wrote at the behest of his fans and readers. This worked well for earlier stories like Hussie's popular Problem Sleuth. But by the time he was well into the first "act," or story arc, of Homestuck, it was clear that the epic series, which is itself based on early interactive adventure games, had moved beyond that kind of group storytelling.
But what Hussie lost in interactive narration he made up in fan investment: Throughout Homestuck's development, its ever-expanding story has made room for artists, musicians, flash designers, and other fans to have a hand in its development, soundtrack, and merchandising. It's a veritable cottage industry of fandom, in which fans contribute to the story in countless unexpected ways. Actor Dante Basco found this out earlier this year when he began reading Homestuck because one of his characters was referenced in it; at which point Hussie began leaving him friendly greetings and then based a whole new character off of him. With Homestuck, this type of thing happens so often it's not even unusual.
To fanartists, Hussie has been equally generous, allowing many of the fandom's most-loved artists to contribute to the project in ongoing ways, from creating album art to doing tarot cards for a massive Homestuck tarot deck created for Homestuck's Kickstarter campaign.
Among such esteemed artists, Shelby Cragg stands apart.
A fanartist-turned-actual-Homestuck-contributor, Cragg not only helped contribute art for side projects but got a career-boost from Homestuck that many fans can only dream of: the chance to do the art for a character in the series itself.
Cragg kicked off her fandom participation with a bang, doing artwork collaboration for the epic Homestuck fanfic and universe, "Marchingstuck," and its equally epic spinoff "Promstuck." These days, when she's not collaborating on massive work-in-progress "The Serendipity Gospels," Cragg creates wide-ranging art in her own distinctive comic style on her Tumblr, duedlyfirearms.
It's her personal flair that drew Hussie to approach her about drawing art for the webcomic itself. An illustration major at Ringling College of Art and Design, Cragg has been involved with Homestuck in other ways for a while now, producing cover art for albums and contributing art to its Kickstarter giveaways.
After naming Cragg one of the top 10 most influential fans of the year and reading about all of her accomplishments both within and without the Homestuck community, the Daily Dot wanted to learn more. So we tracked her down and picked her brain, which like any Homestuck fan's, is a wild and interesting place.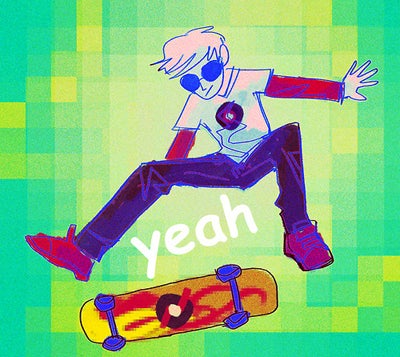 Illustration by Shelby Cragg/Tumblr
DD: I saw your dad proudly retweeting your press. What's he and the rest of your family think about this whole Homestuck/fandom thing?
They definitely don't really understand it completely, but they are pretty excited when I tell them that I did work for [official Homestuck store] WhatPumpkin or contributed to the story! I've been in fandom since I was about 11 years old, so they are pretty used to me going on about stuff that they don't understand. But yeah I've never had to keep my fandom life a secret from my family which is nice!
DD: What other fandoms have you been you involved in besides Homestuck?
I have been in fandoms forever. I am kind of a "one fandom at a time" kind of person… The first fandom I was involved actively was Avatar: The Last Airbender, for about a year and a half in high school. Then me and a bunch of my friends got really into the Fullmetal Alchemist manga for a while and then Homestuck. I've been involved pretty much JUST in Homestuck fandom for over two years now (A NEW RECORD) and I can't see myself stopping until the end. I like plenty of other things on the side! But I'm generally active in one fandom at a time, for a long time.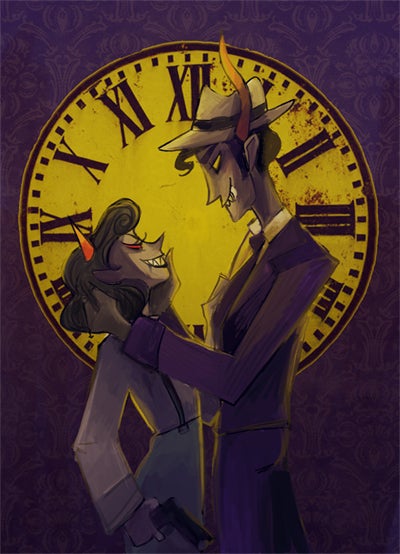 Illustration by Shelby Cragg/Tumblr
DD: How did you first fall into the fandom?
I remember seeing Homestuck on my dash around [the end of] Hivebent. [Note: Homestuck is divided into long arcs called "acts"; Hivebent occurs at the beginning of Act 5.] There was a lot of John/Karkat fanart going around and I was like "hmm! what is this thing with the gay demon and the cute boy with glasses!" Then I saw art of Dave and some of Davesprite, and I was like, WHY IS HE SOMETIMES A BIRD???? This was a very important question for me to answer.
Illustration by Shelby Cragg/Tumblr
Then I realized they were from the same comic, so I went to go check it out AND LO AND BEHOLD, I had actually read all of Act One before, when Act One was all that was out? I think I ran across it on TV Tropes, actually. But yeah, YEARS AGO, the end of Act One had just come out and I read up to there and I was really intrigued, but then I guess I didn't understand how often [Hussie's website, MS Paint Adventures (MSPA)] updated and I kinda forgot about it. Needless to say I was very intrigued to find out how the boy playing a game about a meteor crashing into your house ended up as candy corn demons. (They are actually aliens which once I found that out I was like I AM HOOKED FOREVER, I LOVE aliens. much better than demons!)
DD: For total Homestuck noobs, is there a kind of "starter" way to read the comic that you'd suggest? My friend made me a troll chart with guides to everyone's sign/typing style when I read it, and that helped immensely.
OK, so me and my other friends at school really wanted to get one of my roommates into the comic, but she was always like "ITS TOO LONG," etc. So, what we have been doing gradually over the last semester is reading out loud THE ENTIRE THING to her! It is actually super super fun to do with a group of friends; we all get our "signature characters" and do lame voices, and it is a lot of fun to read as a group! So, uh, if you happen to have a gaggle of obnoxious Homestuck friends and want to get into it, that's a really fun way to do it. ([By the way], my "signature voices" are Karkat, Vriska, Caliborn/Calliope, and Meenah. We all switch off but my friend Sean does the most HILARIOUS Jake voice you have ever heard. It sounds like JFK from Clone High.)
DD: How did you first get involved with Homestuck officially, and how did you feel when Hussie first contacted you?!
My first official involvement was back when they first started using fanart as track art for the Homestuck albums! If I remember correctly, [MSPA business affiliate Rachel Rocklin] asked fanartists to send in a sample of their best work and quite a few of my drawings were used! It was really exciting! From there I just kept gradually being involved with album art and stuff; I also got asked to contribute to the Tarot set, and I got offered a few places to sell prints in the WP Print store! So, by the time Andrew contacted me about doing art for the comic I was already kind of used to being involved, but it was a huge honor! I kind of freaked out and yelled at my close friends for like three days.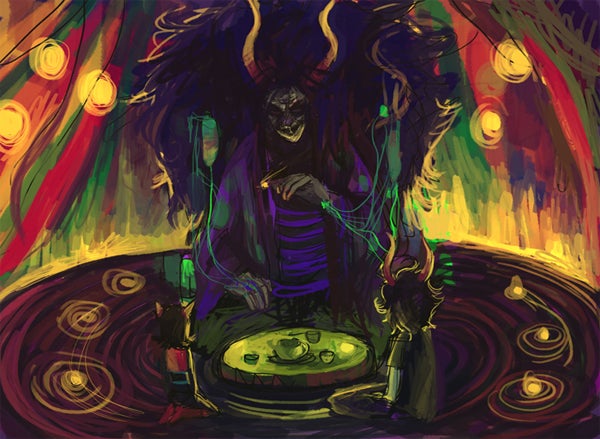 Illustration by Shelby Cragg/Tumblr
DD: One of the great things about Homestuck is the sheer number of amazing female characters it has.
Oh my GOD, see one thing I didn't know going into Homestuck was how many amazing girl characters there were? Which is surprising that no one told me this, I probably would have read it a lot sooner! I remember when I was reading Hivebent and there was a line like, referencing the fact that there were six girls in the troll cast of 12? AND I WAS GENUINELY SHOCKED.

Which is kind of sad, the fact that a 50/50 split of male and female characters in a cast was SO SHOCKING to me, when that should just be the norm!! The girl characters in Homestuck are great because they are not written as someone trying to be like "time to write a ~female character~" they are just characters like any other and they all have varying levels of femininity and wow I could go on about it forever. There is a lot of great commentary in Homestuck about girls and it was definitely something I did not expect going into it knowing it was written by a dude!
DD: Tell us a little about Marchingstuck and how that evolved the way it did. Did you write any part of it or did you primarily do the art?
[Laughs] MARCHINGSTUCK. Marchingstuck was the kind of, epic MEETING OF MINDS between me and my best friend and creative partner Taz (urbananchorite). It was actually a series of chatlogs between us where we just talked about what would happen with all the characters if they were in a high-school marching band. It went viral at the time, and now looking back on it, it is SUPER HILARIOUS because Taz and I are super close and those were some of our first conversations, and they are now very public!

From marchingstuck we decided it would be really fun to do a fan-adventure based on the infamous HIGH SCHOOL PROM that we talked about it some of our logs. We enlisted the help of our friend Jenn (cephiedvariable) and with Taz and Jenn writing, and me doing all the illustrations, we updated Promstuck just about daily and finished the whole story in about half a year! It was one of the best experiences I have ever had in any fandom EVER! Taz and I have collaborated on many things since then and we don't plan to stop uh… ever! We are a great team, if I do say so myself.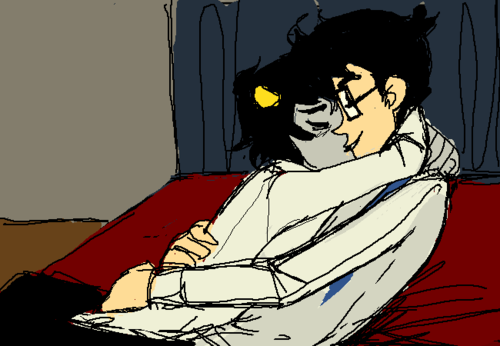 Illustration by Shelby Cragg via promstuck/Tumblr
DD: For the character you draw, Calliope, you may not have directly inspired her, but you're obviously close to her. Did you know the plot Hussie had planned for her in advance, or did you just find out as you drew succeeding parts of the comic?
One thing about contributing to Homestuck is that EVERYTHING is on a need-to-know basis. I had no idea about any of the twists about Calliope's character, or any other plot element of the story. I was just as surprised as everyone else! When I do her drawings, Andrew just tells me what he needs me to draw and that is it! Which is really fun actually, because then once you know the context of your drawings it is like "ooooooh!"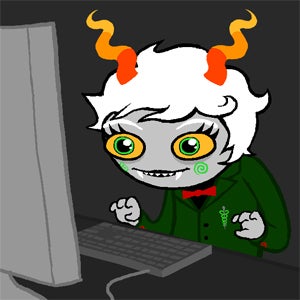 Illustration by Shelby Cragg via MSPaint Wiki
DD: Have you met Hussie or any of the other Homestuck collaborators personally?
I haven't met Andrew or Rachel but I have met other people who have contributed! I stayed up in Boston for a week with Toby Fox, who does a lot of the music work, and that was really fun. HOMESTUCK TEAM INTERMINGLING!! Working with music team people on track art and album covers is a ton of fun, I grew up in band so I have a lot of appreciation for the music guys!
DD: What's your favorite of the four quadrants?
I love working with black/pale quadrants in our fanfiction. Anyone who has read "The Serendipity Gospels" can tell you that!
DD: You can only save one character; who is it?
Man, I'd rather have EVERYONE die than just one person live; that is depressing! But if you're asking who my favorite character is, it is a tie between Jade Harley and Terezi Pyrope.
DD: Favorite single thing about Homestuck?
It introduced me to so many amazing people and friendships and partnerships that will last a lifetime.

Also, I really liked the part where a lesbian vampire came back from the dead and kicked a clown in the balls and off a cliff.
DD: What are your professional goals after Homestuck is finished?
My professional goals are… to make enough money from doing art to support myself. I'm keeping it realistic for now. I will take whatever comes my way if it's good!
Photo via wecansexy/Tumblr