All right, SXSWers. This here's an Austin, Texas, resident reporting for duty. We need to have a #realtalk for a minute. The topic: our tacos, and your unfettered fascination with each and every one of them. 
An alarming statistic jumped out at me this afternoon when I ran a search for "tacos" and "SXSW" on Twitter trend tracker Topsy: Since Saturday, more than 1,600 people have posted messages containing both keywords. That number's not astronomical, but with the masses surrounding SXSW Music coming, it's concerning: In a city filled with world-leading innovators and entrepreneurs, everybody's talking about tortillas, cheese, greens, and rice.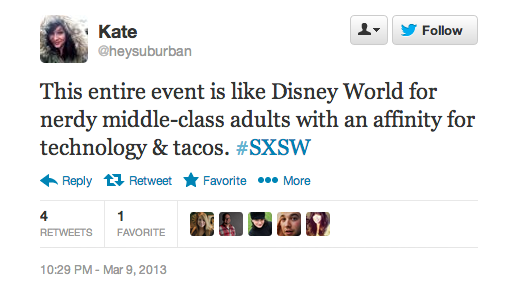 I'm here to tell you that it's time to stop; not because it's annoying or I'm paying particularly close attention to your newsfeeds, but because we've got to remember that we're talking about lunch.
I've lived in Austin for four of the past five years. I've had a lot of tacos, and for good reason: They're cheap, transportable, and filled with fresh things. 
They're also a good fuel—like pizza in New York or a pierogi in Poland. They're bought to be scarfed. They're bought to keep you moving. You're never too bloated after you've had two tacos. You're also not going to get hungry too quickly.
But there's really nothing romantic about them. They're just tacos—stoned kids in college can manage to make them.

Photo via arflanagan
Without a doubt, our tacos are tasty; they're sold in abundance, and competition breeds strength. But the large majority of the tacos SXSWers are eating aren't anything particularly especial. In fact, just sort of assume this as a token standard: If the guy making your tacos looks like he plays bass in a punk band, what you're about to eat is probably no different than the stuff you can get in Chicago, Boston, Baltimore, or Los Angeles (those might even be better!). It'll happen more often than not this week, and at that point, they're the same as sandwiches—except here, they're set on a slice of unleavened bread.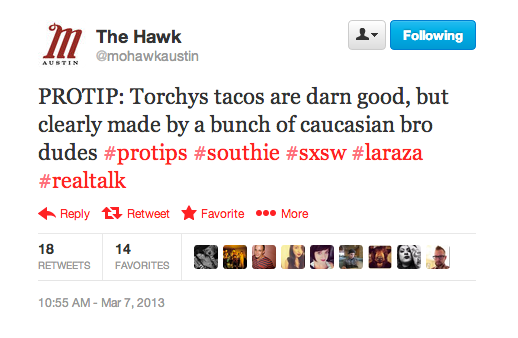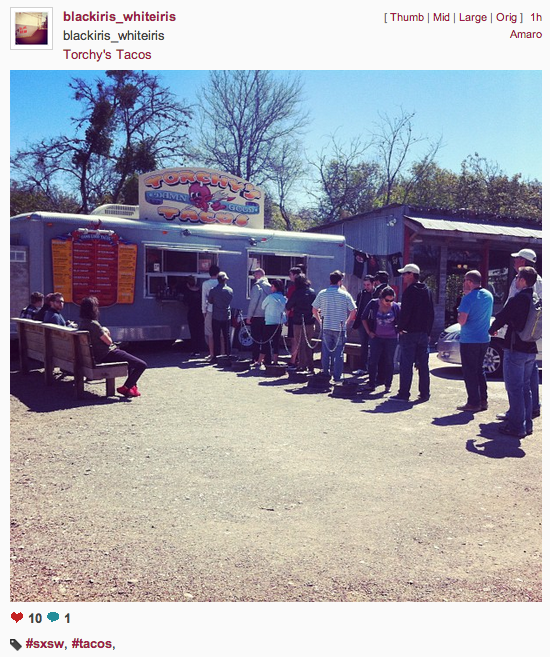 So let's take a step back for one second and look at what we're tweeting and posting to Instagram. Let's get inside of these mentions and figure out what exactly everybody at SXSW is getting so excited about.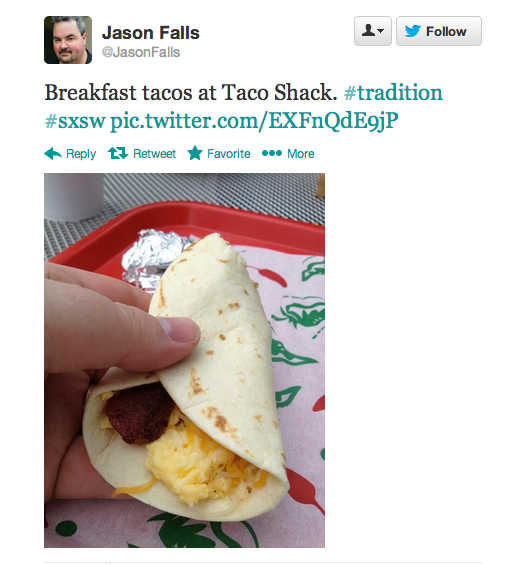 That's just a tortilla wrapped around a bacon strip and scrambled eggs. This guy below is pretty much eating a pile of radish and mushrooms.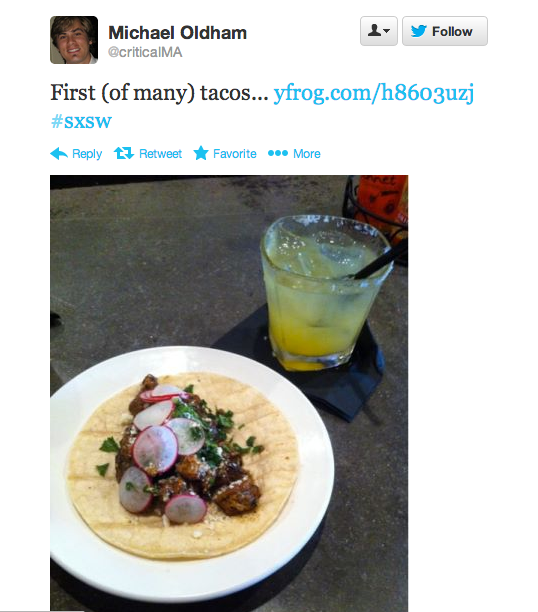 This girl can't wait!

Sounds like fun!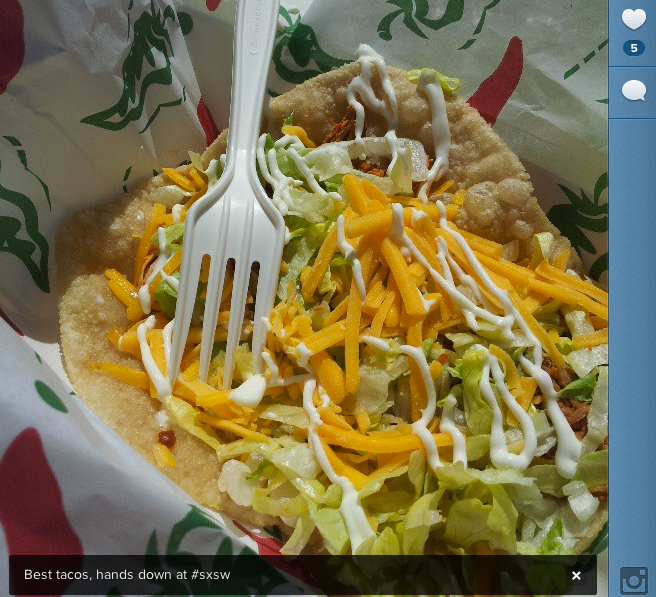 Right? That was just lettuce!

It's not fair. You're hurting your friends' feelings.

This has to stop. Wahoo's is actually a franchise founded in Orange County, California. It has shops around the country, and Austin's looks just like the rest of them.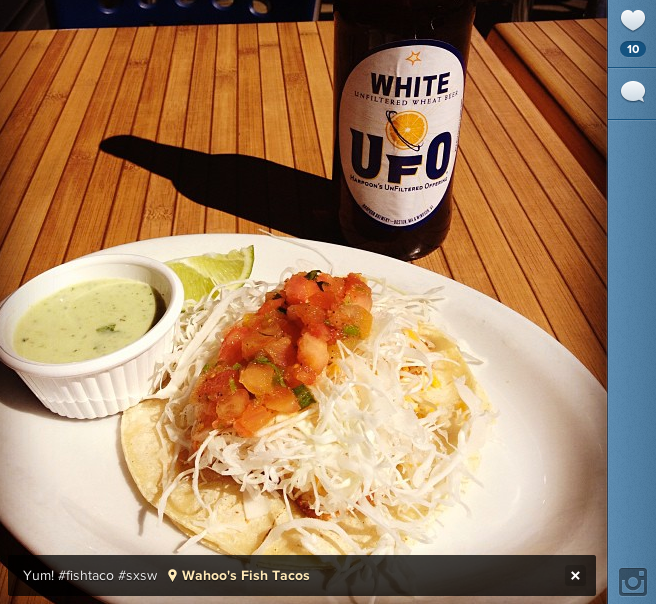 The onslaught of SXSW Music brings with it an even more enhanced adherence to all the #tacotalk, with some events even succumbing to the sensation of attaching specific tacos to their name. The Hype Machine's Hype Hotel is the leading culprit: The weeklong party location is in its second year of working with Taco Bell. (The global chain is promoting a taco built around Cool Ranch Doritos.)
Others, like this East Austin concert featuring contributions from such well-known hip-hop artists as Mystikal, Trae the Truth, French Montana, and DJ Drama, have even gone so far as to name their parties after the food, claiming the hashtag #BeerAndTacosSXSW and telling everybody to sign up. 
It's cute. It's fun. But it's getting to be too much. Let's turn our attention elsewhere, to burritos or barbecue, or hell, maybe the bands. This guy Rayland Baxter apparently got his start playing open mics at a taco bar. Go tweet a picture of him. 
Photo via Lionel Wong/Twitter