Nope, he can't keep it in his pants. But can any elected official? Never mind. Let's get to the meat (sorry) of the story. 
Sure, it's all kinds of wrong and gross and embarrassing. I think if you go into politics you must have some sort of pathological immunity to being considered a laughing stock. Whether or not you think he'll be a good mayor is up to the individual—or shall I say member? (Sorry.)
What it comes (sorry) down to is, and what I've read a lot this week from both sexes, is basically some version of "No one wants to see that shit."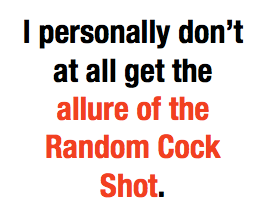 OR DO THEY?
I'm no Weiner apologist (though—hello!—a surname of Moonin ain't no childhood prize, either), and I personally don't at all get the allure of the Random Cock Shot. I'm across the country from New York politics—and hardly followed them even when I lived in the region. So I don't really care about any of it; but as Avenue Q likes to remind us, the Internet is for porn. 
Which makes me wonder: How is Weiner's weiner any different than most celebrity overshare?
Is it that most celebrity overshare isn't genitalia?
Well, no. Because that's how you become a celebrity now: willful nip slips, commando limo dismounts, and "Oops, I made a porno!" pornos.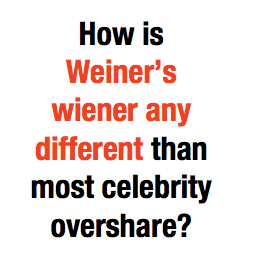 Is it that we expect these kind of reveals from attention-seeking celebrities, but not…vote-seeking politicians? Come on, whether it's a check for your party or a ticket for your movie, what's the difference? Maybe I'm nutty (sorry) but I don't think it's that a big leap from Weiner's weiner to Orlando Bloom's foot fetish. 
Because I don't want overshare from my celebrities, either. I don't want them on Twitter.  I don't want their everyday minutiae revealed. I don't want them anything but Intensely Glamorous. I don't want to think they're "just like us!" 
I want to keep them at a safe, secure distance, like ferocious zoo animals.
Twitter removes those filters (and then Instagram adds them back in). Social media has made way too many celebrities boring—the last thing they want, I am sure. The rest of us have "Before" picture lives. I don't need that from celebrities. 
Leave the mystery in. I don't need the secrets to the magic trick; I just want to watch the show.
Carin Moonin is a writer living in Portland, Ore. Sometimes she'll even tweet about things she hates at @carinwrites.
Image via YouTube, remix by Jay Hathaway