We love the Internet. Except when we hate it. Every week, Jordan Valinsky bottles the angst of his Millennial generation and finds something to despise about the Web.
The dissolution of Real Housewives of New York glorified shot girl Bethenny Frankel's marriage has left me distraught.
Once I got over my depressing realization that I spend too much time involving myself in shows involving wealthy women fighting and jump cuts of New York City scenery, I felt even sadder for Bethenny. I liked her! She was the fiery, scrappy, outspoken, and most intentionally funny-slash-real (?) housewife (although the fact that she wasn't married or didn't have kids always annoyed me because, facts) that made the show somewhat bearable.
Anyway, most of her stint on the Bravo masterpiece theater involved her convincing people she was neither a line cook nor desperate for a husband. She did however finally find Jason Hoppy, an alleged banker whose bland personality and angular looks made him the ideal model for Men's Wearhouse.
They played up their marriage for two years, enough to garner the Skinnygirl small business owner two (!) spin-off shows, a child, and a $100 million deal. Regular watchers, i.e. uh, me and people who couldn't find their remotes, watched Frankel and Hoppy fight on the regular about the dumbest things.
She was a career-oriented figure who was profiting off her liquor business, testing out the Ellen Degeneres-backed talk show waters, and expanding her fitness line. Meanwhile Hoppy just kind of just stood here, bearing the brunt of her angry rants, narcissistic ways, and, most likely, her deep-throating of piles of Paxil pills off-camera.
So, to the surprise of nobody, they divorced last month. Post-annulment, that rambunctious, firebrand of a Housewife as turned into a weeping, carb-craving mess of a person. And she's broadcasting her breakdown to her million followers on Twitter and Instagram. It's very disconcerting to see many pancakes are dying at the ferocious stab of Frankel's fork.
Let's take a look at the saddest moments from her social media accounts, teaching us that even when Andy Cohen is bankrolling your life, you can't have it all.
1) Stress eating and subsequent vomiting.
Uh, for someone who won't shut up about the Skinnygirl lifestyle, I don't think we will find blueberry pancakes, cheeseburgers, and onion fries in her diet manifesto. The saddest caption was a picture with said burger: "this is where I am in my life right now." Welp.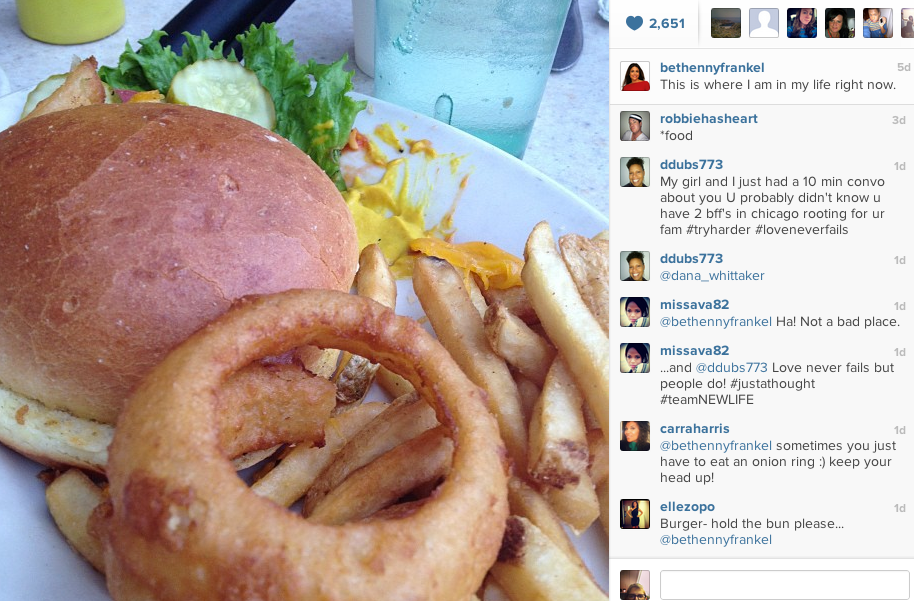 2) Pink is her DJ.
Frankel's post breakup playlist is apparently just alternating songs from Rihanna and Pink, two powerhouse singers who just *get* her, as well as failed relationships. I can't confirm if Skinnygirl employees are forced to hear Pink's "Try" on a loop, but I'm betting it's an accurate assumption.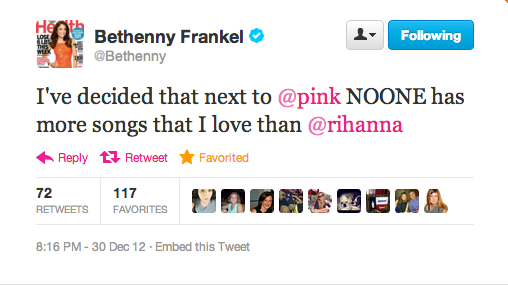 3) Hope, change, etc.
I'm not really sure where Frankel was going with this tweet other than I'm guessing her "small changes" are transforming herself into a less-stubborn, more personable human being who doesn't cry every five seconds and who expands her dialogue beyond the words "try the new Skinnygirl Daily Cleanse packets!" when hocking QVC-level products in interviews. Oh, small changes.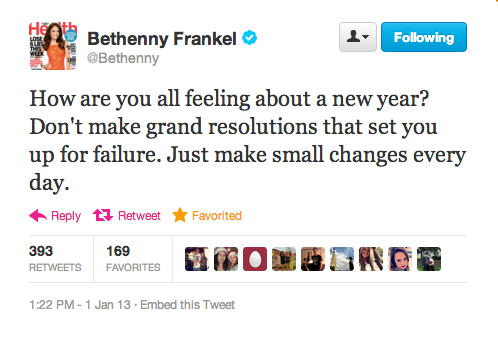 4) Her dog hates her.
Even her annoying dog, the horribly-named Cookie, is staring at her all night long, wondering how she screwed up her marriage. "Good luck, girl," snorts the dog. "I'm going to die soon and the only thing left to cuddle will be an empty bowl of Skinnygirl wine corks."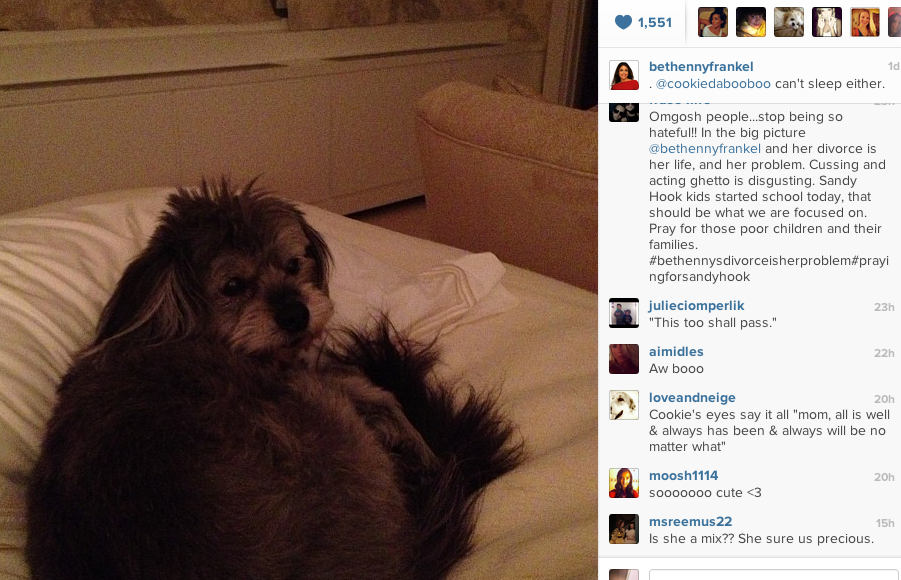 5) She stopped laughing.
This one's just plain sad.

Buck up, Bethenny. We still can't wait to tune in to Bethenny Getting Divorced.
Photo via bethennyfrankel/Instagram