Former Bachelorette star Hannah Brown apologized for singing the N-word in a recent Instagram Live—sort of.
The TV personality used the slur while rapping part of DaBaby's "Rockstar" during a live session on May 16. After viewers flooded her comments, Brown seemed to downplay the incident and questioned whether she had actually used the N-word.
"I did? I'm so sorry," she said with a smirk in response to one user.
But then she tried to shift blame to her brother.
"That wasn't you," somebody offscreen said, to which Brown replied, "I don't think…maybe it was [Brown's brother] Patrick." (She can clearly be seen using the slur herself.)
Viewers continued to press Brown about using the N-word throughout her Instagram Live, so she addressed it later in the session. "I really don't think I said that word. I don't think I said that word, but now I'm like, 'Oh God.' I'd never use that word," she reportedly said. "I've never called anybody that. We don't say that word."
Then, she appeared to get defensive about the situation.
"So, you know what, I'm going to stay here, and y'all can think I said whatever I did or think I'm something I'm not, but I'm not that," Brown added.
Brown's non-apology did not sit well with many viewers, who criticized her on social media.
"This is deplorable and while it isn't my apology, the fact that you would giggle about it as you and your friend deny you saying it and that you'd say 'no that's Patrick'…beyond impermissible," Twitter user @pastelhour wrote. "You need to ACTUALLY address this."
Numerous other Twitter users dragged Brown following her botched Instagram Live as well.
Following the backlash, Brown issued a formal apology on her Instagram story on Sunday.
"I owe you all a major apology. There is no excuse and I will not justify what I said. I have read your messages and seen the hurt I have caused. I own it all," she wrote. "I am terribly sorry and know that whether in public or private, this language is unacceptable. I promise to do better."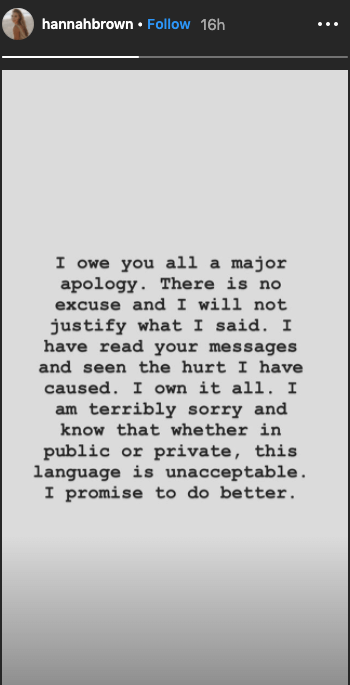 Brown's second apology didn't cut it for some people, including fellow Bachelorette alum and attorney Rachel Lindsay, who expressed her disappointment with Brown's post during an Instagram Live of her own.
"It's easy to hide behind words," Lindsay said. "But when you're bold enough to say the N-word on camera, on your platform…then you need to be bold enough to use your face on camera and apologize in the same way that you said the word. I'm not discrediting the apology. I'm just saying that we can't give people a pass for this. We have to hold people accountable for what they're doing."
READ MORE: