The Halo character Commander Carter-A259 was recently spotted in a location far from the planet Reach: the Seattle Children's Hospital.
And it was all thanks to video game company Bungie and a father's plea on Reddit.
On Jan. 3, redditor fiscal_ posted a thread in the r/medicine subreddit about his son Brady's upcoming liver transplant. According to him, the 5-year-old suffered from "alpha 1 antitrypsin deficiency, cirrhosis, esophageal varices," had a "history of ascites" and also suffered "one chest bleed and also an episode of sbp (Spontaneous Bacterial Peritonitis)."
"He was in kindergarten when we got the call earlier today, so it's bizarre thinking about him being healthy one day and a 10 hour procedure followed by all of the hell the little guy is going to go through afterwards," fiscal_ lamented.
The surgery was a success. As Brady began the lengthy recovery period, fiscal_ again turned to Reddit, this time in r/halo, a subreddit devoted to the popular video game franchise.
"My son received a liver transplant 2 days ago, we are currently recovering at Seattle Children's Hospital. It's been a bumpy 2 days, so I'm trying to find something to get a smile out of him. He absolutely loves Halo," fiscal_ wrote.
"Does anyone have any contact info for the Bungie Foundation? I was hoping they could guide me towards something that could get some smiles out of him after the transplant and some post op trauma."
Redditors quickly helped out fiscal_ by sharing his story with Bungie via company forums and on Twitter.
On Jan. 20, fiscal_ updated r/halo on how things had progressed with Bungie.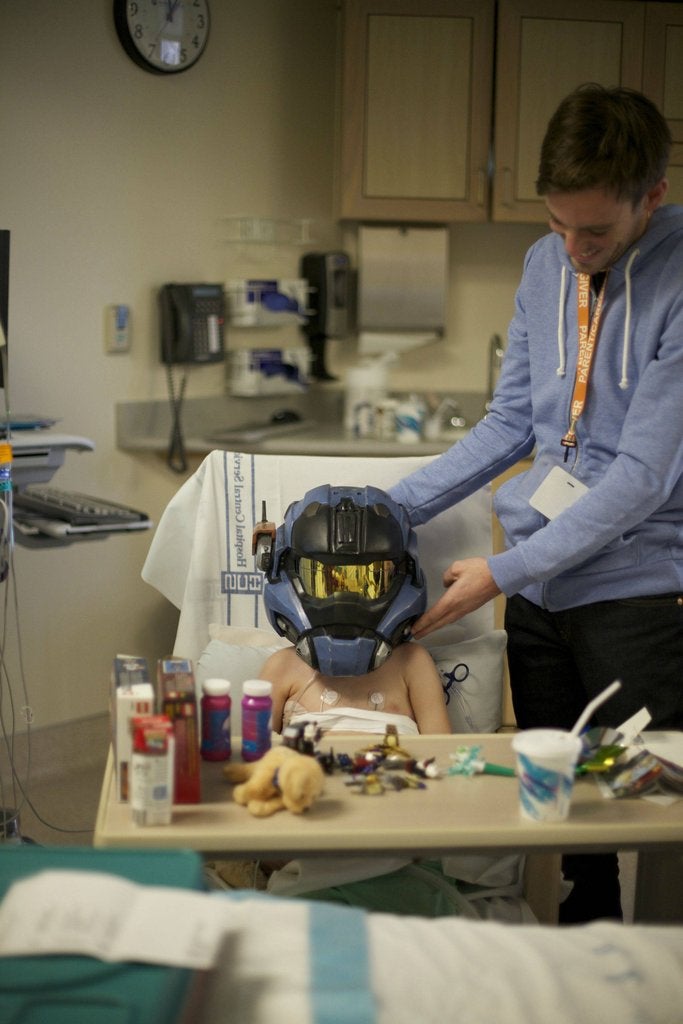 "With the help of some redditors, Bungie contacted me and we got to meet Christine [Edwards]," fiscal_ wrote. "My family can't thank Bungie enough. I know that they have had a huge impact on how well my son has been recovering after his surgery."
On behalf of the company, Edwards presented the young patient with a replica of Carter-A259's famous helmet. His father told the story of Bungie's goodwill gesture with a photo album that detailed Brady's recovery and excitement at the gift of the helmet.
"They did let him keep the helmet. He totally thinks he is Carter, now," he revealed.
Redditors responded to fiscal_'s post with over 200 comments full of well-wishes, pleasantries, and even offers to help with Brady's medical expenses. Citing his place of employment's insurance policy, fiscal_ politely declined such offers but directed redditors to donate to The American Association for the Study of Liver Diseases on his son's behalf.
As Brady completes his recovery, redditors can expect to hear more from both the pint-sized Carter A-259 and fiscal_.
"My son and I sat down and did an AMA about 3 months ago, a lot of redditors seemed to enjoy it. My son had an absolute blast with it, so we are planning a follow up in the next few weeks if there is some interest," he wrote.
"Thanks again for all of the love and support."
Photo via fiscal_/imgur