You'd think, at this point, it would be such a known cliche that it wouldn't happen, but white people are still touching Black women's hair without permission.
That's why Momo Pixel, an art director and pixel designer for Wieden+Kennedy in Portland, created "Hair Nah," which turns the frustration of being touched by a stranger into a hilarious video game.
So I made a game cause I got tired of women putting their hands in my hair. 🤷 https://t.co/q0M3i4Pwoh #donttouchmyhair #hairnah pic.twitter.com/9wsvIHbEMe

— Momo Pixel (@MomoUhOh) November 15, 2017
In the game, you play a black women named Avea. You're innocently trying to take a trip, but you're waylaid at every point—from the cab, to the airport, to the plane—by white people trying to touch your hair.
You begin by customizing your avatar, selecting a skin tone and hairstyle.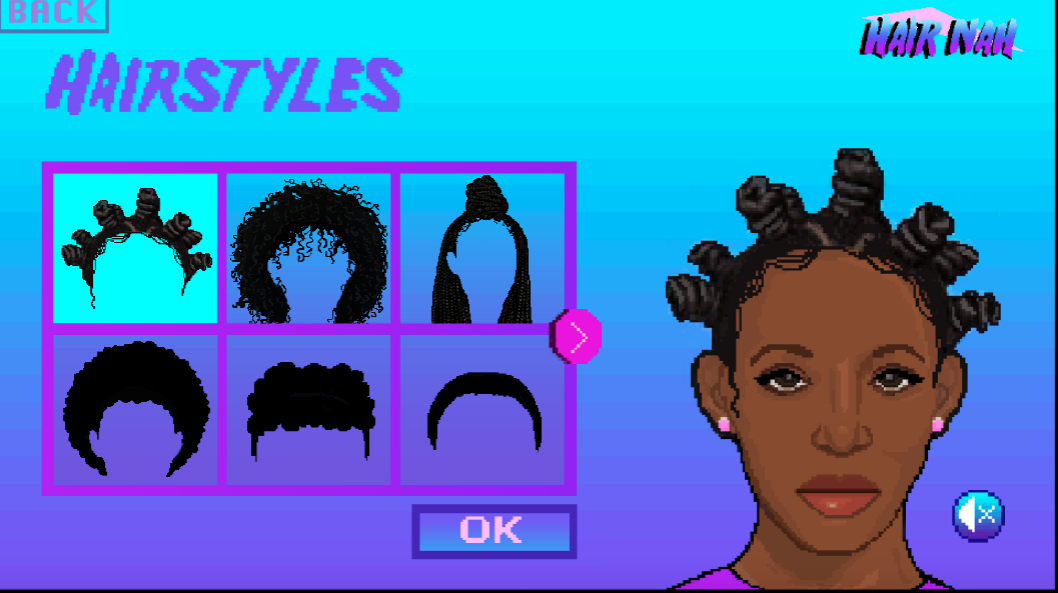 You're then given a choice of destination. After that, you use the arrow keys or the mouse to fend off the wave of hands that try and touch your head. Throughout the game, you're given encouraging messages to help you along.
Pixel told CNN she came up with the idea for the game after trying to describe to her boss what is was like when people are constantly trying to touch your hair. When her boss mimed what he thought it would be like, she realized it would make for a hilarious game.
"He was dodging and ducking. He looked so silly," Pixel said.
The game has quickly gone viral and Twitter can't stop praising it.
.@MomoUhOh i LOVE Hair Nah! for the culture. bantu knots on me AND it's hard to win? ahaha – hella realistic. @solangeknowles https://t.co/VxgEfpRGBY ❤️

— Paris (@paristwotrill) November 18, 2017
https://twitter.com/QuinnFos/status/931893138410692609
This is a lot more addictive than I initially anticipated, and that it serves an educational social good makes it all the better. Share with your worst touchy friends (and don't touch people's hair without an invite, duh). https://t.co/ESQzFiObcu

— Daniel J. Schneider (@schneidan) November 17, 2017
All I need is the ability to break wrists and I'm good #HairNah. https://t.co/hvghUZ91sb

— Black Girl Gamers (@blackgirlgamers) November 18, 2017
Also update.

70,000 people have played the game!!!

— Momo Pixel (@MomoUhOh) November 18, 2017
Although the game is funny, Pixel hopes people learn something from it. If you make it to your final destination (which isn't easy, it's actually a pretty hard game) you're greeted with a message that says: "The game is over but the experience isn't. This is an issue black women face daily. So a note to those who do it, 'stop that shit.'"
Pixel says a version for black men, who also face this issue, is on the way.
H/T CNN